Love pasta carbonara? Combine a traditional pasta Carbonara with the aroma of fresh black truffles this winter! This truffle carbonara pasta is made with fresh truffle infused eggs, freshly shaved black truffle and truffle studded cheese for that truly decadent truffle experience. There are no scrambled eggs or cream in this winter-friendly delicious truffle pasta! This is a pushy recipe for truffle lovers!
Traditional pasta carbonara is a simple pasta sauce from Rome and is one of Rome's four famous pasta sauces along with Amatriciana, Gricia and Cacio e Pepe. It is made with eggs, pecorino and guanciale and woe betide anyone that adds cream to their carbonara. It's actually not needed and ever since Monica gave me her recipe for foolproof classic pasta carbonara I've used nothing since as it is utterly perfect.
As I mentioned, usually pecorino cheese is used in carbonara sauce but a few weeks before COVID-19 started again in Sydney I bought some truffle cheese which was rather prescient. The cheese monger told me that it was the most truffle tasting cheese in his repertoire and that sold it for me. It was by Snowdonia, a Welsh cheesemaker and is an aged cheddar so it has a lovely strong character to it. If you aren't able to access this cheese, any other hard truffle cheese will do (I bought this cheese at the IGA in South Eveleigh and while I can't remember the price it was less than $20).
Winter has been a challenge, not only is it my least favourite season but all avenues of joy have been stemmed by the lockdown. There were no more dinners with friends, travel to distant lands or rugging up in front of the fire at a hotel. I am now very familiar with the four walls of our small apartment and I needed to treat myself. I'm also convinced truffles were put on earth to counter the ill effects of winter. They come just at the right time when we need them. "I'm thinking of buying a truffle," I said to Mr NQN one night.
"Why don't you contact Carmine?" he said to me.
"Who's Carmine?" I asked.
"My mate Carmine, he has a truffle farm," he said. Now Mr NQN is a man of very few words, but seriously, could he not have enlightened me earlier that he had a friend in truffles? I messaged Carmine. His truffle farm is called Fish River Truffles in O'Connell, NSW near Bathurst although he actually lives right near us and that's how Mr NQN met a few years ago at a local cycling club. He asked me what I was after and I told him two truffles (one for Laura who was also looking for one) and a rough size. He was harvesting them on Wednesday and could deliver me the truffles on Thursday. "Wish Frank and Luna luck," he said, of his two truffle dogs.
"Did Frank and Luna come through?" I messaged him. "They did well," Carmine responded, "Is 8pm-ish ok with you? Could you message me your address?"
Night had long fallen and we greeted each other wearing masks on at the door. "Should we go outside?" I asked and we stood in the dark driveway. He was cradling a large glass jar with half a dozen truffles wrapped in paper towels. He lay each one out for me to smell and talked me through them and then stepped away so that I could remove my mask to smell them. Someone in my apartment block came out onto their balcony to see what was going on and satisfied that this wasn't an illicit drug deal, or possibly the weirdest drug deal, closed the door behind them.
There were a mixture of extra, first and second grade truffles. Each one had its own aroma. Some smelled like mushrooms (truffles smell very different from mushrooms) while others had a vague whiff of petroleum. I know my perfect truffle when it hits an area of my brain that signals umami (it's also the same part of my brain that goes nuts over chicken flavoured chips, go figure). Everyone's truffle preference is individual. Carmine prefers truffles that smell like button mushrooms while he told me of a regular customer of that points at the biggest, roundest top grade truffle no matter the cost. All truffles smell slightly different and everyone has a different preference for truffle scents as well. Some describe the smell of truffle as early, nutty, sweet or like sex, while others liken it to the boar taint aroma of a male pig which god forbid this to be true (it's a smell I am really sensitive to in pork and put off by).
However truffles are priced according to grades from extra, first and second grades and its place is determined by two things: size and appearance. Large, round truffles go for more as people seek a physically ideal specimen in a spherical shape. Any bumps or holes bring it down a grade. But really truffles are about aroma. I went down the line sniffing each truffle, putting aside three out of the six. Out of those three, there were two that smelled not only the strongest but also the strongest truffle aroma. I bought one first and one second grade truffle - the single extra grade truffle while physically perfect was actually quite muted in aroma. The second grade one was shaped like a cumulus cloud but smelled incredibly strong. Each truffle was around 40g/1.7ozs and cost around $70 -$80.
As soon as I got back upstairs I placed each truffle in a jar with eggs as after 2-3 days the aroma of the truffle will impregnate the egg with aroma through the shell. This is when you really want a great smelling truffle because truffles should be eaten within 4-5 days. The paper towel needs to be changed daily as this absorbs the moisture and keeps the truffle in tip top condition for aroma (otherwise a mouldy aroma will result). And the first thing I made was this truffle carbonara as eggs go beautifully with truffle. I omitted the guanciale in the carbonara because I didn't want anything to compete with the truffle flavour. The truffle cheese would make this even stronger in flavour.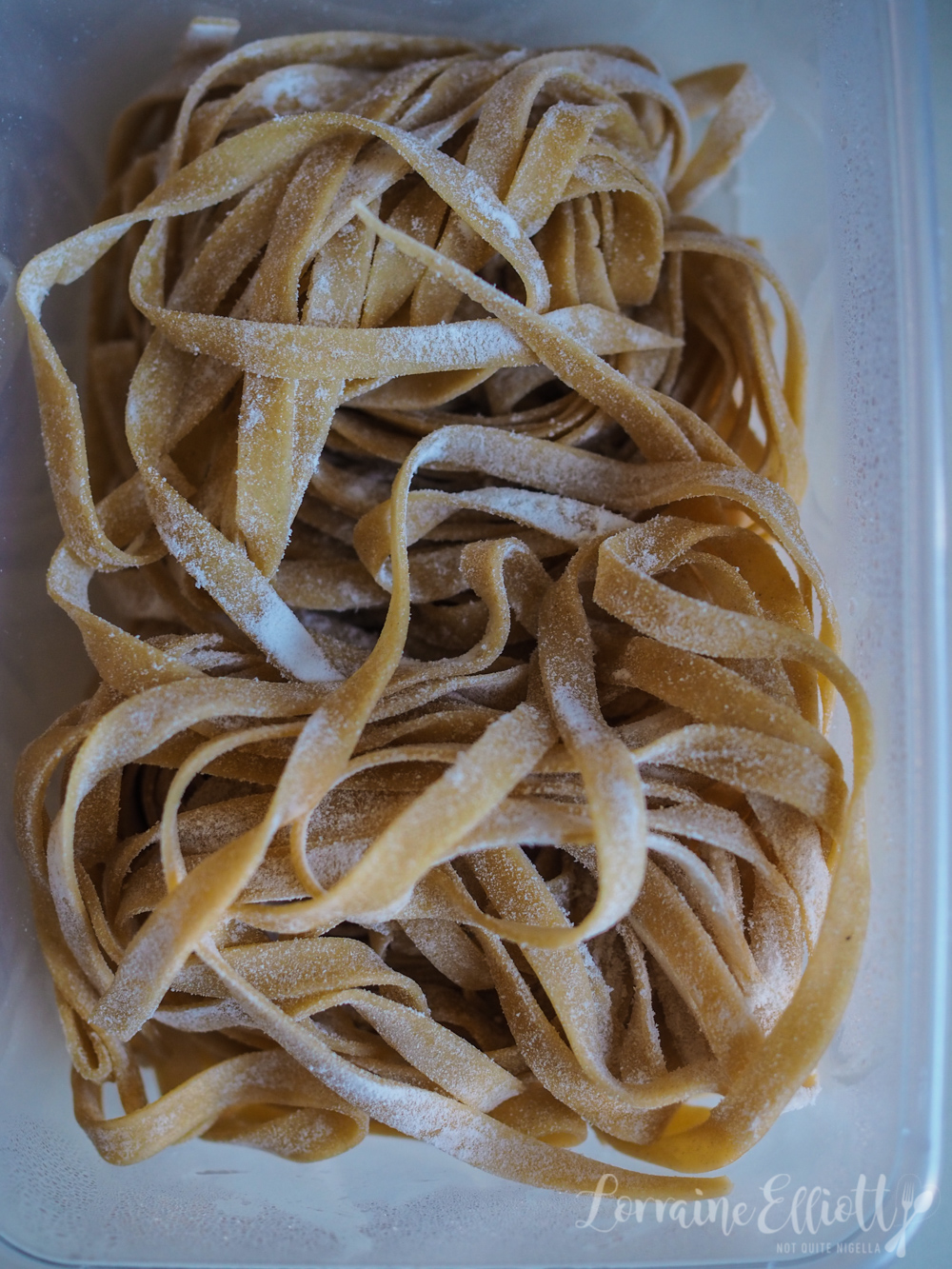 Holy heavens Dear Reader this was worth every penny. I only used half of the truffle and I had enough cheese left over to add on a cheese plate. I used some fresh fettuccine that Laura had made the day before. This carbonara sauce is foolproof and will not produce any scrambled eggs, guaranteed. Instead, you'll get the most delightfully perfumed, aromatic and rich buttery textured sauce. Mr NQN ate a double serve of this truffle pasta. It had such a strong aroma of truffle from both the cheese and the fresh truffle that I wanted to eat all of this all over again immediately.
For now, I will see if budget permits another truffle before winter is over!
So tell me Dear Reader, do you like truffles? Have you bought any truffles this winter?
DID YOU MAKE THIS RECIPE? Share your creations by tagging @notquitenigella on Instagram with the hashtag #notquitenigella
Truffle Carbonara Fettuccine
Rated 5.0 out of 5 by 1 readers
An Original Recipe by Lorraine Elliott
Preparation time: 15 minutes
Cooking time: 15 minutes
Serves: 2-3 people
Prepare the eggs ahead of time if time permits
3 egg yolks*
2 eggs*
100g/3.5ozs.Snowdonia Truffle Trove cheddar cheese or similar truffle cheese, very finely grated (use fine microplane)
300g/10.6ozs. fresh fettuccine
1 teaspoon salt
20g/0.7ozs. fresh black truffle
I placed the truffle in a large glass jar with 5 eggs as soon as I bought it. The eggs will take on the aroma of the truffle through the shell after 3-4 days (depending on how strong your truffle is)
Step 1 - In a large bowl whisk the egg yolks and eggs until frothy like a zabaglione. Add the finely grated cheese in 2-3 lots until it emulsifies and forms a smooth creamy sauce.
Step 2 - Place a pot of water onto boil and add 1 teaspoon of salt. When boiling add the fresh fettuccine and cook for 3 minutes. Take a pair of tongs and pick up the pasta from the water letting some of the water come along with the pasta and place straight into the creamy egg mixture and toss well. The heat from the pasta will cook through the eggs gently. Shave fresh truffle over. The pasta drinks up the sauce over time so serve immediately.