Tang Yuan or Tangyuan are delicious rice flour balls with a surprise filling of black sesame inside. These sticky and addictively chewy sesame balls with wonderful delicious black sesame filling and served in a light ginger syrup. If you love boba balls then you will love these sesame balls too!
Tangyuan have been eaten since the Sung Dynasty in China and are popularly eaten at Chinese New Year and during the Lantern Festival as the round shape and the pronunciation of tangyuan symbolize being together with your loved ones or family. They can either be filled with black sesame or red beans or other fillings or they can be unfilled and they can either be small or large. Although these glutinous rice dumplings are enjoyed in both the North and South of China, this is the Southern version. In the South there's also a version served in a savoury soup although this is the dessert version with a ginger syrup.
If I thought that I loved Tangyuan a lot then Mr NQN is an absolute freak for them (we joke that he is really very Chinese underneath his Caucasian exterior). I made a few batches of these trying to get to the right ratio and he eagerly gobbled up every batch sometimes downing 20 balls after dinner. The first lot was too brightly coloured and had way too much filling. You see they're best when the filling to dough ratio is juuust right. You don't want too much filling because you don't get that lovely chewiness and conversely you want enough filling to give it flavour. I'm happy to tell you that I think these tangyuan have the perfect filling to dough ratio and size - I prefer them smaller because they're easier to eat that way.
9 Tips for making Tangyuan sesame balls!
1 - I'd recommend making these black sesame balls small. They expand when cooked and you don't want huge balls in your mouth. Or perhaps you do! No judgement!
2 - I don't recommend adding salt to the filling. I made many batches of these to arrive at this recipe and adding this amount of sugar and no salt produces the most delicious result.
3 - Glutinous rice flour is different from rice flour as it has a stretchy (aka glutinous) texture to it once cooked and is what makes these tangyuan so addictively chewy. You can buy it from Asian grocery stores.
4 - You can buy already ground sesame seeds from Asian grocery stores if you don't have a spice grinder or mortar and pestle.
5 - Glutinous rice flour is different from wheat flour which you may more used to working with. You're looking for the dough to have a specific consistency so use the water quantity as a guide. First you add boiling water then room temperature water. You can add all of the boiling water but once you get to the room temperature water go slowly.
6 - If this is your first time making tangyuan I'd recommend making plain white ones. I found the blue dough a bit harder to deal with with more breakages and the only difference was the food colouring.
Colours brighten considerably upon cooking
7 - When using colour, use it sparingly-just add a drop to the room temperature water. The resulting colour is much, much more vibrant and darker than it looks in the uncooked balls and it can be quite alarmingly so!
8 - To freeze these, place sweet rice balls on a tray in the freezer and once completely frozen you can bag these up together and boil them from frozen (same process, wait for them to rise to the surface and then boil for another minute).
9 - Cooked tangyuan can be refrigerated and then microwaved (although freshly cooked is best). I usually heat up around 8 balls in the syrup for 1 minute on full power.
These are such a wonderful dessert and easily made vegan just by using a vegan butter. I was actually going to serve these to my in laws when they came over. They were our first guests on the weekend. It was Mr NQN's mother Tuulikki's birthday and we usually try to organise a picnic but since the weather has turned temperamental we invited everyone here.
His other sister Amaya and her family couldn't come because they had colds and Mr NQN's brother Manu is unvaxxed so they stayed at home on the Central Coast just to keep everyone healthy. "This must be Lorraine's house," said Mr NQN's older sister Araluen seeing the faux plants in the plant box by the door. Everyone brought a plate along and it was an all-vegan spread.
Mr NQN's artwork
Amaya usually buys the present and everyone contributes money. It's always a fruit platter (the official Elliott birthday gift for birth Elliotts - I'm not included thankfully) but since she wasn't coming I bought the fruit. Mr NQN drew her a birthday card as she loves hand drawn and home made things. It was a fairly artistic effort and by that I mean it was stick figures but we all kind of knew who we were in the picture. However it was halfway through lunch when we had finished eating that I realised that nobody had brought her an Elliott birthday cake as it is usually made by either Tuulikki or Amaya.
The official Elliott birthday cake is this raw, vegan cake and it's an easy to put together. "Should I make one now?" I said to Araluen slightly panicked. It doesn't take long to make but everyone was sitting in the lounge room which is next to the kitchen and I was worried Tuulikki would notice although deep down I knew that she probably wouldn't. She really lives on another plane and I mean that in a nice way.
To make the raw cake you basically pop everything in a food processor and blend it up and then place it in a mold overnight. I put it all in my Thermomix and blended it but I tried to do it on low speed so it wouldn't make too much noise. I scooped it into a lined bowl and stuck it in the freezer. Then after 30 minutes I unmolded it and served it up while Tuulikki was taking a tour of the upstairs of the house.
Everyone was waiting for Tuulikki to come down including Amaya and her family that were dialed in on the phone and we were waiting to sing Happy Birthday. But in Tuulikki fashion she took her time wandering from room to room talking about the sunshine, stained glass windows and the garden outside and meandering through. Finally she came into the living room where she was greeted with Happy Birthday from everyone else. She also seemed very happy and surprised at her cake and didn't have any idea that that was what I was doing while I was gone. Unfortunately we didn't have time to eat the tangyuan but Mr NQN was happy about that. That meant more tangyuan for him!
So tell me Dear Reader, do you have any official family gifts, cakes or traditions? Do you like tangyuan?
DID YOU MAKE THIS RECIPE? Share your creations by tagging @notquitenigella on Instagram with the hashtag #notquitenigella
Tangyuan Tang Yuan Sesame Balls
Rated 5.0 out of 5 by 2 readers
An Original Recipe by Lorraine Elliott
Preparation time: 45 minutes plus freezing time
Cooking time: 10 minutes
Serves: makes around 35-40 small balls
For Filling
40g/1.4ozs black sesame seeds, toasted and ground
40g/1.4ozs caster or superfine sugar
45g/1.4ozs butter, soft (or butter substitute if vegan)
For Dough
130g/4.6ozs. glutinous rice flour (divided in two if you want to make two different colours)
25ml/0.8flozs. boiling water
30-40ml/1-1.4flozs. room temp water (you can add a few drops of food colouring)
For Syrup
2 cups/500ml/1 pint water
1/2 cup/110g/3.8ozs white sugar
6 slices fresh ginger
Step 1 - Grind the black sesame seeds and sugar together until very fine. Add butter and blend until you get a paste. You should get around 110g/3.9ozs. sesame filling. Place in the fridge for 30 minutes to firm up. Then grease or line a plate with parchment and roll out very small balls around 3grams/0.11ounces and place on the plate. Stick these in the freezer to firm up completely-they'll be hard in around 20 minutes or so.
Step 2 - While the balls are in the freezer start the syrup by placing the water, sugar and ginger in a small saucepan and bring to a boil and simmer for 5 minutes to dissolve the sugar. Place lid on and keep aside on the stovetop.
Adding the water slowly
Step 3 - Then make the dough. In a bowl add the glutinous rice flour and the boiling water. It will still be lumpy so add half of the room temperature water adding more one spoonful at a time until it starts to come together. Knead for a minute or two by hand - it shouldn't take long. It shouldn't have any cracks in it but it shouldn't be super wet either. Cover with cling film.
Rolling dough into a log
Step 4 - Lay a sheet of cling film on a surface and roll out into a log and have a greased tray ready and put on a large pot of water to boil with around 2 litres/4.2pints of water. Cut off pieces - you want them to weigh around 8-9 grams/0.28-0.32ounces each. Roll into a ball then roll out into a circle between two sheets of cling film. Mine were around 5.5cms/2.2inches in diameter. Place the now frozen sesame balls in the center and press down the dough-don't try and stretch the dough as it will break, just press down gently and roll into a ball, the hard frozen centre will help to keep the spherical shape. Repeat with the remaining dough and sesame filling.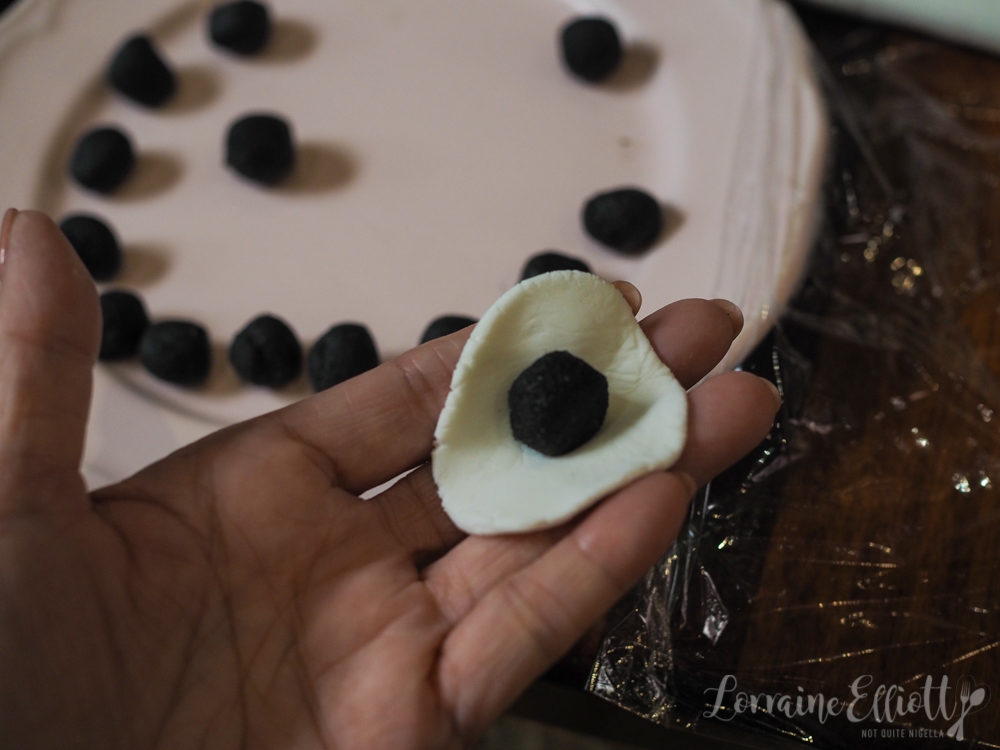 Step 5 - Have a bowl of water ready to place the balls once boiled. Once the water is boiling place the balls in the water to boil - some may want to stick to the bottom, just gently nudge them with a slotted spoon. When they reach the top in about 2 minutes or so let them boil at the top of the water for 1 minute. Remove with a slotted spoon and place in the dish of water. Scoop the balls into serving bowls and pour the syrup over and serve.
Removing tangyuan with a slotted spoon
Tangyuan in water