"Hang on, that's it! OMG it's just down the street!" A minute before we had hopped in the car and make our way a few hundred metres down the street to the restaurant we had booked at. A friend suggested Vesta and little did we know (or actually little did we check) that it was just a few minute's walk away from our accommodation...oops! We sheepishly pull up in front of the restaurant and walk in.
Vesta Bar and Bistro is very busy this Saturday evening. It's a busy, bustling restaurant with an open kitchen with a large hearth towards the rear. We take a seat - tables are small and we ask to move to a larger table behind us but this is taken and they promise to make the dishes fit on the table.
Wood fired bread
They bring us some complimentary house made wood fired bread along with dukkah and olive oil. It's a nice gesture where bread is often charged for in many restaurants. The bread is nubbly and soft and we dip the chunks into the oil before sweeping them up in the seedy dukkah.
With something in our bellies and hands warmed we turn our attention to the menu. It's a small menu and they pop a little menu on the table of the day's specials. There are two roasts: one pork and one lamb, each for two people with sides. We choose a few entrees to share and the waiter recommends rejigging around a few things so that we can fit everything on the table. A wine recommendation is made and it's a reasonable, good wine.
Twice cooked goat's cheese souffle for one $17
The souffle can be made for one or two people and we choose for one person mindful of the large sounding mains. It's a very light souffle and generously portioned with a sauce that you just want to mop up with your bread.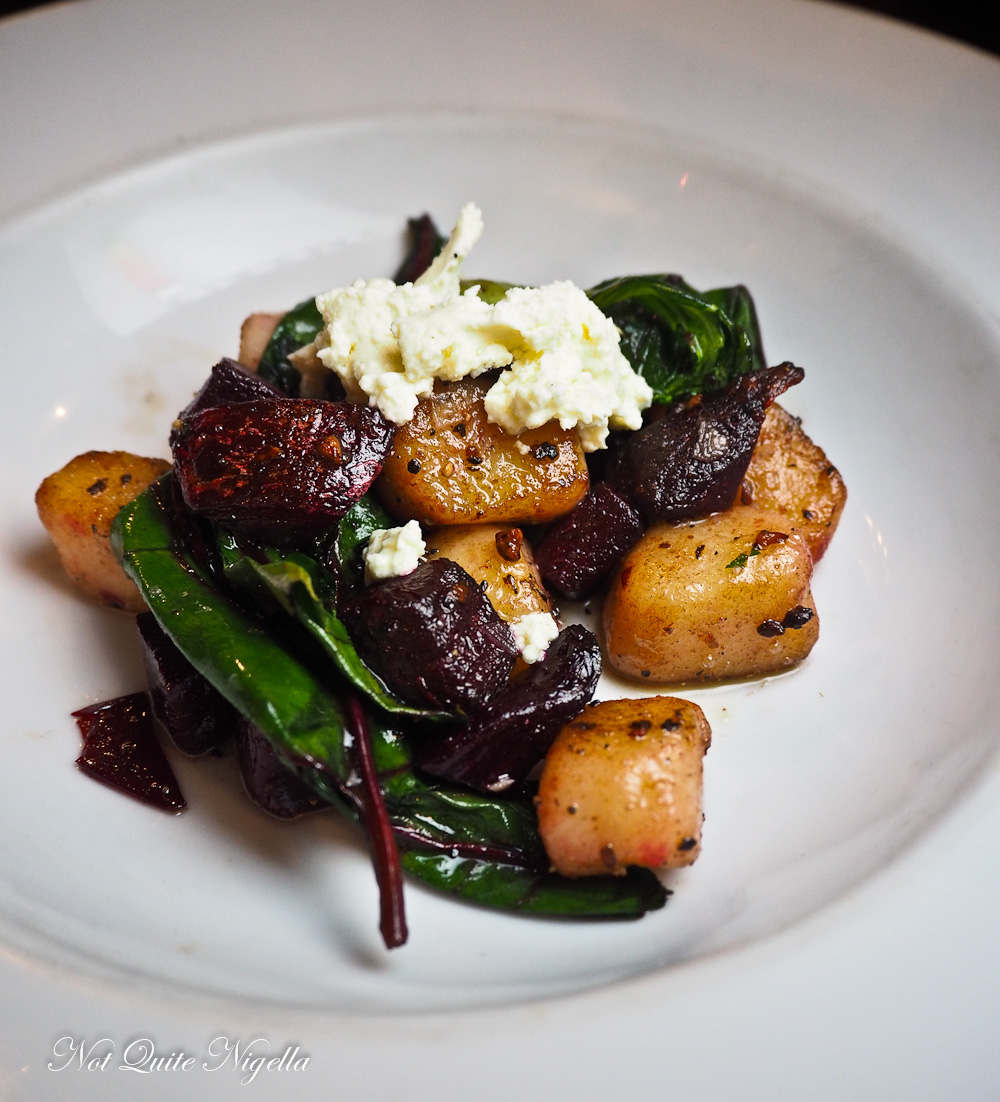 Beetroot gnocchi $21
We had expected some bright pink gnocchi but rather than having beetroot in the gnocchi, it was on the side. Small lightly pan fried potato gnocchi are served with small, sweet caramelised chunks of oven roasted beetroot, beetroot leaves and Binnorie Dairy feta. It's a bit on the salty side and finished with large salt crystals.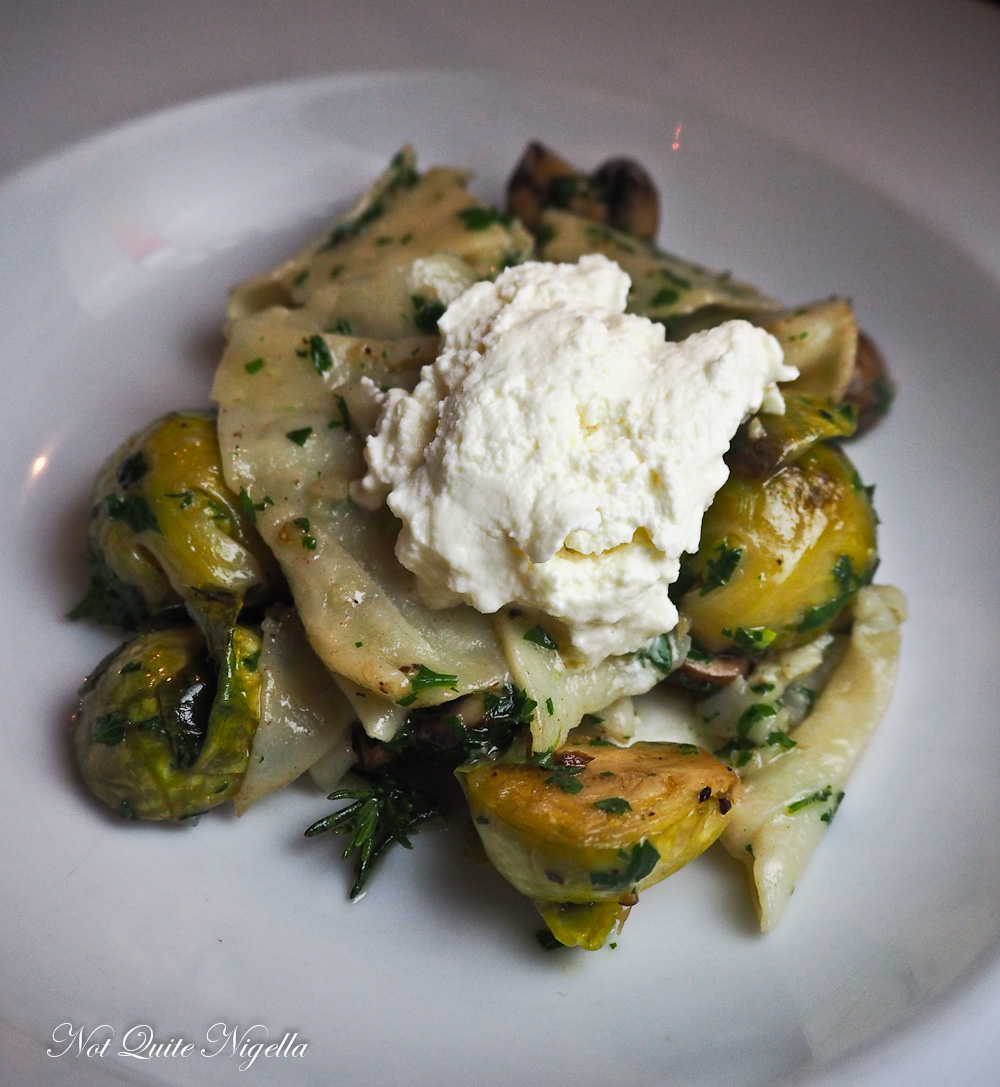 Hand made pasta $21
They give us an entree size of pasta to make it fit the table which suits us better. The house made pasta is like a stracci in shape and is combined with caramelised Brussels sprouts, chestnut mushrooms, ricotta. It too is quite salty but the pasta has a good home made texture to it.
There's a pause as the mains come out and we watch as tables are turned over and a large table of six turns into three tables for two. One couple lean over and touch each other hands while staring into each other's eyes. "Awww" we say noticing this before looking away so that they aren't creeped out by us.
Venison Ragu $30
The venison ragu isn't what we envisaged as the red wine, tomato, bay and maltgiati cooked venison perhaps needs a bit more time to soften. There is however a very generous amount of venison and just a small amount of pasta underneath it and we would have liked a bit more pasta to balance the meat. The ragu is also very spiced - perhaps a little too heavy handedly and it reminds us of this afternoon's chai.
Kanimbla Valley lamb shoulder $80 for two
Everyone's favourite main however is the lamb for two. When it is set down it makes a spectacular entrance. The Kanimbla Valley lamb is braised for six hours and roasted on bone so that the skin is crisp but the meat is gelatinously soft. It is served on a board with with baby boy choy, asparagus, a small pot of celeriac remoulade, some very crispy roasted potatoes and a small jug of jus.
Steamed Syrup sponge pudding $13
The dessert menu is filled with winter warmers like puddings and tarts. We go for the steamed syrup sponge pudding. There's not a lot of syrup but it's comforting and reminds us of old fashioned steamed puddings. It is served with toffee ice cream.
Banana Tarte Tatin $13
Nick protests at the size of the banana tarte tatin but it's fine for the rest of us. Large upturned chunks of banana are caramelised on the top and served on a caramelised puff pastry base. It is served with honeycomb ice cream and is satisfyingly good.
"I'll race you back to the house!!" Nick says as we leave the restaurant. Seeing the near zero temperatures, he quickly reconsiders and quietly gets into the car and we make the short journey home.
So tell me Dear Reader, do you share larger meals or do you prefer to have your own plate of food? And do you always look up the location and route to a restaurant before visiting?
This meal was paid for independently.
Vesta Bistro and Bar
33 Govett's Leap Road, Blackheath, NSW
Tel: +61 (02) 4787 6899
Wednesday & Thursday 4pm-10pm
Friday to Sunday 12pm-10pm
http://www.vestablackheath.com.au/