A trip to the Blue Mountains is a favourite journey of ours and we are always seeking new places to eat there. Named after a tableland neighbourhood, Mesa Barrio offers share plates in small and large sizes with a menu that crosses countries from Italy to Spain.
It's a warm Friday night in the Blue Mountains. The kind where summer heat lingers and there's no trace of the winter chill to come. Mr NQN and I have already arrived in the Blue Mountains and settled into our accommodation at Parklands. Viggo and Louise arrive to the mountains that evening and we meet at Mesa Barrio.
The menu is a tapas style menu with plates made for sharing. It's busy this evening and we are shown to one end of a large share table. We ask staff for their recommendations and they are friendly and accommodating.
Taramasalata, fried crackers $11
I'm a sucker for taramasalata, the salty, creamy cod roe dip. I could almost lick the plate of this but I don't. Because that's embarrassing. The thin fried crackers get soft quickly but they're good for spreading the dip onto.
Fresh figs, Jannei goats curd, candied pecans and aged balsamic $14
There are just a few ingredients in this dish which means that everything has to be great. The figs are lusciously jammy and sit atop a bed of Jannei's goats curd with aged balsamic drizzled. The only element that we don't love are the candied pecans, usually such a good nut but alas these are just a bit past their prime.
Roasted cauliflower $25
This is a very pretty dish. At the base of this dish is hummus and it's topped with cauliflower florets, tahini, fried kale and sumac. It's a wholesome but tasty vegetarian dish.
Smoked chorizo $32
The chorizo is from the Rodrigues Brothers. Chorizo can vary but this isn't like other chorizo I've tried. It's reminds me more of a kranksy sausage in many ways. It's accompaniments are good though-sweet and sour peppers, white beans and aioli which are great to dipping bread in. It is quite pricey for two sausages though.
Flatbread comes with the mains and it's fresh, soft and coated in a seed and dried herb mix.
Lamb cutlets $5 each
These are juicy and meaty cutlets served with salsa verde and lemon and are also for dipping the house made toasted flat bread in.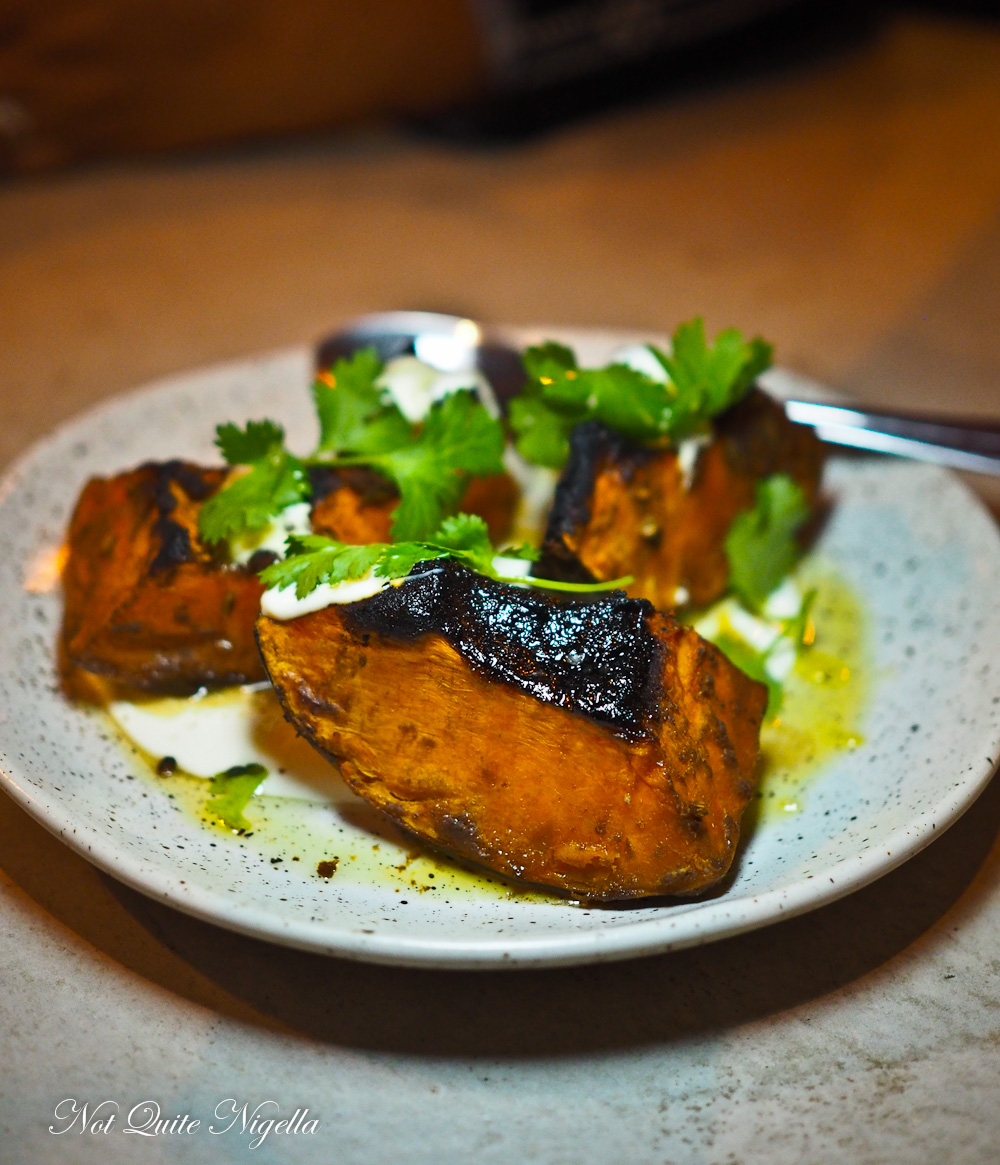 Fennel and cumin roasted pumpkin with garlic yogurt and coriander $13
One of my favourite things is a side dish, the roasted pumpkin cut into thick cubes with fennel and cumin with a bold garlic yogurt and coriander sauce. It's sweet and savoury at the same time.
Strawberry and sumac sorbet $6
We try a few desserts. The strawberry and sumac sorbet get a little tanginess from the sumac but really it's all about fresh strawberries.
Banana gelato chocolate mousse salted peanut praline $15
We also adore the banana gelato, all fresh banana with chocolate mousse and crunchiness from salted peanut praline.
Buttermilk sorbet
But the item that stole all our hearts is the buttermilk sorbet. What could be like a yogurt or similar sorbet is perfectly balanced in sweetness and tartness. The buttermilk is mild and appealing and topped with a fresh tart blackberry. It's the perfect last mouthful.
So tell me Dear Reader, what is your favourite dip? And do you have any Blue Mountains favourites? And do you always end a meal on your favourite mouthful?
This meal was independently paid for.
Mesa Barrio
3/9 Staples Cres, Lawson NSW 2783
Phone: 0416 227 746
www.mesabarrio.com.au/
Open from 6pm Wednesday to Saturday and from 12pm-3pm Sundays