This roasted carrot salad is SO delicious. Carrots are roasted in a wonderful honey orange glaze which also then becomes the salad's dressing. The roasted carrots are then tossed with baby spinach, roasted almonds, chillies and then served with pan fried halloumi! This is one of the best ever salads you will eat EVER and it is a pushy recipe Dear Reader!
This past winter it has been exponentially more expensive to eat healthily as vegetable prices sky rocket due to climate change and politics. There is one vegetable that remains inexpensive and plentiful and that's the humble carrot. You don't even need Dutch carrots for these, just a bag of regular carrots will do!
Confession time: I don't like raw carrots at all.
Roasted carrots on the other hand are delicious. And this is one of my favourite ways to serve them. Carrot batons are roasted in the most delicious orange, honey, mustard and garlic glaze that is so delicious I bet you'll want to double it and keep it as a delicious salad dressing. The sweetness of both the carrots and the dressing are balanced by the salty deliciousness of halloumi. I'm convinced nothing bad can happen if a dish has halloumi in it.
Top Tips for Roasting Carrots
1 - Make sure to try and cut carrot batons around the same size so that they cook at the same rate.
2 - Cook carrots on a baking sheet rather than a deep sided baking tray helps them cook faster and caramelise a little more.
3 - Make sure to lay carrots out flat on one layer.
4 - The carrots do take a while to roast so feel free to make these a day or two ahead of time and then just gently warm them up just before serving them.
I love salads but they're a hard sell in winter because you generally want something warm and substantial. This salad can be served warm or cold (although always serve the halloumi hot and fresh from the pan). When I serve the carrots cold I like to add a couple of cups of baby spinach to it but if I serve it warm I leave it as it is. It's such a tasty way of eating healthily without sacrificing taste.
Speaking of eating healthily, does it seem like lately everyone is sick or injured in some way? Just in my immediate circle Mr NQN has laryngitis, Monica has long COVID, Queen Viv has fractured her foot four times and is on crutches, Sammie hurt her knee badly while on holiday and is on bedrest and Laura had the stomach flu. It's like a horrible selection of injuries and ailments.
This is Mr NQN's first time ever having laryngitis and he was a bit flummoxed by it all. He went to the doctor who gave him some antibiotics and sent him home and told him to not talk and to avoid spicy foods so I made him a version of this salad without chilli. He took one day off work and spent it sleeping and then spent the following one and a half weeks on zoom meetings but staying silent and nodding. Sometimes he is so busy with these calls that he doesn't have time to eat but he was able to eat everything as he didn't have to talk for such a long time! And I think even quiet Mr NQN found the forced silence daunting.
So tell me Dear Reader, is everyone ailing around you too? Would you find it a challenge not speaking? Do you find salads a hard sell in winter?
DID YOU MAKE THIS RECIPE? Share your creations by tagging @notquitenigella on Instagram with the hashtag #notquitenigella
Honey Orange Roasted Carrot & Halloumi Salad
Rated 5.0 out of 5 by 4 readers
An Original Recipe by Lorraine Elliott
Preparation time: 15 minutes
Cooking time: 1 hour 10 minutes
Serves: 4 - 6 as a side
3 cloves garlic, peeled and finely grated
3 tablespoons oil plus another 2 tablespoons
3 tablespoons Dijon mustard
3 tablespoons orange juice
1 teaspoon finely grated orange zest
500g/1.1lb halloumi, sliced
2 cups baby spinach (optional)
2 tablespoons roasted slivered almonds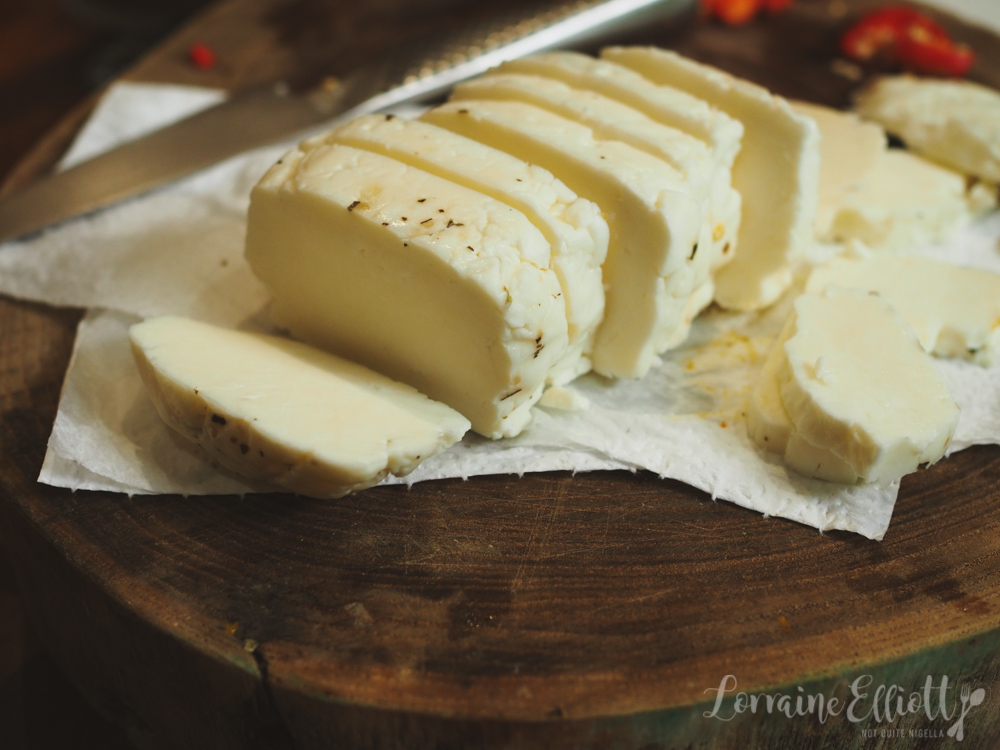 The dressing-so good you may want to make more to keep in your fridge!
Step 1 - Preheat oven to 220C/440F/Gas 7 and line a large baking sheet with parchment. Top and tail the carrots and peel the carrots. Cut into two inch batons that are even in thickness and place in a bowl. In another bowl whisk the grated garlic, 3 tablespoons of oil, mustard, orange juice, honey and zest and mix the carrot batons in this. I mix it with my hands and then grab a handful of the carrots (letting most of the dressing slide off back into the bowl). Spread the carrots out into a single layer on the parchment. Drizzle with the remaining 2 tablespoons of oil on top and roast for 45 minutes or until caramelised. Cool these off while you make the rest if you are serving this cold, otherwise you can do step 2 while the carrots are roasting.
Roasting as a single layer
Step 2 - Heat a frying pan on medium high heat and add a tiny bit of oil. Pan fry the halloumi slices until golden on both sides and place on a plate. Toss the baby spinach and carrots in the rest of the dressing and the plate up adding halloumi between the layers. Sprinkle with almonds and red chillies and serve.