Silver Lake and Echo Park are some of Los Angeles's most thriving, gentrified areas in Los Angeles. Located 15 minutes away from Hollywood this ethnically diverse neighbourhood is a mix of commercial and residential with vintage stores, great eateries and a hipster vibe all wrapped up in California cool attitude.
Micheltorena Stairs
We start with a stroll around Silver Lake and stop by the Micheltorena Stairs for a selfie. The rainbow painted and heart stairs are the most instagrammed staircase in Los Angeles. Artist Corinne Carrey painted the stairs at night to avoid getting in trouble as she wanted to beautify the area.
We cross Sunset Boulevard and pop into boutiques. There is so much shopping to be had in LA both vintage and designer new. We spend a bit of time in Dust Muffin, a vintage store.
"Did a Qantas flight just arrive?" the gentleman behind the counter says hearing our accents. He literally has something for everyone in this eclectic store and there are coffee roasteries, ice cream shops and more vintage shops than you can count.
Night + Market Song
If you want to dip your toe into one of LA's best Thai restaurants schedule your visit to coincide with lunch at Night + Market Song.
The Thai restaurant is decked out in candy floss pink and they don't take bookings-your best bet is to turn up when they open at 12pm.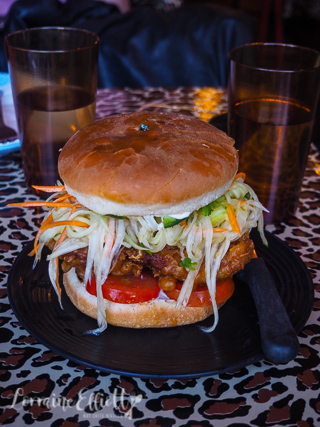 Fried Chicken Sandwich $12USD
While there are plenty of tasty Thai dishes they're most famous for a lunchtime fried chicken sandwich done Thai style. This is a Chiang Rai style chicken fillet encased in a crisp light batter with tomatoes, home style ranch dressing, jalapeño and lots of green papaya salad.
I would have loved a warm, softer milk bun and a bit more chilli heat but it's a deliciously fresh take on a fried chicken burger.
Konbi
Further down in the Echo Park area but still on Sunset Boulevard is Konbi, popular for its Japanese sandos. There are four on offer: warm egg omelette with dashi, egg Mayo salad with wasabi, pork katsu and eggplant katsu.
They are picture perfect and packaged so that they look perfect egg mayo and pork katsu are my favourites although the bread is a touch crusted over.
Botanica Restaurant and Market
For something more substantial stop into Botanica on Sunset Boulevard for a glass of natural wine and some lunch. The front of the space is a market selling a range of natural wines, freshly baked goods and delicious boutique food brands. It's worth a browse in itself if you're looking for a food gift.
The back of the space is the restaurant which is airy and bathed in sunshine. We order a few things to share from the menu. I love the food in LA because there are a lot of synergies with the freshness of Australian food.
Burrata with Peaches $17USD, Cali Smoked Fish Plate $16USD, Garlicky Toast $5USD
The Puglian burrata is served with grilled white peaches and apricot jam. Paired with some garlic bread it makes for a wonderful lunch. We also order the Cali smoked fish plate with house smoked Pacific bass fish, charred scallion fromage blanc, turmeric pickles, fried capers and soft lettuce and a fat slice of pillowy focaccia. We wash this down with a bottle of Meinklang Mulatschak 2018 from Austria, an orange wine with skin contact and relax taking in the easy breezy vibe. To finish is a matcha latte with a terribly delicious coconut, dark chocolate and salt cookie.
So tell me Dear Reader, which lunch would you pick of the three?
NQN was a guest of Discover LA but all opinions remain her own. Her meals at Night Market + Song and Botanica was independently paid for She travelled to San Francisco and Los Angeles with United Airlines.
United Airlines
https://www.united.com/en/us
Night + Market Song
3322 Sunset Blvd, Los Angeles, CA 90026, United States
Monday to Friday 12–3pm, 5–11pm
Saturday 5–11pm
Sunday Closed
Phone: +1 323-665-5899
Konbi
1463 Sunset Blvd, Los Angeles, CA 90026, United States
Open 7 days 8am–3pm
Phone: +1 213-278-0007
Botanica Restaurant and Market
1620 Silver Lake Blvd, Los Angeles, CA 90026, United States
Open 7 days 9am–2pm, 5:30–11pm
botanicarestaurant.com
Phone: +1 323-522-6106