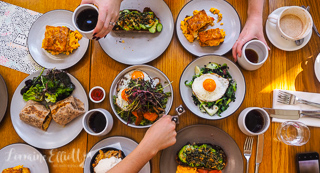 We switch locales in LA and move downtown to see what DTLA has to offer. From The Row, a warehouse area of boutiques and eateries to authentic tacos, a stunning hotel with a coffin shaped pool, one of the hottest restaurants to a distillery tour that you will never forget, Downtown LA or DTLA has so much to offer!
Please note that this story was written before the start of the COVID-19 pandemic but has been edited to show the businesses that are still in operation.
1. Shop At The Row DTLA
We start our our of Downtown LA or DTLA with a wander around The Row. This redevelopment spans 42 acres and was formerly a produce market in 1918-1923. Train tracks once ran through the development bringing the Californian produce around the rest of the country (it was responsible for transporting 10% of the country's produce).
There are over 65 lifestyle fashion and restaurants tenants. The Smorgasburg food market is held here every Sunday (alas we will just miss it). Retailers are boutique brands and it's a great place to buy gifts and browse.
Be sure to stop into Bodega, the most non descript looking shopfront in LA. What looks like a bodega's loading dock entrance hides a shop selling sneakers and men's clothing.
2. Stand Up Lunch At Tacos 1986
A bit further back into downtown, we stop by Tacos 1986 for lunch. Tacos 1986 owners were originally from Picana and wanted authentic tacos. They first started with a taco cart and this is the first store, open since June 2019 (the 1986 refers to the year they were born). There are no chairs here and instead, it is a stand up taco bar popular at lunch.
The menu is simple with four types of taco styles: tacos, quesadillas, mulitas and vampiros. The Taco is a regular soft corn taco, the Quesadilla is soft shell taco with cheese, the Mulitas is a soft shell taco with another corn tortilla on top while the Vampiros is a hard shell taco with another hard shell on top. Everything has grilled Monterrey Jack cheese except for the taco.
There are four filling in order of popularity: beef, ajobada (pork), chicken and mushroom. The mushrooms are fried and then grilled in macha sauce (chilli oil, soy sauce, toasted chillies, sesame oil and vinegar).
The beef has plenty of spices and is cooked with freshly squeezed orange juice on the grill. Take a look into the kitchen to see the enormous rotisserie pork (my favourite along with the mushrooms). Tip: make sure to get a bit of all of the sauces to see which you prefer.
Tacos 1986: 609 S Spring St, Los Angeles, CA 90014, United States Sunday to Thursday 11am–12am, Friday & Saturday 11am–3am. Phone: +1 213-988-7202
3. An Unforgettable Tour Of Lost Spirits Distillery
"I get a Willy Wonka vibe," someone says as we walk into Lost Spirits distillery for one of the quirkiest and most interesting distillery tours you could dream up. Lost Spirits is located in the Arts District that borders the east side of DTLA.
"Welcome to the Island of Dr Moreau," says Bryan Davis handing me a glass of cask strength Isla whisky with 54% alcohol. This whisky won 2019 Whisky of the Year by the Wizards of the UK.
Bryan first made his fortune by inventing a method to make 20 year aged whisky in just 6 days using chemical engineering. This is a game changer for the whisky industry that sits on its product for anything up to 20 years not making a cent during that time. This is why whisky distillers tend to branch out into making items like gin to help with cash flow during this time.
Originally the distillery which is appointment only, opened just for friends but bartenders and the industry flocked. They couldn't get any work done so they started charging for tours and then it sold out for a year. At between $37-$50 for a two hour tour including multiple tastings it is phenomenal value.
Trust me when I say that it's no ordinary tour and that you really have to do this tour. I don't want to spoil the surprise because it's so much fun but it involves a boat, submarine and bus and a forensic murder mystery. It may ruin you for all distillery tours as they will seem positively dry after doing this tour.
Lost Spirits Distillery: 1200 E 5th St, Los Angeles, CA 90013, United States. By appointment only. Phone: +1 213-505-2425
4. Dinner At Pilot at The Hoxton
Dinner tonight is at one of the newest hottest hotels in LA. The Hoxton is located on South Broadway and is a branch of The Hoxton Hotel in New York and London.
Pilot restaurant is located on the rooftop of the hotel. The menu is modern Californian which has so many synergies with the food served in Sydney and Australia. The crowd is young, beautiful and hip.
We start with cocktails, a dill julep for me which is a non-alcoholic cocktail with Seedlip Garden, cucumber, honeydew, lemon, yogurt and dill that is absolutely delicious although a little difficult to drink with the pile of ice on top that keeps threatening to fall down.
Charred Eggplant Dip Housemade Moroccan Flatbread $12USD
We start with a wonderful eggplant dip with roasted walnuts on top and chilli oil served with a moreish house made flatbread that has an appealing char to it.
Grander Seafood Tower $65USD
We also start with a tower of seafood. The seafood isn't just fresh seafood but it's has also been seasoned so that it has a lot of flavour. The mussels and clams are delightful as are the succulent prawns.
Crudites and Aioli
Also to share is a creatively styled crudites on ice. They come with a pot of a freshly made batch of aioli that they ceremoniously place on top of the warm flatbread. This is such a nice way to serve fresh, crunchy vegetables.
Potato Chips & Caviar $14USD
From there we segue into other items like the potato chips and caviar which come as a small tin on ice with sour cream on the bottom and caviar and chives on top. This is dream snack territory.
DTLA Cacio E Pepe $25USD
We tried two of the pastas and the first is their version of Cacio e Pepe with pink peppercorns, sage and parmesan. I did find that the Bavette pasta was a bit too soft so it broke up quite easily. I also prefer some more cheese in my cacio e pepe.
Dungeness Crab Pasta $25USD
The crab pasta has hints of saffron and crunchy crumbs to it as well as some pieces of Dungeness crab.
Roasted Chicken $23USD
Mains-wise we also loved the chicken which had a liberal amount of salt and a very crispy skin with a beautiful char from the wood fired oven.
Braised Lamb Neck For Two $42USD
If you order the lamb neck make sure to get some flatbread and keep the aioli to make yourself a gorgeous little wrap with the buttery soft lamb. They recommend you shred this and it falls off the bone easily. I also love the curry gremolata which is a very clever idea.
The dessert menu is recited to us by our delightful waitress. It's a range of sweets from Greek doughnuts, chocolate cake, date putting and ice cream.
Fried Lokma (Turkish Fried Dough Balls) $10USD
The orange blossom glazed Turkish doughnuts are tiny and fabulous and come with cardamom cream and a chocolate ganache dip.
Chocolate Layered Cake $10USD
The chocolate cake is no ordinary chocolate cake - it is a triple chocolate cake. It is tempered in its richness with a scoop of raspberry sorbet and a sprinkle of sea salt.
Sticky Date Pudding $9USD
The date pudding is rich and soft and comes with a scoop of goats cheese ice cream. Some swoon for this, others are not so taken. I guess you'll just have to try it for yourself!
Pilot At The Hoxton: Rooftop level, The Hoxton Hotel, 1060 S Broadway, Los Angeles, CA 90015, United States. Sunday to Thursday 11am–12am, Friday & Saturday 11am–2am, Sunday 11am–11pm. Phone: +1 323-405-9993
5. Drink Chamapagne at V DTLA
A swanky lounge bar in a converted jewellery store? V DTLA is the perfect spot for your last night in DTLA. There are lots of areas for you to choose to sit in and there's a cosy section out the back too.
V is known just as much for the food as the drinks although we just shared a bottle of champagne as it was our last night in LA. I will miss LA so much...
V DTLA: 515 W 7th St, Los Angeles, CA 90014, United States. Sunday to Thursday 10am-11pm, Friday and Saturday 10am-12am. Phone: +1-510-858-6581
6. Stay At The Figueroa Hotel
For our stay in DTLA we are staying at The Figueroa Hotel. It was originally a YWCA and the first place women could check in without a male companion in Los Angeles. Originally built in a Spanish colonial style, it was then transformed into a Moroccan style hotel. The current owners then tried to revert it back to Spanish colonial style with some Moroccan touches like in their bar Rick's.
Whilst it may look modest on the outside it is gorgeous on the inside with beautifully appointed rooms. There are also interesting features like a coffin shaped pool. The original architect had an obsession with death and stipulated that he would only take on the project if the pool was coffin shaped (I feel a kinship with him).
There are also touches like the original concierge desk and a gallery showing only female artists. The original owner of the building went by the single name of Mary (no last name) and was a human rights advocate who founded the YWCA.
There are 286 rooms spread out over 14 floors. My room is #522, a corner deluxe king room. The king bed has Sferra bedlinen and is one of the most comfortable beds I have slept on. I simply did not want to get up in the morning.
The work desk is spacious and the distressed leather vintage look chair is supremely comfortable. There's also a two seater lounge near the window.
To the left of the door there's a small walk in robe and safe. Internet is fast and free for unlimited devices and they're also really handily placed USB ports and plugs by the bed and on the desk.
Apart from the bed, the bathroom is my favourite feature of this room. While there is no bath the shower is spacious and has a beautiful pebbled floor which provide a lovely tactile sensation. There are also good quality toiletries. There is also an automatic bathroom light that turns on when you go in and turns off a couple of minutes after you leave. The sink area is large so you can spread out all your toiletries.
Not all deluxe king rooms are the same. Mine has a small fridge and lots of bathroom bench space while another king deluxe has a small tub but no fridge and a modest amount of bathroom bench space.
We also take advantage of their complimentary car service that takes you to any destination in downtown as long as it's under 1 mile away via their brand-new Tesla. It's booked on a first come first served but it's never far away.
So tell me Dear Reader, how do you feel about Los Angeles? What do you think about the hotel? Do you like stand up lunches or meals?
Hotel Figueroa: 939 S Figueroa St, Los Angeles, CA 90015, United States Phone: +1 866-734-6018
NQN was a guest of Discover LA but all opinions remain her own. She travelled to San Francisco and Los Angeles with United Airlines.
United Airlines
https://www.united.com/en/us