Hooray for Hollywood! Stay right smack bang in the middle of Hollywood, Los Angeles and see what this area has to offer with history, a stunning restaurant featured in movies, a bowling alley unlike any other, the walk of fame and a hike high up in the Hollywood Hills!
Please note that this story was written before the start of the COVID pandemic but the businesses featured are still in operation.
I'm waiting at the gate for the rest of my group to deplane from our flight from San Francisco when I glance down at my feet and see something shiny. It's a penny glittering at my feet. Into my head pops the saying "See a penny, pick it up, and all day long you'll have good luck." I bend down and pick it up, turning the penny over. It can't hurt right? I sip it into one of my jacket pockets. It can never hurt to have some luck in LA.
Five minutes later while I am minding bags while waiting for everyone I spot my first celebrity. Nick Jonas from the Jonas brothers walks past me. The penny seems to be working...
1. Start With a Drink at Tabula Rasa
We hop into the Uber and our driver is a hot guy who turns out is an actor. "This is the bit where I give you my script," he jokes. He gives us plenty of recommendations for eating. Our first night out in LA starts at Tabula Rosa, a neighbourhood bar adjacent to a motel on Hollywood Boulevard.
Tabula Rosa is a natural wine bar with a slightly grungy vibe inside. A band plays live jazz in the front corner and it's dark and sexy with a raw wine list. We try a Pet Nat that is lightly sparkling from Apple Valley in Oregon which we all love but the night is young and we have other places to visit so it's just one glass for us.
2. Eat At Yamashiro
One of the most gorgeous places to eat is Yamashiro, one of Hollywood's most iconic restaurants. Perched high above Hollywood Boulevard it was originally a private estate (Yamashiro means "Mountain Palace").
In 1941 two German cotton baron brothers Adolph and Eugene Bernheimer decided to build a Japanese estate to house their Asian art treasures. The result is a stunningly beautiful house that has been used in films like "Kill Bill" and "Memoirs of a Geisha".
It's worth going for a little walk around the restaurant. The inner courtyard is stunning. There's also a 600-year-old pagoda and a pool that was once a lake that used to be home to black swans from Australia.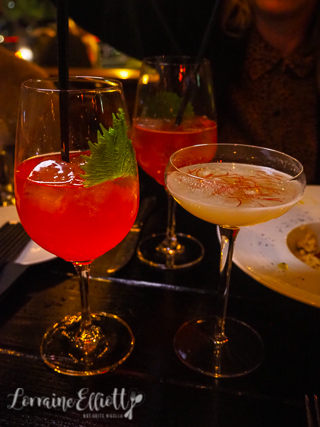 Shinsuke Nakamura $16USD (right)
The menu has a large range of sushi, nigiri, salads, starters, noodles and mains and an excellent cocktail list. I love my Shinsuke Nakamura with Roku Japanese gin, lemon, wildflower honey and Szechuan bitters.
Charred Brussel Sprouts $10USD
We order a range of items from every category. The charred Brussels sprouts are very moreish. They are crispy and deep fried and served with a delightful sweet soy dressing and puffed wild rice.
Petaluma Farms Chicken Kara-age $18USD
The Petaluma Farms chicken karaage is very good. The chicken is marinated in mirin, sake, garlic, ginger, smoked soy and then deep fried and served with a fantastic chili miso dip. Note to self: try the chilli miso with my next chicken karaage.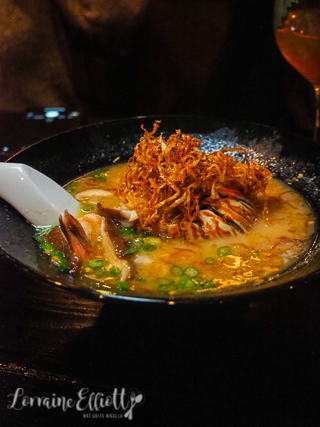 Lobster Miso Soup $39USD
Plain miso soup? Not in Hollywood or LA! It's lobster miso here and not to be missed. It's half a lobster with Hokkaido scallops, prawns and large pieces of tender fish garnished with crispy shallots that also add texture and flavour. It's so excessive but delicious.
Fancy Fries $39USD
We love the idea of the fancy fries (and I did a version during my Oscars viewing party). It's French fries with classic shassetra caviar, trout roe, tofu cream cheese and chives. It's fun but perhaps needs a bit more sauce.
Malibu Sushi Roll $19USD
The malibu sushi roll is 8 pieces of sushi filled with snow crab, spicy tuna, shrimp tempura, avocado and is very good.
Spicy Tuna Crispy Rice $22USD
The spicy tuna comes on crispy rice nigiri. I love crispy rice sushi because of the textural contrast of the deep fried rice.
Crab Hand Roll $20USD
The resounding hit of the night however is the crab hand roll. Fresh crab meat is wrapped in rice and ultra thin yuba tofu skin sprinkled with togarashi. It comes with a pot of garlic butter sauce. It's pricey but it's also absolutely divine and we end up ordering another round after our first.
Truffle Hamachi $22USD
We also try the hamachi sashimi with white truffle oil ponzu, tomato and garlic confit and micro arugula that is also refreshing.
The desserts are less of a feature than the mains and they come out on a stool for an unusual presentation. There's a yuzu panna cotta and a New York cheesecake with fresh berries. While they're nice enough they're probably not something I'd order again. Instead I'd leave room for another crab roll!
3. Go Bowling At The Spare Room, The Roosevelt Hotel
Not wanting to go to bed we cap off the night in The Roosevelt Hotel, one of Hollywood's iconic hotels. Open since 1926 it is Hollywood's oldest continuously operating hotel and this dame hasn't really aged, instead she has stayed true to old Hollywood glamour.
After a period of decline the hotel was restored using original blueprints and sketches and boasts a painted mural by David Hockney at the bottom of the pool. One suite is named after Marilyn Monroe who lived there for two years.
Hollywood does things unlike anyone else and the Roosevelt's Spare Room cocktail bar is a chic bar with crazy cocktails and a bowling alley. This was one of my very favourite things that we did.
For $100 an hour you can have the use of two bowling lanes with your own valet to keep score. Bonus: if you're wearing heels or stilettos, you don't have to don bowling shoes, you can go barefoot or buy some Spare Room socks!
The salt and vinegar martini is only for the brave (spoiler: it's weird and most of us don't enjoy it). The Rumluck is a spectacle as it comes to the table in a heavy silver ice filled cup with flashing coloured lights. This concoction has three types of rum and tastes like cherries.
Rumluck $25USD
4. Do A Griffith Park Hike
After a big night we decide to do a guided hike up through Griffith Park. Our guide Harris (also an actor) takes us to the summit of Santa Monica Mountain. It's a 45 acre park urban park completely surrounded by the city of Los Angeles.
There is a resident mountain lion P22 who separated from his family by running across the freeway. He is so named because he is one of the 22 mountain lions roaming the San Gabriel mountains and is very occasionally spotted but is more of a nocturnal creature. "He's the king of Los Angeles" says Harris.
Reach the summit 1400 feet above sea level and be rewarded with a gorgeous view of the city below.
5. Breakfast At Salt's Cure
If you're looking for somewhere for breakfast, Salt's Cure is located on North Highland Avenue, about 15 minutes by car from the hotel but still in Hollywood. Provenance and key with their suppliers and they buy locally from farmers. They also buy their animals whole while their seafood is sustainably caught from the Pacific Ocean by local fishermen.
Salt Cod Hash Sandy $14USD
We try a range of items for breakfast from the salt cod hash sandwich with a fried egg and tartare sauce. My favourites are the mushroom bacon bowl with a fried egg, bone broth and toast and the smoked king salmon toast with avocado, hummus and red onion. Service is quite slow though and our waitress was definitely having a bad day.
Smoked King Salmon Toast $17USD
6. Watch A Live TV Show Taping
I think most visitors want some sort of celebrity encounter when they visit LA, particularly in Hollywood but did you know that you can watch a tv show being taped? It's easy to book online and it is also free.
We watched Australian comedian Jim Jeffries film an episode of Jim Jeffries Live at the Sunset Las Palmas studios. He starts off each taping with a 15 minute set before filming the tv show that takes around 30 minutes and is really fun to watch. Set aside a couple of hours to do this and there is a dress code to note (no white or logo bearing clothing or open toed shoes). Also no photos are permitted and you'll have to surrender your phone upon entry.
7. Stay At Loews Hotel
For the next three nights I'm staying at The Loews hotel which is located smack bang right in the middle of Hollywood. The location is superb and you are literally a minute from the Hollywood Walk of Fame and in the midst of the tourist attractions and shopping.
This is my first time staying in Hollywood and it's bustling and noisy although my hotel room is completely quiet which is quite an achievement considering the cacophony below.
The 20 storey hotel is located at the intersection of Hollywood and Highland right next to the Dolby Theatre, where the Academy Awards are held and actors have been known to sneak into the hotel through the kitchen. Meryl Streep stays on the hotel's 17th floor and has a simple rider: Grey Goose vodka, corn chips and guacamole.
My room is a king suite and it's large and roomy. The bed is very comfortable with a good variety of pillows. There's an oversized working desk and comfortable a lounge area and plenty of places to charge your phone at the base of the lamps. The lounge room also has a great view of the Hollywood sign in the distance.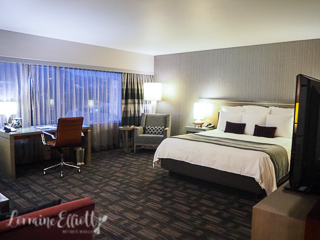 The bathroom is large and stretches out across two rooms with the single sink in one room with lots of marble bench space and the shower and toilet in another room.
View from my suite
8. Visit The Stars at The Walk of Fame!
Last but not least, when in Hollywood, find your favourite actor's star! The stars are located right outside the Loews Hotel. Did you know that the actor has to pay for their own star? And that the Donald Trump one has been repeatedly vandalised?
So tell me Dear Reader, have you ever stayed in Hollywood itself? Who is your ultimate celebrity to spot?
NQN was a guest of Discover LA but all opinions remain her own. She travelled to San Francisco and Los Angeles with United Airlines.
United Airlines
https://www.united.com/en/us
Tabula Rasa
5125 Hollywood Blvd, Los Angeles, CA 90027, United States Monday to Thursday 5pm–1am
Friday & Saturday 2pm–2am
Sunday 2pm–1am
Phone: +1 213-290-6309
Yamashiro's
1999 N Sycamore Ave, Los Angeles, CA 90068, United States
Sunday 11am–3pm, 5–10pm
Monday to Thursday 5–10pm
Friday & Saturday 5pm–12am
yamashirohollywood.com
Phone: +1 323-466-5125
The Spare Room At The Hollywood Roosevelt
7000 Hollywood Blvd, Los Angeles, CA 90028, United States Open 7 days 8pm–2am
Phone: +1 323-769-7296
Griffith Park Hike
Bikes and Hikes guided tour
8250 Santa Monica Blvd, Los Angeles, CA 90046, United States
Open 7 days 8am–5pm
Phone: +1 323-796-8555
Salt's Cure
1155 N Highland Ave, Los Angeles, CA 90038, United States
Sunday 10am–3pm
Monday to Saturday 9am–10pm
saltscure.com
Phone: +1 323-465-7258
Jim Jeffries Live Taping
https://on-camera-audiences.com/shows
Loews Hotel
1755 N Highland Ave, Los Angeles, CA 90028, United States
Phone: +1 323-856-1200
loewshotels.com/hollywood-hotel