There aint no party like a Halloween party! We've summoned the spirits, donned our spookiest costumes and brewed a cauldron of eerily delicious concoctions to bring you an unforgettable night of ghoulish delights. With spine tingling decor, hauntingly gruesome but tasty food and surprises lurking around every cobwebbed corner, this party is a true celebration of all things creepy and kooky. So, grab your broomsticks and settle in to read all about the tales of the night...
My dearest ghouls, Halloween is my most favourite time of the year when the weather turns and black cats and pumpkins appear. This would be the 16th year for my Halloween party and I was ready to go even from mid September. This year we would be holding our Halloween party in our new house for the second time. Last year we were mid renovation but this year the dust had settled and it was a much more relaxed affair. I had even planned a costume change and a little surprise for my guests!
Quicklinks to Recipes:
We always have our Halloween party a bit earlier than October 31st so that I can share the recipes with you Dear Reader. This year for a change there was no rain predicted so Mr NQN spent the whole day outside tending to the garden while I stayed inside and put the finishing touches on all of my spooky food and décor.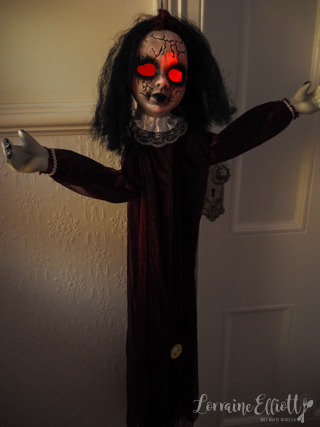 To set the scene we stopped by The Party People in Drummoyne. For over 10 years they've supplied all of the spooky decorations for my parties and they always have some ghoulishly epic decorations. This time I came in with a clear purpose for props. When visitors first pressed on the witch doorbell and entered, they were greeted with an animated alley of scary, animated life sized figures.
First was spooky girl with flashing red eyes, then an animated life sized owl mid-flight. If they weren't already scared stiff this was followed by a storytelling witch that cackled and told tales (that some people thought she was a real person!) and lastly a mummy with glowing red eyes.
Then they entered the living room (or really, the "unliving room" if the pictures on the wall were anything to go by). This is the room in our house that most visitors say that they love the most. While the back of the house is a modern extension, the front is all original Federation and there's something most definitely a bit bewitching about this room with its dark walls and fireplace.
The mantle was decorated with lots of pumpkins, autumn leaves and candlesticks that flickered all night long. A giant, hairy spider sat high above on the mirror. On the table was an animated telephone that trilled loudly and cackles or says "Don't you dare hang up!" while it's eyes flash red.
The back of the house is quite modern which makes it tougher to decorate in a Halloweeny style but this was where we used lots of fake cobwebs. We didn't put any outside the house as I read that birds can get caught in them so we kept the webbing inside.
And in the bathroom we set the scene with bloody decals and a lenticular portrait that changed views as you walked past. The toilet seat decal showed gigantic spiders in the bowl while poison bottles, black roses and a a medical chart adorned the vanity.
For a week prior I was busy cooking and preparing all of the food. There was of course the Halloween food that I already shared with you as well as some new Halloween recipes!
But that was not all. I also made some devilled eggs in black and orange. I saw this recipe on Dairy of a Mad HausFrau last year and was totally besotted by them. Not only were they so visually effective they used ingredients that were easy to find. The key to these is using rice vinegar and they can be done over the course of two days if you want to boil eggs one day and then tint them the next. I say this only because this recipe is best made on the day as the colour will fade with time. Also these are best with older eggs as fresh eggs will resist being peeled like little curmudgeons. I use the bicarb to aid in this endeavour.
The severed finger sausages were a real hit and disappeared quickly! These came to me one morning when I woke up and declared, "I don't have enough meat!". I woke Mr NQN up who thought that I had started sleep talking. I mean if I'm going to sleep talk about something, it's highly likely it would be about food. These severed finger sausage rolls are so easy to make but you do need to go for slender sausages. I liked these organic beef hotdogs that I found at the supermarket. There was no issue with the filling leaking out the end as they were already cooked completely and they were the perfect size for a finger. In this instance I used shortcrust pastry as puff pastry expands and I didn't want to make puffy finger sausage rolls although there is a certain charm to that too.
At my Halloween party we had one main table and then we had another table that people that we put the Halloween party trail mix on. I love trail or party mix and my favourite is a mixture of sweet and savoury with chips, popcorn and chocolate. Some people make huge boxes of trail mix and store it to scoop out and this requires baking it in a coating of butter so that it doesn't go soggy. If you are just making one serve for one night there's no need for that. I promise this Halloween Party mix is so addictive!
I also loved making this charcuterie ouija board. I also saw this on reddit and it was such a clever idea and easy to replicate as long as you have letter cookie cutters. It's also a great way to serve cheese as it is already portioned out. I used Red Leicester cheese and tasty cheddar slices as well as salami, ham, cornichons and olives and a sun made out of a round of brie!
Every year for my party, I bring out something hot a few hours into the party as it is always held at night around dinner time. Snacks and sweets are all fun and good but something you just want something hot. And these Devilish Roulette sliders are such a fun, easy vegetarian idea. These sliders are filled with seasoned refried beans, melted cheese, sour cream and crunchy corn chips (seriously, if you've never had corn chips in a slider or burger, I'll wait while you get one together, it's EPIC). I assemble the sliders ahead of time and then bake them in the oven for 10 minutes and then fill with corn chips and sour cream. The idea behind these sliders is that there is one slider out of the 12 that has a hot chilli in it. Each bite is a crunchy, creamy delicious taste sensation. And for one lucky or unlucky person it is spicy AF too!
There were also bags of mulled blood aka mulled wine that was served chilled. When Monica was in Italy she sent me a message from a shop. It was September and they had their Halloween items out. She showed me pictures of all of the items and asked what I wanted as she wanted to buy me some things for my party (so lovely of her!). And the first thing that I said yes to were these blood bags. While you can probably fashion some of your own, I have no contacts in the medical field to procure some. And these came already with labels.
And for something sweet I made Freddy Kruger strawberries with a "striped jumper" and hat! I absolutely loved the idea of these although I think that my effort falls quite short of the desired effect. Still these are absolutely delicious and well worth making for Halloween. If you are making them for kids and want to avoid peanut butter cups you can also use Rolos for the top of that hat!
I also made a pumpkin flan or crème caramel. I promise that if you love pumpkin pie and creme caramel you are going to LOVE this. Plus it's a great way to use up any leftover pumpkin as I'll show you how to make a pumpkin spice mix and pumpkin puree that is perfect for baking.
I saw the Pennywise crudite platter going around Reddit last year and I knew that I wanted to make it this year. A week before my Halloween party I saw someone's failed version of it so I was a bit worried I wouldn't have the artistry needed to pull it off. So I asked my most artistic friend Valentina if she would mind making the Pennywise Platter and she totally aced it! It was enough crudites to serve a big party. I added a capsicum dip (recipe coming soon) and a pumpkin toum which proved to be a big hit - the garlic would also help ward off vampires!
Valentina also brought along these squashed cockroaches which are really just dates stuffed with cream cheese but with that printed paper it definitely made you look twice!
Overlooking the table was the Madame Leota Haunted Mansion talking head from The Party People. I think she was everyone's favourite prop of the night and she basically sat on the table and gristled at and told off everyone that went up to the table to eat.
That afternoon I changed into my costume: Barbie complete in box. While the box is light, it is still a few hundred grams and after walking around with the box resting on my head and enormous platform shoes my neck was starting to hurt and I was pretty miserable. I had planned on a costume change halfway through the night.
My plan was to change into a detective outfit to go with the surprise. Then I tried on the detective outfit and I was so much more comfortable that I ended up ditching Barbie altogether and just wearing the detective outfit the whole night!
I mentioned before that Mr NQN wanted to come as COVID but I thought that that was too soon and imagine if people caught it at the party. But one night he was struck by divine inspiration when he saw someone that had been in the news recently - Russell Brand! He has the hair, height and frame to look like him. We didn't have to do much to him. "I'm slightly concerned how easy it was to become him," said Mr NQN. The only problem is that Mr NQN's personality is very unlike Brand's as he is very shy and quiet. He even studied videos to try and emulate him. In the end he had one line when he threw open the front door to guests and announced in a loud British accent, "ARE YOU HERE FOR THE GANGBANG?".
Teddy and Milo also got into the spirit of circling for dropped food I mean of Halloween. Teddy had a shorter haircut than normal so we thought we'd make the most of his Dobby -ike appearance and he came as Dobby the house elf. Mr QNN sewed up one of his old tshirts for him to wear (bonus: it smelled like Mr NQN so Teddy loved it). Milo came as a little detective in his trench coat as he was the Watson to my Sherlock Holmes.
At 7pm guests started arriving and Valentina and Peter came first in a couples costume. He was Van Gogh and she was the Starry Starry night painting complete with twinkling lights.
Halloween would be much more challenging without Valentina. She designed the invitations, printed out and wrote the food signs and she also came over the night before to help me decorate and I think she is why I find it less stressful.
The next to arrive were Queen Viv and Miss America. They always come in a spectacular costume - Queen Viv's costume is always hand sewn while Miss America's is always provocative and controversial. You won't believe this but despite their somewhat theme matching costumes they did not know what each other were coming as!
It was just by sheer coincidence that Queen Viv came as a devil and Miss America came as the Pope (he loved Sinead O'Connor). Some of you have asked me if they are married, no they are not, they're lifelong friends.
A Halloween party isn't a Halloween party unless Julie comes and she drives an hour to get to our party each year leaving her kids with her husband. She's one of those guests that everyone loves talking to and even though I've said that she can bring her family along I think she quite likes the time away. She came as a real Barbie doll. We all had a Barbie like her that is drawn on with their hair cut with blunt scissors.
Then Mr NQN's younger sister Amaya arrived with her husband Laporello and their kids Jett and Finn. They always come in fantastic costumes and this was no exception. When father and son duo Laporello and Jett arrived they caused quite a sensation as they came as the invisible men. "Quick take the pic!" squeaked Jett from somewhere inside the shirt. Once everyone had seen their costume they unbuttoned the shorts and came out and breathed a sigh of relief.
Amaya came as Coraline complete with button eyes and pyjamas. Finn is a huge fan of Halloween and his birthday is right near it. He came as Loki to reference his Nordic heritage.
Katie then arrived as a colourful pink Frieda Kahlo. "I need to look serious," said Katie while we were taking her photo which is hard because she is always smiling. She also brought a delicious filled cobb loaf shaped like a pumpkin.
Mr and Mrs Martin came as Barbie and Ken. They brought some skull chocolates and some dog treats for Teddy and Milo. I swear the blonde wig brought out a different side of Mr Martin's personality completely!
Monica and Marco's costumes were inspired by the movie The Menu. He came as the chef and she came as a S'more. I won't spoil it but it's a crucial scene from the movie. Monica also discovered a love of glue gunning as she painstakingly glued cotton balls to her top. She brought along a big bowl of guacamole and bright blue Takis chips.
Then Mr NQN's mother Tuulikki arrived with his sister Araluen and her fiancee Ben. Tuulikki explained that her costume was Tuonetar, Finnish goddess of death who welcomes all the souls to the afterlife. Araluen came as a Gothic Victorian woman and Ben as a skeleton.
Unfortunately Nina and Garth were overseas as was Ivy. And poor Laura caught COVID just before the party!
The first hour or two of the Halloween goes by in a second and I barely have enough time to talk to everyone. The food disappeared quickly but the unexpected food hit of the night were the edible cigarettes! People actually thought that they were real but when they picked them up and tried them they thought that they were much, much tastier.
When I was making them I kept "testing" them as they were so good (think Pocky but even better and crisper!). And people really loved the Mulled Blood aka chilled mulled wine served in blood bags and they were a great way to serve a drink - some people downed three blood bags! Halfway through the night we brought out warm Spider Sliders and Monica helped me assemble and distribute them.
At 8:30pm Queen Viv and Miss America asked me, "Can we have charades soon. We don't have the energy of the rest of you!". I had plans to take out the detective game then but I didn't want them to have to leave as they are always so much fun at Charades, especially Miss America. We decided to have charades in the garden as the jacaranda and jasmine were in full bloom and there was a cool breeze.
We split up into two teams and wrote up a list of scary things which is a broad theme that is pretty relevant this year and ranged from Men in general to Will Smith slapping Chris Rock. Of course Miss America forgot which team he was on but the amnesia was contagious as other people forgot which team they were on too and starting calling out answers for opposing teams. Everything that Miss America said had a bit of seriousness and gravitas because of his costume, even when he was heckling people during charades.
After Charades and dessert most of the guests left as it was getting late but a few remained. Julie, Miss America Queen Viv were keen to try the detective game despite their earlier protestations about wanting to go to bed early. It was actually perfect number for the detective game (I was a bit worried about 20 people trying to solve a mystery!).
Mr NQN and I had already played the game as we wanted to see if it was good and so the three of them laid out the folder of evidence and played police detectives. It was like a real life Only Murders in the Building (Julie as Mabel, Miss America as Oliver and Queen Viv as Charles). After one and a half hours they deduced who the culprit was. The solved the mystery with good old fashioned deduction powered by Halloween party snack mix.
At midnight, the witching hour we bade goodbye to our last guests. The party never disappoints and it was worth all of the effort! Now onto the recipes...
So tell me Dear Reader, is there a Halloween costume that would be easy for you to transform into?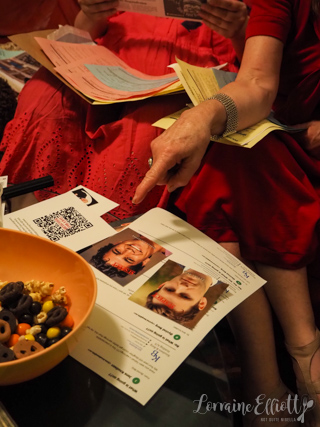 Lastly I handed out these little broomstick themed party favour bags. Because every party should end on something sweet! x