As you'd expect with his flair for presentation, Iron Chef French Sakai's La Rochelle restaurant in Shibuya's Cross Tower is a stunningly gorgeous restaurant with a killer view and extremely luxurious. Named as a homage to his time in the region of La Rochelle, its furnished with heavy linens, sweeping curtains and Hermes plates (every table has a different pattern). Around the long rectangular room, there are also Tiffany lamps and a glass fronted credenza with porcelain and fine bone china figurines and collectibles.
There were a few menus to choose from and we could have ordered a la carte but the 5 course menu that we saw looked very tempting so we opted for that. We had:
Fevrier 2007 menu
¥4725 (approximately $49AUD)
_Hors d'oeuvre
Rilettes de tours au porc, trois salades imaginiatives de verdina et granite de Ume (Pork rilette on toast, pickled vegetables, three imaginative salads of verdina, choux filled with pate, Ume plum granita)_
The entree plate was a lovely combination of different tastes and textures, the choux filled with pate was perfectly crisp on the outside and soft on the inside, the pork rilette on toast was so tasty and very moreish as was the salads but the surprising favourite for me was the Ume granita. I am not usually a big fan of Ume (Japanese plum) flavoured items but this was artfully refreshing.
_Soupe
Souple gratine d l'oignon (French onion soup)_
Next we had the French Onion Soup, what the waiter himself said was a bit cliched and whilst it was nice, it seems a bit out of place in this chic setting.
Poisson
Yuba farci Sukesoudara Ishinomaki roti jus de dorade au gingembre et Miso Japonais (Sea bream wrapped in Yuba (Tofu skin) with Miso and ginger sauce)
Viande
Ragout de joue de boeuf au vin rouge garniture pomme de terre roti et beignet de pomme (Ragout of beef burgundy with red wine with potato and apple fritter)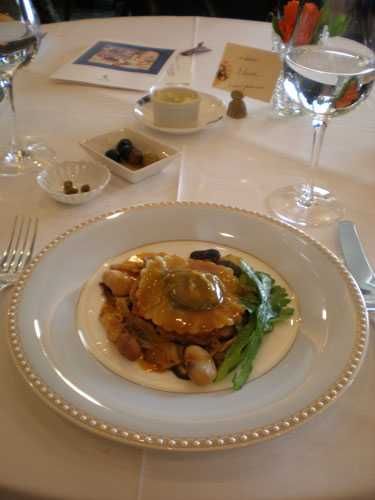 Or
Corcle de coquelet sauter ravioli de duxelles sauce gremand (chicken with foie gras and duxelle mushroom ravioli )
Then followed the mains, we decided to try one each and although I knew that my sister was having the better dish I got to try some (but not much!). My beef burgundy was so tender and soft and redolent with red wine. The apple fritter was an interesting addition but I didn't really go for this combination. The chicken with foie gras was definitely the choice for the main though, the textures and flavours were enough to make one not share it with anyone else.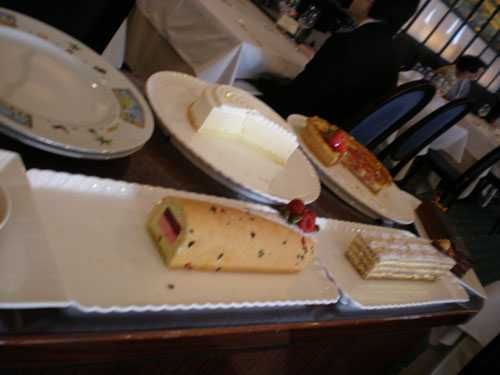 _Dessert
Le Chariot en desserts de notre patissier (chariot of desserts from the pastrycook)_
For dessert, they wheeled by the spectacular dessert cart. I haven't seen a dessert cart for years so it was a welcome feast for my eyes. It was hard to choose which ones to have but we tried the strawberry tart, tofu ice cream, chocolate truffle cake, pistachio roulade and mille feuille. Choosing a favourite would probably be like choosing a favourite child or pair of shoes!
Coffee and tea were served and the atmosphere was so relaxing we just sat back and soaked it all in. I confess, its probably the closest I've come to meditating.
Our waiter was European and trilingual and he and the staff were wonderful. When we were leaving we asked for directions to an art exhibit and they photocopied a map for us and gave us detailed directions on how to get there. A truly special afternoon! I could've stayed there all afternoon, in fact we did.
P.S. Interestingly, a few months later we went to the Hermes store in Sydney and were looking at the plates. The Sales Assistant was fascinated to know that Sakai had their plates, she is apparently a big fan and I'm sure its a rather cool anecdote when discussing them with learned customers.
Oh and if anyone can read the recipe on the menu I'd love to know what it says!
La Rochelle
Shibuya 2-15-11, Shibuya Cross Tower 32F (map directions are not accurate, they only give you a map of Ginza although there is a map in Japanese on the La Rochelle website).
Tel: 3400-8220.
Website: www.la-rochelle.co.jp (in Japanese)
12:00-14:30 Last order 18:00-21:00 Last order. Closed Mondays.
Lunch course: 3300Yen,4500Yen, 8500Yen (approximately).
Dinner course: 8500Yen, 12000Yen, other (approximately).
Seats 70
All Credit cards accepted
Reservations recommended