Extremes of anything, big or small interest me and my sister had been plying me with stories of having the legendary King Crab for years. When she last had it, about 5 years ago, it was $500 and it fed 8 people with plenty left over. If you pass by a fish tank in one of the larger Chinese restaurants, the King Crab are the gigantic 3-40cms long beasts, the flesh less delicate and sweet than mud crabs but if you get a full one, much better to feed a gluttonous tribe. Crab are a funny thing though, sometimes they are empty with little flesh in them whereas sometimes they're full of flesh and this varies apparently according to the moon. Its a cycle that we've yet to decipher so we usually go with lobster which is always reliably full.
Its a family celebration for my sister that brings us to the Golden Unicorn in Maroubra. They're also having a special on King Crab and for $250, you can get a King Crab cooked however you'd like (we opted for crab cooked in XO chili sauce) and a double lot of e-fun noodles. If the crab is full, then there's no need to order any other dishes.
We go to the tank and pick out the crab that we want and there are two to choose from on that night. They put him on our table and he looks miserable. I almost have second thoughts as he looks terribly sad but the waiter whisks him away. After our complimentary house soup (clear pork and vegetable broth), our plate of crab arrives at our place but we are disappointed. The crab appears to be empty that night and what should feed 8 feeds only 4. Later there is much kvetching over how and when we should have had the crab, my parents believing that this time would have been better than that time but no definite conclusion is reached and its easy to say it all in hindsight. Perhaps the crab was trying to convey a message to us with his sad countenance "Don't eat me, I'm not ready!"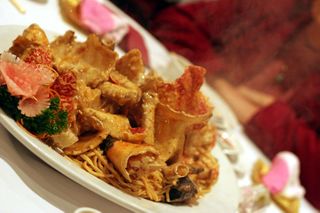 Golden Unicorn Chinese Restaurant
Level 2, 193 Maroubra Rd
Maroubra NSW 2035
Phone (02) 9344 9278
Open seven days for lunch, Mon to Fri 11am - 3pm Sat to Sun 10am - 3pm, and dinner, 5pm-11pm
Payment accepted: MasterCard, Visa, Diners Club, American Express and EFTPOS
Alcohol BYO
Seats Seats 200
Wheelchair access