Don't you hate it when you go to foodblog about a place that has always provided you with great service and food only to find that the owner is away and chaos and confusion runs amok?
Needless to say, this is what happened to us with Crystal Garden. Its our most well loved Chinese restaurant, a hidden gem and we've always had flawless service and food there. Tonight, the owner is absent and sadly it really shows with the service we receive.
If you order their regular suburban Chinese offerings, you'll wonder what I am talking about. Its only when you scratch the surface of this suburban Chinese restaurant and order the seafood from the tank that this gem really shines.
He looks mad-as well he should be!
Tonight its a celebration so its Lobster from the tank ($75 a kilo for a 2.3 kilo lobster). We needed to pre order it as they usually only have crab and fish ready in the tank. We also order Pay pah tofu (tofu balls sauteed with prawn meat with broccoli), fried rice and a steamed fish with ginger, coriander and shallots.
We're waiting a good 25 minutes before any food arrives with nary a prawn cracker passing by our table. Its relatively empty but we're receiving service as if the restaurant was full and there was only one waitress on. There's also no sign of the complimentary house soup that one gets when making a big seafood order.[
](https://images.notquitenigella.com/images/crystal-garden-at-malabar/a-lobster1.jpg)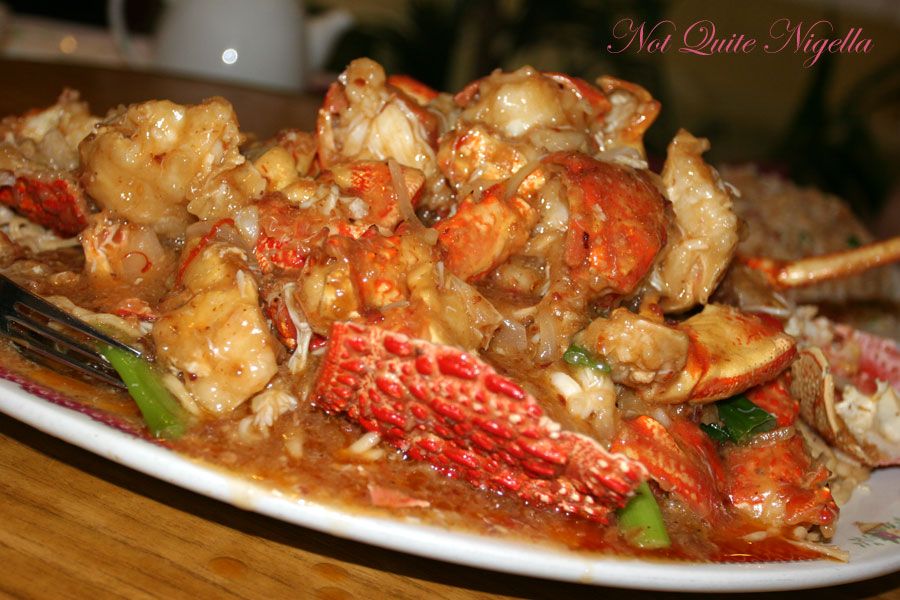 XO Chili lobster 2.3kg with double lot of e-fu noodles $182.50
After 20 minutes we beg for some prawn crackers (which never materialise) and within 5 minutes of our request, our enormous lobster platter arrives resplendent with glistening sauce. The lobster is huge, sitting atop a double lot of e-fu noodles on a large oval platter, the luscious XO chili sauce almost spilling off the edges. Something to note about the lobster and crab here is that you will always get the whole lobster whereas at other places we've ordered crab and lobster at, we could swear that there are a few pieces that have been taking for posterity by the kitchen staff. They're very generous with using XO chili sauce which some restaurants skimp on as it can be expensive. The lobster is tender and succulent and each piece is coated in the delicious sauce. The noodles are soft and the unctuous, spicy sauce coats them perfectly. Its heaven on a plate, nothing more, nothing less.
Fried rice $7.80
We need to request the next few dishes as our waitress says that she was waiting until we finished each one before getting another. She starts to clear the plates but gets distracted halfway and walks off leaving half of us with fresh plates, half without any plates at all with the new ones sitting at a nearby table which we help ourselves to.
Pay pah tofu $13.80
Our pay pah tofu arrives surrounded by steamed broccoli, its a little more messily presented than normal although it tastes magnificent, the soft flavoursome balls of tofu have small pieces of prawn inside and are coated in a delicious oyster and sesame sauce. The broccoli is perfectly textured, firm with a touch of crunch still.
Steamed barramundi with ginger, shallots and coriander $28
Our steamed barramundi arrives, again with some prompting from us, and its as good as always, the fresh fish steamed perfectly with a deliciously light soy and ginger sauce atop which sits shredded shallots and a sheaf of fresh coriander. Its a deliciously healthy but satisfyingly tasty dish that we cannot fail to order.
After some orange slices we realise that there is no sweet red bean soup coming, another complimentary dessert when you make a big seafood order so we pay and leave without receiving the usual farewell, the waitress looking up confused at us. Sigh Just remember, its all about the seafood.
Crystal Garden
1121 Anzac Parade
Malabar NSW 2026
Phone (02) 9661 9026
Lunch Tuesday to Friday 12 noon-3pm
Dinner Sunday to Thursday 5pm-10pm Friday to Saturday 5pm-11pm