Nestled between Emperors Garden BBQ and Thailand DVD in Chinatown sits a seedy looking entrance inviting customers to peruse Comic books and various DVDs. You could've walked past it hundreds of times and never noticed it or assumed that it would be an X rated bookshop upstairs.
I've asked my husband to look up somewhere for us to eat that night as we were staying in the Meriton on Kent apartments (part of the www.lastminute.com.au's $1 secret hotel promotion). He calls me back excitedly "How about a Comic Book store?" and before I can exasperatedly remind him that we're looking for a _restaurant _he tells me about this amazing hole in the wall Comic book store that also serves food and is known for their Hot Beef Noodle soup. He knows that I love quirky and at 6.30pm we set off in search of this elusive gem on Thomas Street, opposite Market City and Burlington centre.
Once you walk upstairs, the seediness is gone. Instead, its the ultimate in quirky kitsch - a comic book store slash internet cafe slash eatery run by the sweetest person to helm a kitchen. From one angle, it looks like someone's house, from another, its shelf after shelf of comic books, from another its an internet cafe and from another, up in the back, its a small cafe which you'd never know of walking in except for the aroma of fried eggs.
There's one English picture menu and on the back there are a number of items in Chinese that we can't read. A glance at the picture menu and we are happy, the much recommended Hot Beef Noodle soup ($7.50) is there as well as a selection of other soup, noodle and rice dishes. I spy a grilled eel dish with soup and at $8.80 its the most expensive thing on the menu of 9 main items. I am in the mood for some sticky eel so I order that too along some with ice water for two. The smiling woman lets us know that the eating area is back towards the comics which is good as I am about to sit down at an internet station assuming that was where one ate!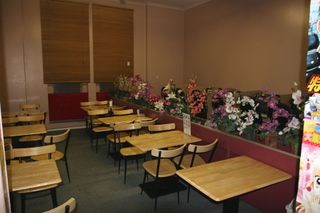 The eating area is bordered on one side by a huge display of faux flowers in a variety of blooms and there are approximately 12 tables which can seat up to 25 people. At lunch apparently this place is buzzing with students from the nearby UTS, but since its fairly early in the evening, we have the place to ourselves.
Five to ten minutes later, she brings our food and we are even more glad that we came. The soup comes in a wide, fairly deep bowl with a very generous amount of melt in the mouth beef, bok choy, fried fish balls and shanghai noodles. My eel arrives sitting atop a large mound of rice with corn pieces and a cold sauteed bok choy and carrot side and a soup that is somewhere between a miso soup and the pork broth that one often receives in a chinese restaurant before their food arrives.
Everything is delicious, the hot beef noodle soup deserves the raves that it gets, the spiciness is perfect, not too hot not too mild, the spiciness gives it flavour rather than heat. My husband doesn't look like he wants to give it up and its only when I physically take his bowl away from him that I try some.
My eel is fabulous too, sweet and soft and easy to pry apart with chopsticks. Who'd imagine such a gruesome creature would be so tasty? The sauteed bok choy side is also good.
In between this, the complimentary ice water arrives and its in a cup with a sealed lid with cubes of ice floating in it, much like you get for bubble milk tea (which I later read that she serves too).
There's no dessert on the English menu but that doesn't matter, she quietly places a plate of moon cake slices on our table and says "Its the Chinese Moon Festival so please enjoy these" with a warm, broad smile. I immediately see why its so popular with overseas students who are missing home.
Woo-Long Comics World Cafe
Level IB, Shop 215A, Thomas Street Haymarket NSW 2000
Phone (02) 9211 2202
Fax (02) 9211 2202