A bunch of well intentioned coffee seekers converged on Gelato Bar one weekend afternoon to partake of coffee only but one glance at the window and we were salivating. "OK maybe if we share something" was the first utterance followed quickly by "I think I could actually have one on my own".
Gelato Bar is one of those places that has been around for decades (since 1958) and is loved by locals and visitors alike not only for their scrumptious pastry and cake windows (their strudels are legendary) but also their Hungarian/European main meals. I spied Matzo ball soup, one of my favourite soups so I know I will have to come back soon to have this.
We order coffees and peruse the menu but instead of choosing from the menu, we'd rather point and choose from the window outside so our friendly waitress follows us outside and explains what everything is. There are several flavours of strudel to choose from including apple, cherry, poppyseed, cheese & cherry and chocolate & hazelnut ($6.80). The cheese & cherry appeals to A1 and she selects that.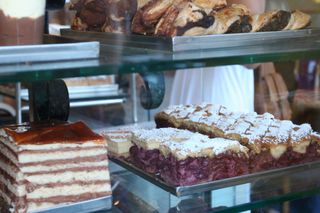 I am torn with a cherry slice which is thickly luscious with 1 1/2 inches of cherries or the Pyramid, an enormous 15cms long by 15cms tall chocolate concoction ($6.80). The chocolate wins out only as I know A1 will kindly share her cheese & cherry strudel with me. A2 orders a Raspberry Gelato (2 scoops for $6) and a Rum Ball ($5.50) and D orders a Chocolate Mousse ($7.50).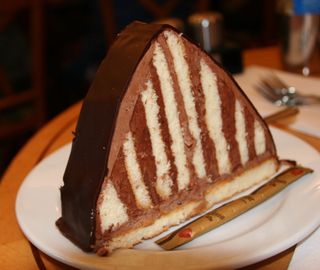 Our drinks arrive and soon after our desserts are fighting for space on our table. The Pyramid is an imposing slice. It has slices of sponge alternating with a rich milk chocolate ganache, then surrounded with more ganache and finished with a slick coating of dark chocolate ganache. Its very rich and the sponge isn't terribly soft but the ganache is very good and I can only finish part of it partly due to its richness but also due to the enormous size.
The cheese and cherry strudel too is huge, about 10-12cms in length. I once waitressed at a cafe that served strudel and their slices were half of this. The pastry is wonderfully flakey and ground walnuts are woven between layers and icing sugar is sifted atop. The cheese & cherry filling is tart and creamy, a lovely combination. I have previously tried their apple strudel and that was the best apple strudel I'd ever had. It could probably do with some ice cream which we haven't ordered with it.
The next to be sampled is the Raspberry gelato. This has got to be heaven in a scoop. Its like eating the sweetest frozen raspberries and we all lament not having ordered this. There's nothing artificial tasting in it, just real raspberry.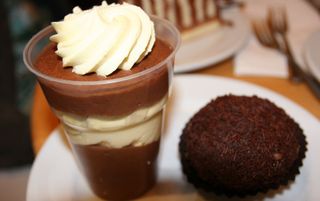 After this high we sample the two tone chocolate mousse. Its good and quite rich and fluffy but nothing unusually spectacular and at $7.50 its a little more expensive than the other desserts so we want it to be. We have three Rum Ball enthusiasts at our table and we're all looking forward to trying their Rum Ball but this proves a disappointment, there's nothing "rummy" about it at all and its mostly left behind.
As we're leaving there are moans of "No dinner tonight" and arrangements are made for another visit in the future to sample some of their main meals.
Gelato Bar
140 Campbell Parade Bondi Beach NSW 2026
Phone (02) 9130 4033
8am to 11pm, Monday to Sunday