I do love a good burger oh yes I do. What is it about a burger that gets people so excited? Is it the juicy bite when you sink your teeth into it? Is it nostalgia as you remember your first burger be it from a chain or a local takeaway? Is it the fact that you're eating it with your hands or is it the ease of eating a complete meal within a bite? Or is it just the perfect juiciness to starch ratio that good burgers inherently have? When I strolled past Moo Burgers a few days ago I looked up and vowed to come back as soon as possible. This evening when The Second Wife, Gravy Beard, Mr NQN and I were seeking a place to have a quick catchup as the Second Wife was jet-lagged after an African safari, I knew this was the place.
One takes a seat and then orders and pays at the counter. We snag an outside table and watch the view. It's a little hard to decide as there are burgers all over that are calling our names but we decide on a range of them. Of course we must have chips with the burgers and since we're going with the whole burger and fries theme we also order some shakes. The shakes feature chocolate bars such as Moo Kat (Kit Kats), Milo Moo (Milo bar), Mad Cow (Oreo), Tammy Moo (Tim Tam) and Moo Teaser (Malteaser).
Berry Ripe Shake $6.50
_
_
Mr NQN's Berry Ripe Shake arrives. It's not huge but it sure is pretty. He takes a sip and grins broadly. I can spot lust instantly and try some of it. Oh my, it may not be big and it may be expensive but it is literally a Cherry Ripe bar in a glass with just the right ratio of ice cream and milk so that it isn't too heavy. After sharing sips with everyone he downs it within seconds and grins a cheeky monkey grin that says "Victory is mine and so was that shake". So I do what any jilted wife would do and order my own, a Beach Blonde Crunchie Shake.
Beach Blond Shake $6.50
I'm not usually a shake drinker as I don't like too much dairy and neither does the Second Wife but we both love this. It's filled with tiny Crunchie honey comb chocolate pieces and a honeycomb and chocolate syrup. I had visions of recreating this at home.
Peach Bellini $9
Peach Bellinis are good for jetlag no? In any case they're delicious and I'm sure they make you feel better so The Second Wife orders one.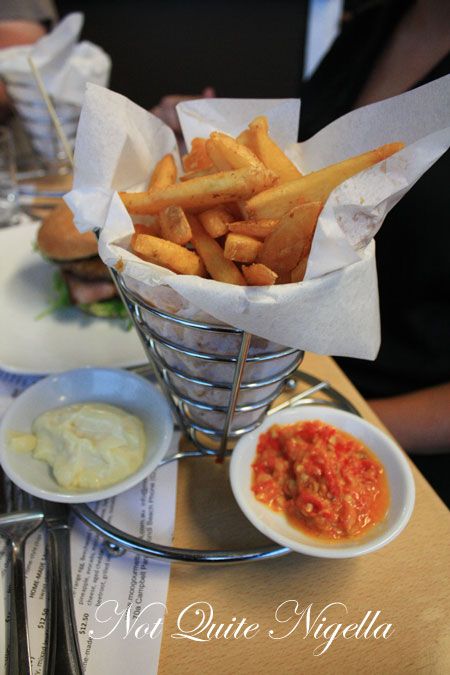 Chips $5.00 with aioli and Piri Piri sauces $1.50 each
Our cones of chips arrive and they are a glowing golden shade. We try one and it shatters in the mouth and we do that nodding while eating something hot but good thing. The chips are what I presume to be double fried which is a technique to make chips even more wonderfully crunchy when chips are fried twice so that they're almost translucently golden. We are also appreciative of the real potato skin we see on the edge. I actually forget my burger in my eagerness to eat the chips.
Beef, Avocado and Bacon Burger $14.50
Mr NQN's burger is a pretty good combination although he remarks that the patty is a little dry which is what I usually find for Angus burgers (and why I prefer Wagyu patties). I have to agree and it's really the inclusion of the rest of the toppings that give it a luscious juiciness.  There's avocado, Beechwood Smoked bacon, mixed leaf lettuce, tomato, home-made mayonnaise & tomato relish.
BBQ Pork Belly Burger $16.50
My pork belly burger is unlike what I thought it would be, instead of a slice of pork belly (oh how I was dreaming about this burger all day after doing some lunchtime research) instead it's a ground up patty of Inglegreen pork belly, peanuts,mixed leaf lettuce, tomato, Asian bbq sauce & ginger & plum relish. It has a distinctly Asianey flavour although I find myself adding the piri piri sauce and aioli and tomato sauce to give it an extra flavour that it seems to be missing. I also find the white flour dusted sourdough buns a bit crusty which I don't really like for burgers. I later read that there's an option for multigrain buns which I may try next.
_Duck and Bacon Burger $16.50 _
The Second Wife is a fabulous friend. When I mentioned I was tossing up between the Duck and Bacon burger and the Pork Belly Burger she simply said "Well I'll order one and we can share it!" which was just music to my ears. She ordered it with a gluten free bun which appears smaller than the regular buns but as it's softer and less crusty I actually prefer this type of bun. The burger isn't that strong in duck being very much overshadowed by the bacon pieces. Such a shame as it was a great concept.
Moo Burger $16
Gravy Beard's Moo Burger wins the prize for biggest burger and the fried egg on top appears so perfect that we remark that it looks like it resembles a Japanese plastic one and should be sitting outside a Japanese restaurant in a glass cabinet. He cuts it in half and the egg yolk oozes. It's size means that it's hard to eat without it falling apart but there are no complaints from him.
Chorizo Burger $15.50
In Bondi a few days later, Mr NQN and I try another couple of burgers, just to get a representative sample you see. We start with a Chorizo burger as we're both huge chorizo fans. The burger is a patty of chorizo (ahh why didn't they use a chorizo sausage?) and is not spicy at all. Along with the chorizo patty, there's grilled sweet potato, rocket, mayonnaise & tomato relish. I wish I had ordered an extra sauce to go along with it and squeeze tomato sauce in an attempt to make the burger juicier.
Chicken Avocado Burger $16.50
The Chicken avocado burger was one we had high hopes for. Chicken goes so well with avocado but the grilled breast fillets whilst generously portioned are dry. Alongside the chicken there is mixed leaf lettuce, home-made guacamole, salsa & sour cream. The salsa is a great idea but there's either hardly any on the burger or it hasn't got the tang and spice that salsa has. I always finish my food but pass on my half of this burger to Mr NQN who finishes it. We may not be back for the burgers but we will be back for the shakes and fries! Oh yes double fried chips...I feel myself lapsing into a Homer Simpson moment here.
So tell me Dear Reader, what kind of fries do you like the best? Skinny French Fries? Fat Wedges? Hand Cut? Roasted in Duck Fat?
Moo Gourmet Burgers
70a Campbell Parade Bondi Beach, NSW
Tel: +61 (02) 9300 8898
Opening hours: Monday-Friday 10am-10pm, Weekends 8.30am-10pm
www.moogourmetburgers.com.au
There is also a location at Coogee:
242 Coogee Bay Road Coogee Beach Phone (02) 9664 4300