I've often thought that bookshop cafes are a good place for a first date. Like a movie, they provide a welcome distraction and reprieve from silences and also furnish either party with fodder for conversation. Conversely, they're also great when you're by yourself and can find solace and company rifling your fingers along the spines of books.
We're in neither of these situations however one after when meeting up with friends Buxom Wench and Silver Fox. The holidays and late nights have us meeting for brunch rather than breakfast and Bondi seemed a good enough place to visit considering the summery warm weather. Gertrude & Alice is a bookshop cafe named after Gertrude Stein and Alice B. Toklas.
Buxom Wench and Silver Fox are there first while we try and nab a parking spot longer than one hour which we find in the side street (at Bondi rates-grumble grumble). They text us that they're at a table at the rear of the shop and we walk past the people sitting at communal tables, comfy lounges talking to friends or reading books. Children have found their spot in front of the colourful, small kid's section and Buxom Wench and Silver Fox are sitting at a large table looking at a book called "Beautiful Chickens." The books are a mix of new and collector's books.
Ordering is done at the front counter and Buxom Wench and I go to have a look at what looks good in the front display. A couple of items are marked as their signatures and after a bit of uming and ahing we decide on a range of items.
Alice's Famous Spiced Chai $5
Their chai is said to be "famous" and one peek into the pot looks very promising. It's a spicy, aromatic mix steeped in milk, not water which is just the way that I like it. It comes with a little honey and I sip every single drop all the while Mr NQN hints for some too.
Moroccan mint tea $5
Veggie burger $14
The veggie burger is a sweet potato and brown lentil patty and is hidden under a warm blanket of mountain bread. The burger itself is full of flavour and soft and it's not really a pick up with your hands kind of burger, more a knife and fork one. The hummus is creamy and the summer slaw salad accompanying it has a fresh vinaigrette dressing and a good range of crunchy and soft texture with pepper rocket as the base.
Grilled Corn fritter with bacon $15.50
The corn fritter is a large, thick fritter, a little more floury than how I prefer them (I like them slightly more eggy) but nevertheless well seasoned, with a fantastic spicy, slightly sweet chilli and lime sour cream which I could dip chips in or eat straight. It comes with roasted tomato, salsa and a half an avocado.
Breakfast bowl - large $12
I try a bit of Silver Fox's breakfast bowl. Originally, we had thought that from the wording on the menu you got a bit of everything but I think you are supposed to choose from the fruit salad, Bircher muesli, granola and gluten free cereal. It turns out not to be a problem to give him a bit of everything except the gluten free muesli (which would have been a bit of a double up) and it's a healthy start with tangy honey yogurt, fruit salad and muesli.
Famous Lentil stew $14
I tried a little of Buxom Wench's lentil stew and it was a hearty serve with a strong tomato base. It was served with some avocado salsa, sour cream and sourdough bread.
Spelt scone
As Buxom Wench is lactose intolerant (except for butter), we bypassed the cream cheese iced carrot cake muffin and went for the spelt scone. It was served warm so we slathered it with butter and it was blissful. The dates, apple and sultana gave it additional moisture and the warm butter oozed into the soft spongey layers of the scone.
Fruit crumble
I wasn't as taken with the crumble which was quite dry and didn't have a great deal of fruit with a middle layer of fruit. It was more a streusel cake or a crumble cake than a crumble.
Some more browsing and some purchasing and our day was complete!
So tell me Dear Reader, who are your favourite authors? And do you buy paper or hard books or ebooks nowadays?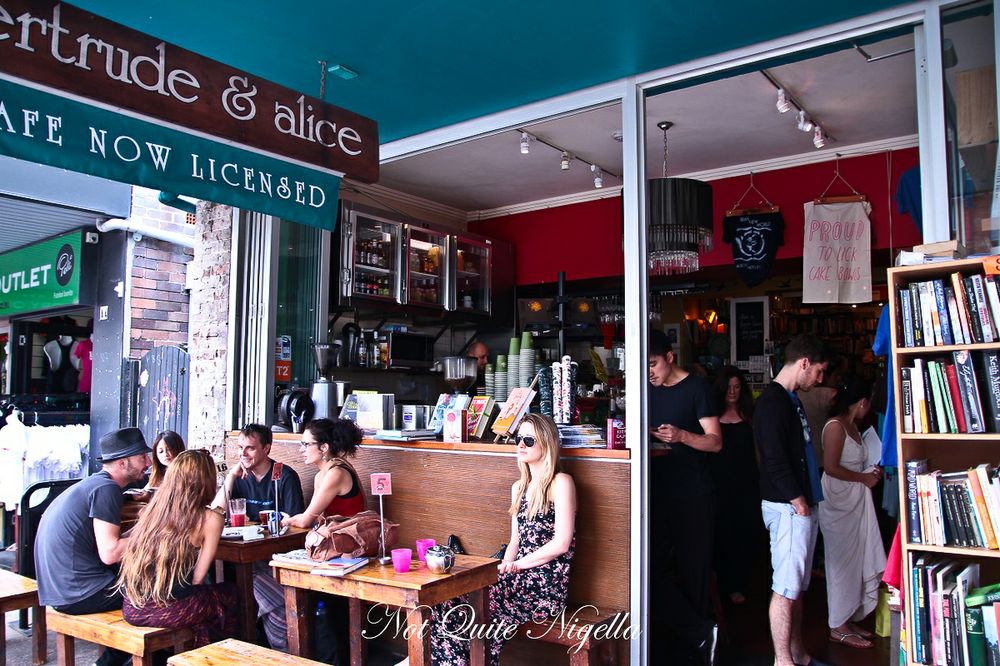 Gertrude & Alice
46 Hall Street Bondi Beach NSW 2026, Australia
+61 2 9130 5155