Revisiting Double Bay brings back memories of high school years. Things don't seem to have changed much although some shops change, for the most part, Double Bay stays the same. Tonight, we're after a hearty feed after a day of recreation so its off to Una's Double Bay. It comforting to know that in a suburb dubbed "Double Pay" that you can get a huge, well priced meal.
Una's used to exist only in the Darlinghurst location churning out gigantic schnitzel after schnitzel and piles of roesti and cabbage salad. It was very busy as the servings were enormous but very well priced but the service rather autocratic with a woman ruthlessly manning the tables in order to get the maximum number of eaters per table each night. Turnover was fast and you weren't supposed to linger and you and your party were only seated once everyone had arrived. But since opening up the Double Bay and Broadway locations its been markedly easier to get a table at Una's and as they have a no bookings policy, we are thankful for the two new additions.
Double Bay has a more gentle feel to it than the frenetic pace of the original Darlinghurst version. Its busy but there are a few tables free. Our friendly waitress escorts us to our table and we drink in the surroundings. Its wood paneled and there are requisite painted wooden chairs and decorated in Una's unmistakable style. We peruse the menu, its slightly different from the one on the website but I am honing in on the one item that I want: schnitzel!
I order the Jager chicken Schnitzel with the mushroom sauce on the side as I like my schnitzel to be as crispy as possible down to the last second it hits my hungry mouth. It comes with a side order of cabbage salad and the roesti. I want to order the cabbage rolls for my husband but they are out of them so I order the Pork Knuckle which he gripes and moans about. Being raised a vegetarian but being an omnivore for the past 7 years, he doesn't like the idea of having a chunk of meat and swiftly forgets that he has ordered lamb shanks many a time. Aiyana and Tuuliki share a fettucine provencale, extra roesti side, crumbed mushrooms and Davs orders the Gypsy veal schnitzel. An order of deep fried camembert is for the table, I'd yet to try deep fried cheese so I practically insist on it.
About 10 minutes later our enormous meals arrive and we're pleased to see that indeed nothing has really changed. The schnitzels are still fresh, hot and massive.
Jager chicken scnitzel with mushroom sauce on the side served with roesti and cabbage side salad (not pictured) $19.40
My Jager chicken schnitzel with mushroom sauce in a boat on the side is crispy and absolutely delicious and tender inside despite the crispy exterior and especially good when dunked in the creamy mushroom sauce. Its a perfect combination of crispy and creamy. Its huge too, with two gigantic crispy pieces of schnitzel, if I lay them against each other, they'd cover the whole plate. My roesti is crispy on top and soft and velvety on the bottom. Give me Una's Roesti morning, noon and evening and you'll never hear a peep of complaint from me. Not being a fan of raw cabbage salads (unless its Coleslaw coated thick with mayonnaise) I leave the paprika flecked cabbage side salad behind.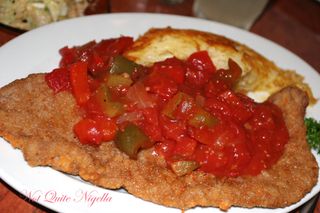 I try the Gypsy schnitzel and its not bad but the sauce has made the crumbing very wet and wet fried items don't do a thing for me. The capsicum sauce is a little spicy but I'm sticking to my Jager sauce on the side.
The Pork Knuckle, is soft and tender and falls off the bone. Its gelatinously rich and superb for those who really savour their slow cooked meats. There's nothing subtle about this cut, from the frank name to the Flinstones like appearance. The sauerkraut, which is dotted with tiny bacon squares is tangier than I'd like. I much preferred the sauerkraut at Doma's Bohemian Bier Cafe.
The deep fried camembert is a lovely surprise. The triangles are lightly crumbed and deep fried, the outside crispy and the cheese oozes out slowly. I don't know if I would eat this too often but I'm ever so glad that I tried it. The cranberry sauce isn't quite the most harmonious match for it.
The fettucine provencale sauce comes in a cavernous bowl and the sauce flavour is rich in a goulashy sour cream sauce that is plentiful with mushrooms. Its very filling, creamy and flavoursome.
None of us, bar Davs, could finish our meals despite how hungry we thought we were and we retire our cutlery and push back our plates. We couldn't fit in dessert if we tried.
Una's Double Bay
372 New South Head Road, Double Bay 2028,
Ph: +61 (02) 9327-7287
Tue - Fri: 17:00 - 22:30 Sat - Sun: 08:00 - 22:30
Also at:
Una's Darlinghurst
340 Victoria Street, Darlinghurst 2010
Ph: +61 (02) 9360-6885
Mon - Sat: 07:30 - 22:30 Sun: 08:00 - 22:30
Una's Broadway
135 Broadway, Ultimo 2007
Ph: +61 (02) 9211-3805
Mon: Closed, except for group bookings of 20 people or over.
Tue - Sun: 11:00 - 23:00