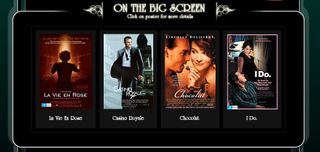 For those who complain that Sydney is too expensive, ok it is, but there are plenty of things to be had for free. Take the European Film Festival that breadmaker's Helga's is running. Hardly advertised, we came across it driving past North Sydney Oval one day. I had actually mistaken it for "European Food Festival" so when I looked on the Helga's website, I was a little disappointed that it wasn't a food festival at all but reading further I was happy to see that it was a Free European Film Festival. Yes Free. And don't you just love that word. I blame it on my days as a media buyer where I got tonnes of goodies for free. Now that I am no longer one, the freebies are no longer forthcoming but I remain a self confessed freebie whore. It has ruined me for life.
We've registered for tickets to La Vie En Rose (8pm Wednesday 14th November) and I Do (8pm Saturday 17th November). Arriving at 7.40pm on the Wednesday night we see that there are already a lot of people sitting on the grass at St Leonard Park (right near North Sydney Oval). We collect our Picnic packs from the Helga's stand and rent some low chairs ($4 with $6 security deposit) as we decide that sitting on a blanket for 2 hours will be markedly more comfortable in a low chair. There's also ice cream from Bella Gelati available and cake and coffee.
Unpacking our goodies, we are surprised at how substantial the Picnic Pack is. We're given a sandwich, full sized bag of snacking breads, a full sized Copperpot dip and a bottle of Organic Springs still water. What a jackpot! The sandwich for the meat eaters is chicken, sun dried tomato, rocket and baby spinach with cream cheese spread - delicious, I adore peppery rocket, sun dried tomato and chicken together. For vegetarians they haven't forgotten you although the sandwich has cheese so its not suitable for vegans (the cheese replacing the chicken). The snacking breads are Mini Baguettes in a Tomato and Chilli flavour, like little breadsticks shaped like licorice bullets which are covered with a sprinkle of herbs (not a lot of chilli though) and they go well with the Copperpot dip, a Double Dip with half Chives and Garlic and half Roasted Capsicum. The dip in the vegetarian pack is a Guacamole and Spicy Salsa layered dip.
We sit back and munch on our crackers and dip our stomachs full of delicious sandwich. Don't you just love a summer's night in Sydney?
Helga's Film Festival
Wednesday 14th November-Saturday 17th November
Location:
The Bob Jane Stadium, St Leonards Park
Corner Falcon and Miller Street, North Sydney
Ph: 1300 76 77 46
Cost: FREE
Also playing in Melbourne
http://www.helgas.com.au/filmfestival/
P.S. Even if all the Picnic Pack have all been allocated, you can still go along to see the movie for free!