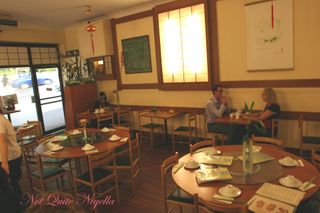 For the staunch carnivore, the Green Gourmet must be a bit of a joke. A Chinese vegan place you say that doesn't use garlic and onion and still claims to be tasty? Pfffft! Nonsense, I hear you say! But the proof, as they say, is in the tasting. Green Gourmet was opened by the former owner of Gourmet Inn when he became a vegetarian and uses mostly gluten products and tofu to replicate the meat texture and taste.
We arrive at Green Gourmet on a Wednesday evening at about 6.45pm. There are actually about 6-7 tables full already mid-meal and some waiting for people to arrive. We let them know that we have to leave in about 45 minutes for a movie and the waitress lets us know that it won't be a problem. We decide to do our own vegan yum cha at night and choose a selection of their dumplings but as my husband, as always, is hungrier, he orders a noodle dish and as Tuulikki is getting over a cold so she orders soup along with her dumplings. The decor is full of bamboo coloured wood and green and there are healthy food charts on the wall and we feel like we're almost back at school learning the food pyramid. Scarcely 5-10 minutes later our dishes arrive in quick succession, piping hot and fresh.
First up is the Satay Soy skewers. In a eerily accurate imitation of satay chicken, they're on needle thin skewers with a gorgeously rich and spicy satay sauce. A definitely contender for chicken I'd say. I want to order more.
Then our Eggplant parcels and the Better than Oyster Fritters arrives. The Eggplant parcel is stuffed with taro paste and its gloriously soft and flavoursome inside with a crispy deep fried outer. Absolutely delectable and I would've ordered another if it weren't for our time constraints. The Better than Oyster fritter is less successful. There are whole semi raw mushrooms inside wrapped in seaweed and they're not particularly oysterish or flavoursome. I'm with the carnivores on this one.
Our Kumera ginger purse arrives and its more like a semi circle filled with soy beans, sweet potato, shiitake mushrooms and other vegetables and strongly gingery with a thick toothsome deep fried outer. Ginger lovers will love this, its a pity there are only 2 so we only get half of one each.
The Steamed BBQ Not Pork buns arrive and they're slightly smaller than the usual BBQ Pork Buns and therefore the skin is less fluffy which is actually the way I prefer it as I don't like the white bun part. Biting inside, the BBQ Not pork is a dead ringer for BBQ Pork filling. I'm not usually a big eater of BBQ Pork Buns because of the large amount of white bun to filling ratio but these are the perfect ratio to me.
Our Steamed Gow Gees arrive and they're very much like the prawn and spinach gow gees from regular yum cha. I can't tell if there's imitation prawn in it but the result is very tasty and very much like the seafood version with the delicate translucent skin and the soft spinach interior with crunchy water chestnut.
Soy Drumsticks 3 for $4.80
The not chicken drumsticks arrive-the drumstick bone is half a paddle pop stick around which gluten is wrapped and then deep fried. The taste is great but the texture is not quite chicken-y but the outer is deep fried fresh. Very tasty but not quite as successful in replicating an actual chicken drumstick although points have to be given for the "chicken bone"
Tuuliki's Nori Miso Soup arrives and whilst she adores it, I am not a fan. It tastes almost like there are too many flavours that don't work harmoniously, like three different soups combined. However that seems to be personal taste as she is happy with it.
My husband's Tree treasures Chow Mein arrives complete with faux egg noodles. He happily digs in and upon tasting declares it "Just like regular chow mein". I taste it and indeed it is very much like regular chow mein, it even has imitation char siu pieces and imitation chicken pieces although the imitation char siu is a little softer than real char siu.
The overall verdict from the meat eaters was that it was a pretty damn good imitation of meat, some were better than others and that the only real difference was in the texture as the gluten and tofu are softer than regular meat.
And the verdict from the vegetarians? They were over the moon as it was delicious and they loved the fact that they didn't have to constantly ask "has this got meat/eggs" in it. And just like a regular Chinese restaurant we received orange slices at the end of the meal. The service is personable with the owner thanking me using my first name (as seen on my credit card). A lovely touch to a lovely non meat meal!
Green Gourmet
538 Pacific Hwy, St Leonards
T: 9439 6533
F: 9439 5993
Lunch: Tues-Sat 11.30-2.30pm
Dinner: Tues-Sun 5.30-9.30pm
Friday and Saturday open until 10.30pm
Closed Mondays
Also Green Gourmet in Newtown
115-117 King St, Newtown
T/F: 9519 5330
They also run Vegan's Choice Grocery
113 King St, Newtown
T: 9519 7646