The dumplingers
My husband never really gets excited about food. So much so that the idea of dining at Gordon Ramsay's restaurant didn't thrill him much. He just saw it as a place at which he had to grudgingly wear a suit. However when I read Ffichiban's review signalling the Northside arrival of Shanghai style dumplings, I knew that this would excite him. We've always had to trek all the way to Ashfield to get these little plump morsels of soup and meat but now we're pleased to discover a closer location in Chatswood. A sister restaurant to New Shanghai in Ashfield, the Chatswood location has been open for 2 months already.
At 2pm there is already a queue and a stand with a sheet of paper you write down your name and tear off a tag with your number and wait. We end up waiting for about 10 minutes while watching the 4 dumpling ladies in matching aprons make each dumpling pleating and pleating until the requisite number of pleats appears on top.
It's a large rectangular space full of people and the tables are rickety and flimsy despite how new it is. The menu has lots of pictures to make it easy to choose but of course we know what we want. We choose a range of dishes including some Cold dishes, soup and of course dumplings and the level of English here with the waitstaff is very good particularly when compared with Ashfield.
Iced green bean drink $4.20
Our drink arrives quickly and I may have spoken too soon. I asked for red bean and I'm given green bean which I don't really mind. It's mostly ice and the thick straw helps a little in sucking up the drink although a long handled teaspoon is needed for the pieces at the bottom.
Pork Ribs $4.80
Our Gold dishes arrive first. I'm a bit confused as we ordered them as the outside menu listed them as "Gold Dishes" so when I bite in I realise they mean Cold dishes. The pork ribs are cold but delicious and glisteningly sticky sweet with a sweet soy sauce. The white bones, ones that I usually crunch through if they're soft enough are a little too hard but we both enjoy the flavour of this immensely.
Thai flavoured chicken's feet $4.80
The Thai flavoured chicken's feet are a little too jellied and firm and cold. I usually prefer my chicken's feet softer cooked and hot, like at Yum Cha but these are a bit too firm and gelatinous for my liking.
_Spicy sour soup $4.20
_
The hot and sour soup is a thick, vinegary soup a little too strong in the sour than we both like. It is filled with tofu, pork and egg strands.
Xiao Long Bao 6 for $6.80
The Xiao Long Bao, my favourite little dumplings are not bad at all, quite gingery in flavour which we like immensely. The mince pork filling is usually a bit more firm but this mince is softer. And none break on the way to the mouth! Be careful of the chili sauce however. It's a variety with salty soy beans in it and is incredibly salty.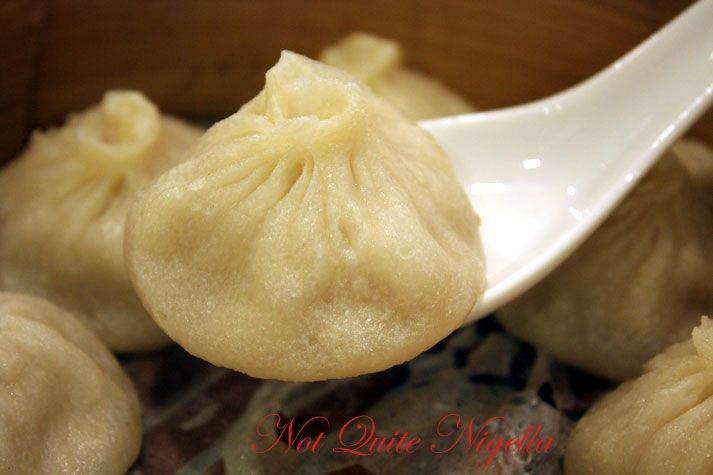 Pan fried dumplings $8.80
It's a long wait for the other two dumpling dishes and we aren't the only ones. The tables surrounding us are experiencing the same wait. One table has to ask twice for their dumplings. We're waiting for about 30 minutes for the pan fried dumplings, my other favourites. Once they arrive we turn them upside down and examine the bottoms. They're nicely browned. One thing we note is that while prices are the same as the Ashfield store you get fewer dumplings.
At Ashfield you get 10 of these dumplings whereas here you get 8 for the same price. Biting into them they're filled with juicy soup inside. Which brings me to the title. How to eat these little morsels. From watching other diners wrestling with the surprise soup dumplings and having wrestled with these myself while dripping soup onto the table I watch the table next to us. They have the routine down. For those of you seasoned eaters who already have this routine down pat, you may laugh but having watched many a person clumsily munch their way through one spurting soup all over the table, believe me this helps.
Le specimen
First put the dumpling on your soup spoon
Bite the tip off the top.
Bring the spoon with the dumpling to your mouth and nibble around the top of the dumpling so that you get a cup of dumpling, the soup and the meat filling.
Then sip the soup and then eat the rest of the dumpling!
Steamed pork and coriander dumplings 12 for $7.80
After another 20 minutes our steamed pork and coriander dumplings arrive. Again while the price remains similar to Ashfield, the quantity of this is fewer with 12 of these rather than the 18 you get in Ashfield which is a rather large difference in quantity They're not bad although the appeal of these for Mr NQN was the sheer volume of them for the price.
Filling the pastry
And if you were interested here is a little photo series on how to fill a dumpling!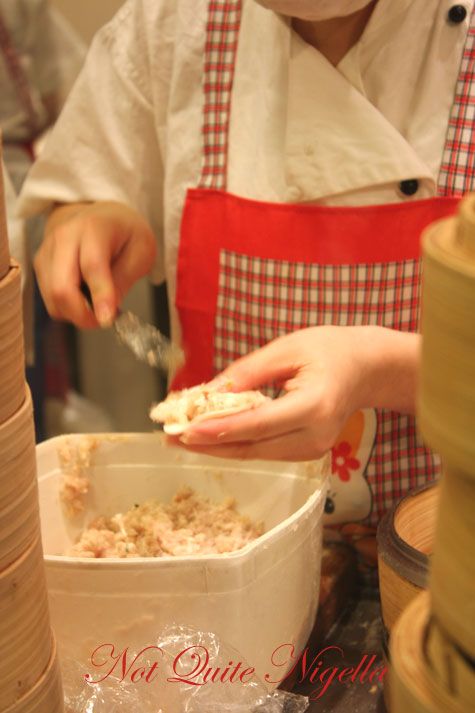 Patting down the filling
Twist and pleat!
Tell me Dear Reader, which Dim Sum dumplings are your favourite? The Fluffy white Char Siu buns? Xiao Long Bao? Pan fried buns? Prawn Har Gow? Or a different one altogether?
And just a little reminder, the Secret Nanna Recipes project deadline is June 30th. Please submit your favourite Nanna or Mum recipes. Read all about it here!
New Shanghai Chinese Restaurant
Shop 20, 427-441 Victoria Avenue, Chatswood (inside Lemon Grove Shopping Centre)
Tel: +61 (02) 9415 3536
Open 7 days until 8pm