Its something of a tradition that on Chinese New Year my uncle takes the whole extended family and friends out to a big Chinese New Year dinner. And before you tar us with the "freeloader" brush, our family usually hosts everyone for Christmas dinner. Not that I mind being a freeloader now and then you understand.
We're ushered to the room upstairs, which tonight is jam packed and noisy as its Thursday evening, the actual Chinese New Year's Eve. Even noisier than most Chinese restaurants which are never really quiet, subtle places to dine. Its practically rowdy. I can't hear the other people at my table for most of the evening so we're lip reading when we can. The 30 minute wait for our first dish (no house soup again! Arrgh) makes for some interesting lip reading. There are 13 of us dining tonight and my uncle has taken care of the ordering.
_ _
_
Peking Duck $40 for 2 courses_
The first dish to arrive is the Peking Duck, and as there are 13 of us, they cut smaller and more numerous pieces. I don't think Peking Duck can ever be bad but this pancake has far too much of the meat in it and the skin is slightly crispy, although not as juicily mouthwateringly crispy where the fat just runs out of the package into your pancake wielding paw.
The second course arrives and my uncle has ordered the noodles (we usually go for the Sang Choy Bau lettuce cups) and the noodles are thick and tasty, almost udon like but I can only count 6 pieces of duck. No wonder as most of it went into the pancakes.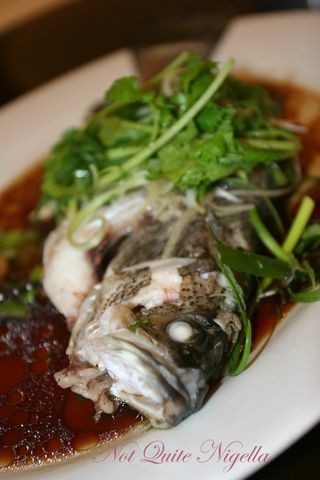 The Barramundi arrives next, the whole fish stretched out on an oval plate. Its tasty but lacking sesame in the soy, coriander and spring onion sauce. However it is very fresh and clean tasting and I am almost glad when my husband passes it up so that I can have his share.
Our vegetables arrive and thankfully they don't arrive last as so often happens when you're way too full to fit them in. The Gai larn is slightly bitter and with a soft bite to it. I can't detect the ginger in the sauce at all, it tastes like oyster sauce to me.
Our next dishes come out in quick succession. The salt baked chicken is similar to the chicken that you would get with chicken rice which is a cold, steamed chicken, just a little saltier and a little warmer but its not excessively salty by any means. And that description doesn't mean that I thought it was boring, it was rather good in fact and sometimes you need the subtlety in a chinese meal.
Speaking of unsubtle, the king prawns in shell with XO sauce is an enormous dish full of large XO coated prawns swimming in that gloriously tasty XO sauce. I usually feel that there is never enough XO sauce (unless we're at Crystal Garden) but there is plenty on this dish and I happily ladle spoonful after spoonful into my rice bowl. I am about as happy as a pig in mud or a pig in XO sauce as fate has placed me. I know that some people like their prawns shelled and I do if they're coated in sauce so, like the child that gets a big, expensive present for Christmas and prefers playing with the box it came in, I am deliriously happy with the sauteed lettuce garnish and sauce, leaving the prawns behind for those that want saucy fingers.
We're curious to try the tofu dish which we initially think is salt and pepper tofu until we see the sauce underneath it. Its said to be tofu with shrimp egg. I'm not sure where the shrimp egg comes into it, but I do know that the rectangular golden ingots of tofu are beautifully crispy on the outside due to a thin but sturdy batter coating on the outside and a sumptuously soft inside. Each bite melts in my mouth and am almost panicked in my haste at getting my second piece.
Perhaps it was the particular piece of beef I had, and by then I was too full to attempt another piece, but the fillet steak with broccoli chinese style was too chewy to eat and I tried to subtly remove it from my mouth and hide it as I couldn't chew it.I don't know how chewy it was to begin with but it had definitely had the bi carb of soda marinade, it just hadn't been tenderised it enough. That would've been an unbelievably chewy, tough piece of beef otherwise.
Just when we were bursting at the seams out comes the pièce de résistance. Placed on our table we're told its a Pig's trotter. The young among us are agape. It looks beastly, or vaguely pornographic (I can't help where my minds wanders) or perhaps like a hairy heart or similar organ. No one quite knows what to do with it and we mostly just stare at it, slightly scared and curious. The waitstaff take to it with a fork and splits it up into pieces, the flesh parting easily. As no-one makes a move to try it I spear a tiny piece and everyone watches while I eat the mouthful. And its good, so very good. Like the fatty melt in the mouth pork you get as a prize in the middle of a banana leaf wrapped rice parcel. Its flavoured with star anise, five spice and fat choi (the little strands that look like hair). I help myself to more, even though I'm so full, its wonderful unctuousness is beckoning me. And for a table of people that are very full, we do a rather good job of almost finishing it.
Our lychees and orange arrives and those of us who have the room or inclination partake of these. The rest of us moan and clutch our stomachs and moan Gung Hei Fat Choy!
Kensington Peking
172 Anzac Parade (near Todman Avenue)
Kensington 2033 NSW
Phone: (02) 9313 7100
Open Thursday-Tuesday 11am-3pm
Sunday-Tuesday & Thursday 5pm-10.30pm, Friday-Saturday 5pm-11pm
Closed Wednesdays