Its quite an achievement growing up in Sydney and being over 30 when you make your first visit to Harry's Cafe de Wheels. I'm not sure how I managed it to be quite frank but this night I stood before the pie cart (OK its more a caravan than a little cart) thinking "Oh yes, its been a long time coming but I'm finally here!". Even at 6.30pm on a Sunday night there are plenty of people sitting on the wooden benches nearby eating pies and hot dogs and staring off into the view of the harbour and the gigantic shark coloured navy boats.
The caravan boasts a wide range of celebrity pie eaters such as Pamela Anderson (being a vegetarian, I'm guessing she didn't have the famous pie floater) and more recently Adrian Grenier from Entourage. And in tribute to the nearby sailors that have undoubtedly consumed thousands of the pies, there is a mural of a sailor kissing a woman in a pink dress as well as a mural of the flag and the Harbour bridge to lure tourists.
Making up my mind is simple, I simply must have a pie floater or what is here a "Tiger": a meat pie with mash, green peas and gravy ($5.30) named after the founder Harry "Tiger" Edwards. Seeing other people eat the huge, stuffed full hot dogs, we also order the Hot Dog de Wheels ($5.30), essentially, a hot dog with the lot and by the lot we mean the lot. Both helpfully provided with a fork and I have to eat a pie with a fork and given the presence of so much topping, you'd be risking a sartorial nightmare to try and bite into it.
The paper plate it rests on is floppy and carrying it to somewhere to eat nearby is a precarious experience. We manage to get our goodies to a safe place to eat and I take to the Tiger pie with my fork. The pea mash is lovely and creamy but not mashed to smithereens with still a little texture. Its, along with the mashed potato (probably instant but tastes a lot fresher than the one from the Upper Crust I tried recently) and the deliciously perfect gravy are blissful together. The pie itself isn't anything particularly stunning, although it is quite good and peppery but I see it more as the perfect vehicle to transport the delicious topping.
The Hot dog, a beast of a thing, is next. The bun is super soft and pillowy white inside, the sausage resting on top of a spicy bean and beef chili con carne (that gives us enough of a chili kick to be pleased that you can actually get fast food with heat), mashed peas, sauteed onions and cheese on top of the tomato and mayo sauce coated smoked frankfurt. Its enormous and one of the best hot dogs I've had and I can barely finish my half but its greeted with much enthusiasm by my husband who is one satisfied customer that knows that he has definitely gotten his money's worth here.
Interesting trivia spot:
"The name Cafe de Wheels came about because of the requirement from the city council that mobile food caravans had to move a minimum of 12 inches (30 cm) each day. The cart has been moved by the city council five times over the past 55 years, and is now back at its original spot. Local legend tells that the name was temporarily changed to Cafe de Axle at one point when the wheels were stolen.
As the years passed, 'Harry's Cafe de Wheels' gained new fame as a tourist attraction. A visit to the caravan became a 'must' for visiting celebrities such as Frank Sinatra, Robert Mitchum and Marlene Dietrich. In 1974, Colonel Sanders stopped at Harry's and enjoyed the food so much that he ate three 'pies and peas' while leaning on his walking stick in front of the caravan. A picture of Sanders taken during the visit still hangs in the caravan today."
Source: Wikipedia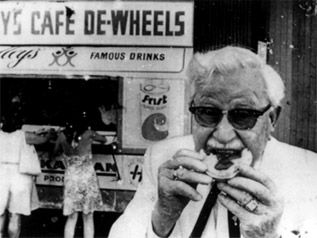 Harry's Café De Wheels
Cowper Wharf Rd
Woolloomooloo NSW 2011
Tel: +61 (02) 9357-3074
Open 24 hours