Its comforting to know that, whilst Sydney property prices go through the roof, that it is possible to get a bargain in this city. Not only that, but the bargain is food related and available until 4pm. Of course the thing that I'm talking about is Breakfast, specifically the Big Breakfast at La Vera which, for a princely sum of $6.50, you get 2 eggs (poached, fried or scrambled), tomato, bacon (and there's a lot of bacon), toast and a hash brown. I only need to tell my husband the price before he readily agrees.
There are three outside tables (all quickly snapped up) as well as a lot of seating in the wood panelled room indoors. We order a Big Breakfast ($6.50) and a Country Breakfast ($11) which includes the same as the Big Breakfast with the addition of mushrooms, a sausage and a small orange juice. And because we see a small child nearby with a lovely lilac hued drink, the Blueberry smoothie. Service is efficient and friendly and we're not wanting for anything, when I drop my napkin, the waitress whisks it off the floor and returns with new replacements.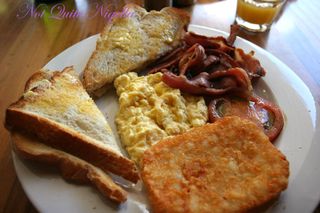 We don't wait long for our breakfast and I try the big breakfast first. The tomato is only one slice but its tasty when combined with super crispy hash brown. There is a huge tumble of bacon which is very well cooked and the scrambled eggs are nice and creamy but not particularly equitable in comparison to the amount of bacon given.
Curiously the toast is sporadically buttered in patches with both breakfasts. Surely buttering is done in one swift motion and doing small blobs is harder?
I try the country breakfast sausage and the mushrooms and the sausage is interestingly, deep fried. It works however and whilst not the most cardiacally sound, its flavoursome with a slightly crunchy exterior. The mushrooms are good but again, not very plentiful. Comparing the two, the bargain to be had here is definitely the Big Breakfast.
Our blueberry smoothie, served in a Beck's beer glass is mildy sweet with real blueberries and is refreshingly cold.
At night, La Vera turns into a pizza and pasta place. But for now, we're happy visiting prior to 4pm and having our big breakfast.
La Vera Café restaurant
Open 7 days for breakfast, lunch and dinner until late. Breakfast served until 4pm.
Tel: +61 (02) 9660-5063 or +61 (02) 9552-6336
109-111 Glebe Point Road, Glebe (near Mitchell Road)
Visa and cash accepted