I was curious about Bentley Restaurant & Bar. It's one of the latest restaurants with a bit of a buzz about it, and one of those places that only has two seatings, you can either dine at 6.30pm or 8.30pm. For me, when it used to be a bar it wasn't anything to particularly write home about but when the restaurant came about in its current incarnation, suddenly people were.
It's very darkly lit with a tree and foliage theme with leaves cut out of the red perspex partitions and a cut out "tree" on the side of the wall. We contemplate the menu, there's a range of tapas as well as an a la carte entree and main section. I opt for two entrees while Gina opts for an entree to be made into a main size and Teena orders a main.
While we are waiting, the bread with olive oil, not something I usually partake of, is demolished by yours truly as it is absolutely scrumptious. And before you ask, as I would, if they gave us only two slices for the three of us, they did not, the two slices above were my share ;)
Chickpea chips $8
We ordered the chickpea chips as we had no idea what to expect. Once we had done so, I had flashbacks to the awful polenta chips I had eaten at Icebergs but thankfully these aren't anything like those. They're hot and crunchy with a dried chickpea exterior resembling semolina or polenta. The Hummous is very creamy, much more creamy than Hummous usually is and they're quite good and restorative in the chest in the way that hot chips are in the cold.
Basil Pudding with sweetcorn puree, zucchini flower and asparagus $18
My basil pudding (and the pork following) reminds me of the food that I had at Foliage in London (so resembled it that I had a look at the Bentley website to see where the chef had previously worked, not at Foliage it turns out). It's all pretty little pieces artistically put together with a brush of sauce or a tangle of delicate leaves placed just so, where everything must be eaten together. The basil pudding cleverly resembles broccoli florets and it's a melange of flavours where everything does mould together nicely and quite unusual at that. However I am a little disappointed that the zucchini flower, one of my favourite ingredients is simply two petals. Deep fried stuffed zucchini flowers are heaven on earth and I was looking forward to some.
Caramelised Pork Cheek with beetroot and smoked salmon ravioli $23
The caramelised pork cheek is simply a fall apart soft slice of heaven. It's so soft and gorgeous I could happily eat several more of these pieces in silence, murmuring occasionally. The ravioli is not what I expected, instead of pasta on the outside, it's thinly sliced raw beetroot which has a radish like texture and the smoked salmon inside is liquid. I am not so enamoured of the ravioli outer. It's a touch underseasoned and there is no salt or pepper on the table which I find a bit presumptuous.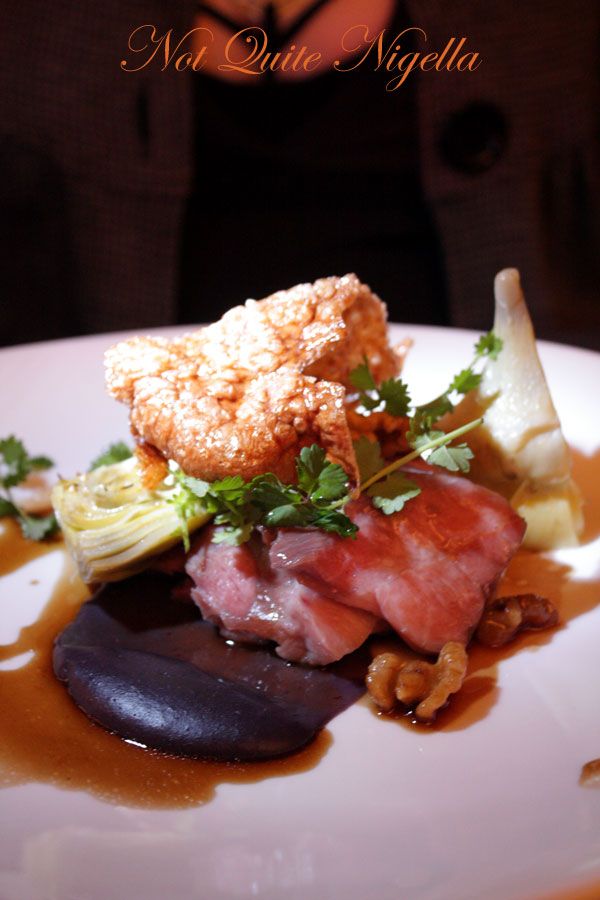 Slow cooked Berkshire Pork Neck with Congo Potato Puree and Globe Artichokes $33
Teena assures us that the pork neck was good but is perplexed by the crackling which looks to have been separated and then deep fried giving it a prawn cracker consistency. The congo potato puree is certainly interesting, resembling chocolate or red bean puree and with a flavour impossible to pinpoint (although it is not potato-ey).
Chocolate Ganache with orange oil $6
We're not particularly taken by the dessert menu but we do select some smaller items. Gina's Chocolate Ganache scoop, is a strong bittersweet chocolate with a real kick of heady orange oil. It's overpowering and she leaves most of it as it is a large scoop.
Toasted Banana Marshmallow with warm banana milk $6
My toasted banana marshmallow is deliciously delicately light and fluffy, I wonder how they managed to put this on the plate it seems like it would fly away with a strong breath. The warm banana milk is also good but it's very disappointing to see that the small cup is only 1/4 full of milk, the rest is actually foam. I get three tiny sips out of it and that's all. The chocolate straw is crunchy with a toffee like texture but given how little there is of the milk, a little obsolete.
Hot Ricotta Dumplings $6
Teena's Hot ricotta dumplings with strawberry sauce (which resembles tomato sauce) are a fluffy eggy concoction tasting more of souffle than ricotta.
By this time, all of the 6.30pm diners are given their bills, even if they're mid dessert and urged to settle them, albeit with a smile. We're intrigued and perplexed by our meals. What you order is always not always what you get, but rather a chef's interpretation thereof which is not a bad thing at all, as long as you don't have any cravings or preconceptions.
Bentley Restaurant and Bar
320 Crown Street Darlinghurst Sydney 2010
Tel: +61 (02) 9332 2344
Open: Tuesday to Saturday 12noon til late