Sometimes instead of running out to the shops for a new loaf of bread, I find that if I have the time, I prefer to make it. I would never have ordinarily done this a few years ago, pre-KitchenAid and its wonderful dough hook attachment. My arms simply don't have the stamina for kneading (although carrying shopping bags seems to be an exception to this rule), nor does my mind have the patience so I always bought bread thinking that the rising yeast and kneading was too much of a production. Indeed the feeble attempts that I had made warned me off baking it myself as I'd often give up mid-knead resulting in a cake more than a bread. But now since I have the Dough Hook, bread is no longer my bête noire. I adapted this recipe from Nigella's How to be a Domestic Goddess, which has to be my favourite ever cookbook, and heeded her comment about how this bread really came into its own with cheese so I thought why not add some cheese throughout the bread?
I've often heard real estate agents purport that the smell of baking bread or freshly brewing coffee is a good way to sell a house and whilst I've never needed to sell a house, I have been lured by the smell of freshly baking bread. It's something that even a hardened carb phobic like me finds hard to resist. When this came out of the oven, I took to it with a bread knife and cut myself a couple of slices and slathered them with butter. It was perfection. I then proceeded to cut off some more pieces before I realised that a good third of the loaf was gone. And I enjoyed every minute of being part of its disappearance.
Maple, Walnut and Cheese Bread
500 grams/1/2 pound wholemeal bread flour

150 grams/5ozs strong white flour

1 tablespoon salt

7 grams (1 sachet) easy-blend yeast or 15 gr. fresh yeast or 1 tablespoon dried instant yeast

300-400 mls/10-13.3 fl ozs. warm water

4 tablespoons maple syrup

75 grams/2.5 oz walnuts chopped

1/2 cup grated cheese

oil for greasing
Step 1 - Combine flours, salt and yeast in a large bowl or the bowl of mixer with a dough hook.
Step 2 - Mix water and maple syrup together in a jug and add to the flour mixture and knead until elastic (about 6 minutes with a mixer, a bit longer if doing by hand (although as there is so much wholemeal flour, it won't become as elastic as a white bread). Rest for 20 minutes.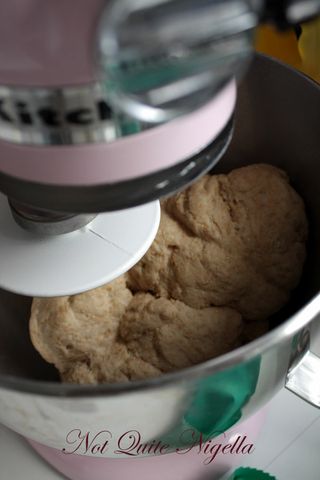 Step 3 - Knead the walnuts into the dough and form into a ball. Place in an oiled bowl and turn the ball in the bowl so that it is covered lightly in oil on all sides. Cover with a teatowel and leave in a warm area for 1-hours until risen.
Step 4 - Punch the dough down (although it isn't nearly as satisfying with wholemeal bread like this) and knead for 1 minute. Make it into a rectangular shape and then sprinkle the 1/2 cup of cheese on the rectangle and then roll up into a loaf shape. Make three diagonal slashes on the top. Rest in a warm place for 30 minutes to rise.
Step 5 - Preheat oven to 210c/190C Fan forced and bake bread for 15 minutes. Then turn down the heat to 190c/170c fan forced and bake for another 30-40 minutes until cooked. Check that it is cooked by rapping on the base of the bread, if it sounds hollow it is done.
This is also my entry for Temperance's High on the Hog's bread with cheese challenge!