"Oh it's expensive lah!"
"Very pricey lah!"
We'd heard it all, mostly from Singaporean and Malaysian friends and relatives so we had braced ourselves for an expensive but tasty meal at Temasek at Parramatta. Little did we know that when these friends considered it expensive, it was probably in comparison to prices in Singapore and Malaysia because prices seem rather good, very reasonable even. We were at Temasek for my mother's birthday and we open the menu. It's a two page menu prefaced by a blurb telling us that take away containers are an additional 50 cents each. But mains are mostly less than $20 and it's doing a brisk trade this Sunday night.
Buoyed by this unexpected fortune we get a little bit too excited when it comes to ordering knowing that if we do have too much, well we can always pay 50 cents for a takeaway container! "I'd love to try the oyster omelette" I said to my parents. Mostly because Singaporeans are said to be completely in love with the dish and every time I've tried to order it it has either sold out or is no longer on the menu. Again, I am out of luck when the waiter comes back to tell me that they're out of oysters.
Coconut juice $3.50 and soy bean milk $3 
This one is similar to the soy milk that you get in Asian grocery stores. I grew up with my dad making soy bean milk as it was hard to buy back then and his version was always delicious and slightly sweet.  The coconut juice with finely shaved ice is also sweet but not overly so so that it is refreshing.
Hainanese Chicken Rice $12.80
Hitting the table scarcely five minutes after the order was placed was the Hainanese chicken rice. Served cold, the jellied, soft boiled chicken is paired with a soup which is actually cold but very flavoursome. There is also a round of fragrant chicken rice and a side of chilli sauce and sweet soy sauce. They don't seem to serve the ginger and green onion sauce with the chicken here.
Nasi Lemak $16.80
For the nasi lemak, you can choose two out of three choices for your "meat" from beef rendang, sambal prawns and chicken curry. We chose the first two. The coconut rice is rich and fragrant and goes so well with the beef rendang. The sambal prawns are nice although they are cold and there are just two to the serve whereas the rendang serve was in comparison very generous in size.
Char Kway Teow $14.80
With a beautiful char and glisten to the rice noodles noodles and plenty of thinly sliced lup cheong Chinese sausage, bean sprouts and succulent prawns, this was eagerly eaten by all. You can opt for this to be spicy or not with the added chilli and this induces the chilli sweats in my dad although the rest of us find this nicely spicy.
Serai lemongrass pork $18.80
This was ordered mainly for Mr NQN as he adores lemongrass and this ends up being one of the favourites for the table. The lemongrass pork is sweet, aromatic and rich with coconut and lemongrass and the pork tender with a slight graininess from the coconut and lemongrass.
Sambal balaccan eggplant $16.80
I don't think many of us went for the sambal balaccan eggplant and we should have gone for the sambal balaccan kang kong (oops, my fault!) which goes so well with the strong dried prawn flavour of the balaccan.
Roti $4.40
Ordered just because we all love roti they are crispy, flakey and impossible to put down, especially when paired with the lemongrass pork which we made into a quick sandwich.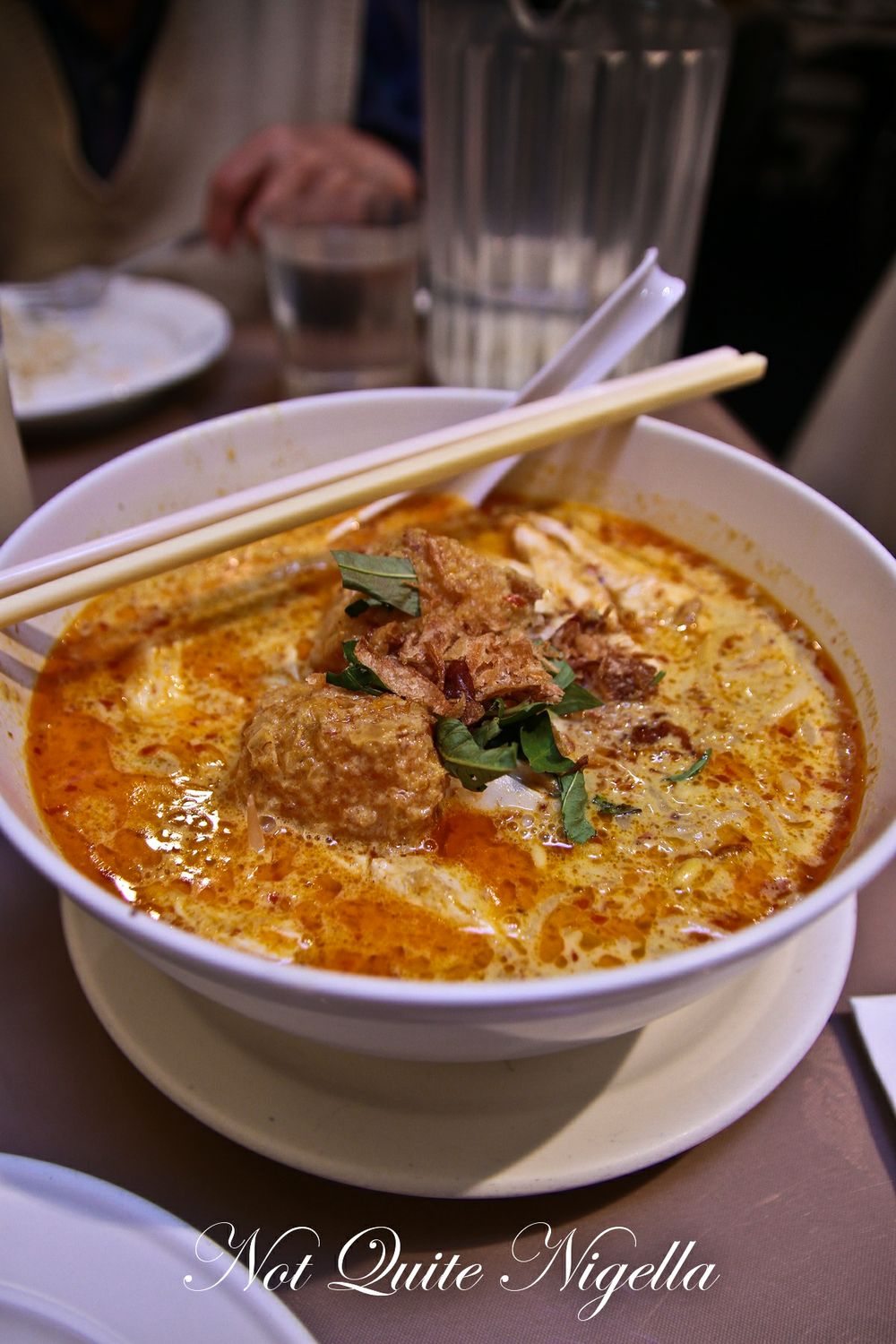 Laksa Singapura with chicken $15.80
Thick with finely ground lemongrass, belachan and other aromatics, the rich coconut broth held a generous portion of egg noodles and tender chicken breast. There were two pieces of the spongey tofu on top as well as bean sprouts and it was garnished with curry leaves. My favourite part was the chicken as it was soft and still moist.
Ice Kacang $5
Sometimes it's hard to explain Asian desserts to non Asian people. Especially when they have things like a dollop of creamed corn on top and things like grass jelly and red beans underneath. Perhaps I should just sell it the way that it was sold to us as kids, as a treasure hunt. Underneath the mountain of shaved ice, palm sugar syrup, red syrup and sweetened condensed milk is a little treasure trove of palm seeds, cubes of grass jelly, sweetened red beans and pieces of pineapple. And whilst it's currently not as hot as it is in Singapore or Malaysia, it's refreshing and quickly finished.
Chendol $5
Sadly they were out of bobor cha cha (the sweet potato and yam pieces cooked in coconut milk) so we ordered the chendol. Giving it the requisite stir, it is rich in coconut milk although it is less sweet that the ice kacang with the lashings of syrup so we would have been better off eating this first and then the ice kacang.
And a bonus, we take three containers of food home to enjoy later!
So tell me Dear Reader, does value matter to you when choosing a restaurant? And do you like to take home leftovers?
Temasek
71 George Street, Parramatta, NSW 2150
Tel: +61 (02) 9633 9926