This restaurant has now closed
It's all Greek.I mean it, specifically it's all Greek here at restaurant Xanthi (Greek for Blonde). From the imported lights, the cutlery style called Athena, even the bill comes from a Bank of Cyprus account nothing has been spared to give you the whole Greek experience. Because that's a good thing and you could be in Greece instead of a Westfields shopping centre.
Full disclosure Dear Readers, chef and owner David Tsirekas is a friend of mine as is his wife (the "Blonde" from the name) and co conspirator for many of the food adventures. So when he opened Xanthi I already really knew what it was going to look like as he had sent me photos of the restaurant like a proud papa his vision taking shape. On the 7th floor of the Westfields, we access it through the gigantically tall escalator from Pitt Street. We're still not quite used to the concept of dining in a shopping centre and easily confused when it comes to getting to the restaurants.
We walk in through the entrance and the kitchen with its square windows displaying the kitchen action is on the right where eight chefs including David are there busy at work. We walk past the decorative line of glass lights. There's a large canopy tent ceiling in the centre of the room. The end of the restaurant looks out onto Castlereagh street and over some of the food court.
The place is humming and on this Saturday night he will do over 160 covers. There are two sittings each evening at 6pm and 8:30pm but it is open for breakfast and afternoon tea all day from 8am until 11pm. The specialities are said to be the meat from the spit and the filo pastry that is made fresh every day. Some of the items are similar to the Perama menu which you can see reviewed here so we tried to order the newer items-except for the pork belly baklava-we couldn't not order that ;) We start with some entrees while we are dithering over our mains. Service is friendly and ranges from very polished to some learning although they're well meaning.
Tarama, Split Pea, Tzatziki $11
First off are the dips served with crispy garlicky, herby croutons. There is a taramosalata which is made with potato and salted and cured cod roe, a split pea dip and my favourite the tzatziki which is my favourite tzatziki-nothing can beat it and it's lovely and garlicky and thick as it is drained twice to get rid of the whey and to make it lovely and creamy. And the dips are a great price and I'm surprised to see the prices are still very reasonable given the new city location.
BBQ Haloumi $13
They use locally produced Cypriot style halloumi in their barbecued halloumi. One thing that I would have liked though as there were five of us was if the portions were upsized for five people (we are happy to pay extra) as everything came out as portions of four and it became awkward cutting four items into five portions. The halloumi was salty and had that squeak that I adore and it was served with a tomato, lemon and oregano.
Herbed skordalia croquettes $11
The croquettes were crunchy and deep fried and dipped in polenta and breadcrumbs for extra crunchiness. The inside was so creamy and soft that it almost collapsed on the way from the plate to mine and it was filled with a garlic mash and had a fresh burst of herbs like mint, dill and celery leaf that countered the richness of the croquette.
Spinach and feta in filo pastry $16
The menu explained a little about the filo pastry here and said "A plastira is the board that the women of the village use to stretch and roll out filo. The wood is made from pine trees and its properties make it the best surface to stop the pastry from sticking and tearing as it's carefully stretched and thinned." Here the spinach and feta are wrapped in filo and made into a coil and then baked until crisp. The hand made filo is obvious from the first bite-having made it myself it has that distinct crisp texture to it that is hard to replicate with commercial filo and as a pastry lover I enjoy this starter a lot.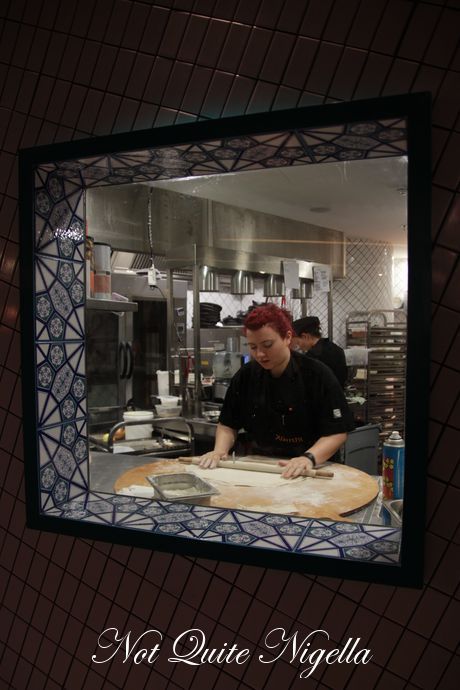 Rolling filo out daily
Pork Belly Baklava $21
_
_
Even though we were trying to order new things that we hadn't tried before I don't think I could have not ordered the pork belly baklava, one of David's original creations first seen at Perama. He explained that he needed to adapt it slightly to accommodate the number of customers as it is made fresh to order. Previously the pastry was layered like a mille feuille and here it is wrapped and filled with shredded pork belly and a date and pistachio filling and spears of crackling  and the baklava sweetness is given through a date and mastic sauce. Yep still my favourite! ;)
Lamb on the spit $38 for 250grams
There was no pig on the spit tonight so we ordered the lamb instead (there was also goat). I try Mr NQN's lamb on the spit and there are soft and tender pieces on the bottom and crispier edges on top. It also looks much bigger than 250 grams which means that there is enough for everyone to try it and then some! We put a generous dousing of lemon all over it and I am transported back to Greek backyard barbecues where a lamb and the chef holds court. It is also served with a thick yogurt dip.
Lamb Skaras $31
This was a dish from Perama but Gina and Hot Dog wanted to have it with the potatoes and beans. I tried a little of Gina's lamb and it is lovely and soft chunks of meat and it is nicely seasoned with paprika, olive oil, lemon and garlic. In comparison to the milder lemony lamb on the spit this has a nice spice to it and it is served with baked oregano lemon potatoes and string beans.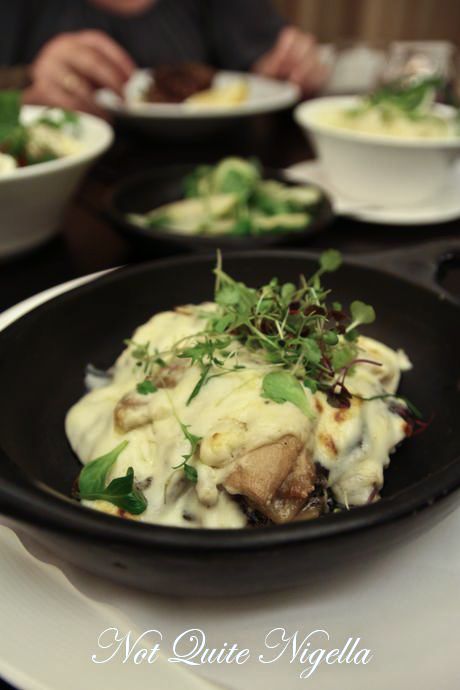 Mushroom and Truffle Moussaka $31.00
Teena felt like something a bit different and although truffles are out of season we both liked the sound of this. There were layers of sliced potato, soft and dreamy eggplant and mushroom with a creamy, thick bechamel sauce. The truffles came via a truffle and mushroom paste that David makes up when truffles are in season but they only appear in the occasional mouthful and perhaps need a bit more even distribution. It is served with a refreshing green apple and cucumber salad with a sweet honeyed dressing which counters the richness of the moussaka.
Seafood Saganaki $35.00
Teena and I were interested in this dish so we shared our mains. Mine was the seafood saganaki and it was another enormous serve with king prawns, mussels and calamari cooked in a spicy fish stock, tomato and coriander seed sauce. Underneath it sits a pilaf which has the consistency of a risotto and added flavour from the sauce, currants and pistachios and the whole thing has been topped with melted kasseri cheese. It's a huge serve and I enjoy the flavours of the sauce and the light spiciness and the prawns are particularly good.
Greek Salad $13
With so much rich food, the Greek salad was a welcome respite and is full of crunchy, fresh salad vegetables including green capsicum, cucumber and tomato as well as large torn pieces of feta.
Skordalia $9
It was a bit ambitious trying to fit the skordalia in but it is creamy and lightly garlicky with a slightly different texture and flavour due to the olive oil rather than butter used.
Chef Dave Tsirekas
Garden of Aphrodite $15.00
David takes a seat with us and we enjoy a glass of Greek dessert wine together which is a lovely sticky drop. The Garden of Aphrodite is a seasonal dessert that David tells us will be renamed the Garden of Irene to reflect the Goddess of Spring. There are two petite sheep's milk puddings that have a yogurt pudding flavour and they are served on a slick of raspberry and beetroot gel and then garnished with tiny mandarin segments, crystallised rose petals and ouzo meringues and fresh edible flowers.
Sokolata Castania $14.00
A favourite of the table this was an airy light concoction. The dome is made up of a milk chocolate mousse with a chestnut anglaise cream sauce slick, a sugared sesame crisp on top and the centre is a whipped basil cream and it is surrounded by chocolate fairy floss. The sour cherry sorbet is a lovely counterpoint to the sweetness of the dessert.
Patsavoura (wet mop) $14
A surprising highlight was a gift from David was the Patsavoura which is nicknamed "wet mop" as it is a pastry with a cinnamon and clove nut filling soaked in a spiced sweet syrup and served with a scoop of clotted cream. I adore the syrupy pastry and it has a soaked, sweet texture like a bread pudding except more buttery with the pastry.
Kataifi Kolokithopita $14.50
Another gift of the Greek gods (i.e. David) this is a dessert that you would choose if you don't really like overly sweet desserts. There are shredded kataifi pastry mounds alternating with pumpkin mousse quenelles, slices of candied pumpkin draped over the nutty crumble and a scoop of lovely black tea ice cream. The pumpkin mousse itself isn't very sweet and it doesn't have the spice of say a pumpkin pie but when you combine the buttery pastry, sweet black tea ice cream and the mousse it comes together nicely.
Strawberry mousse
The last dessert was one that wasn't on the menu but David sent out. We were glad that he did because it was a wonderful strawberry mousse tasting just of fresh strawberries, some airy white chocolate shards on top and a pastry top and bottom propped up by two perfect strawberry halves.
OK perhaps we could be persuaded to get used to this shopping centre dining... ;)
So tell me Dear Reader, do you ever find yourself surprised at the what ends up being your favourite dish or do you know just from looking at it on the menu?
All dishes were paid for except three of the desserts
Xanthi Bar & Restaurant
100 Market St Level 6 Westfield, Sydney, NSW 2000
Tel: +61 (02) 9232 8535
www.xanthi.com.au