When the lovely Prue from The Mint Partners invited me along with a small group of other bloggers to the 11 week old Ripples on Sydney Wharf in Pyrmont, I couldn't have said yes fast enough. I'd dined at Ripples Milsons Point before but that was only for breakfast. This time she said, we'd be partaking in the dinner menu and in a special spot: sitting right in front of the action at the Chef's Table. I'd heard of Chef's Tables before, mainly at overseas restaurants, but had never dined at one so I was particularly excited about this.
It's an intermittently raining evening tonight but even that can't dampen my enthusiasm. And true to form, the Chef's Table is exactly that and we are seated bar style watching Chef Richard Park and his efficient team fly into action. New Zealand born Park formerly of Aqua Dining and Kables, creates exquisite French bistro style cuisine.
We discuss how much we love lunching during Winter when the sun is shining but it's not swelteringly hot and Ripples' Manager Andrew Roebuck tells us about some very loyal customers, who despite living in Mosman (where there already exists a Ripples in Chowder Bay), have dined here every Sunday lunchtime with a changing group of friends for the last few weeks. They stay from 1pm until 7pm and make the most of the location and view. The menu is very reasonably priced, somewhat of a miracle for a Waterfront restaurant in Sydney with mains ranging from $24-29.
Our first tastes for the evening are the Epi bread (from Brasserie Bread if I'm not mistaken) with a variety of butters and toppings. The crusty Epi sourdough is lovely with the anchovy butter which has the distinct but not overwhelming taste of anchovy.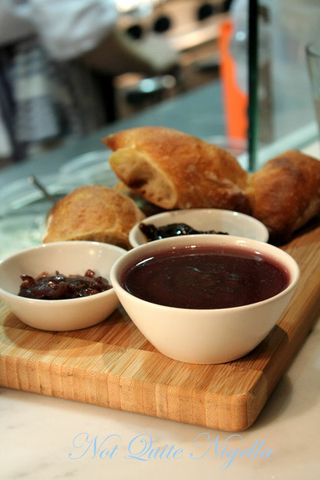 The olive tapenade and pesto butter is delicious and true to flavour but my favourite is undoubtedly the duck liver parfait with onion marmalade and pickled prunes in Earl Grey tea. It is a sweet, salty and aromatically rich start to the meal.
We are also given a new season's Spring Bay Scallop with fennel salad as the season has only just commenced. It's fresh and tastes of the sea combined with the rich scallop roe.
We watch as they freshly shuck the oysters and when they're plated, Park finishes them with the dressing. He explains that to the right of the Galley kitchen is the meat section, then the fish and then to the left is the pastry section. He floats between all areas but mainly takes care of the meat as that is the area requiring the most technical precision in the kitchen.
I've been a bit greedy and ordered a dozen of the warm oysters with leek fondue and goat's cheese sauce which is richly gorgeous. Perhaps 12 was a bit ambitious to eat along with our breads, mains and desserts but I enjoyed every one.
The freshly opened Pacific oysters with mignonette dressing are also delicious and usually the way I prefer the oysters. I always find that Pacifics have a gorgeous creaminess to them which is well offset by a tangy dressing.
Several people order the twice baked goat's cheese souffle with onion and thyme soubise (a bechamel type sauce with onions) which has a lovely and light texture and the distinctly delicious goat's cheese flavour. Perfect for this cold Winter's evening.
For my main, I chose the signature bouillabaisse with garlic bread and rouille. In the bowl, there is a crab claw, salmon, whitefish, mussels and prawn, all beautifully tender and perfectly cooked. The soup is full flavoured and rich and the buttery garlic bread and rouille (a provencale sauce made of breadcrumbs, oil, saffron and chili peppers) round it out nicely with spice and flavour.
I try Reem's rabbit fricasee and it's sublime. For those who have an issue with the unusual smell and taste of rabbit this is a great dish to introduce yourself to it. The potato dumplings are gyoza-like in appearance but more like gnocchi-like in taste. And thanks to Reem for holding the chair while I climbed up and took this photo!
I try Prue's Ripples Famous fish and chips with homemade tartare sauce and lemon. It's a huge portion and I can imagine this to be almost impossible to finish but the golden crunchy seafood and chips certainly aid in this endeavour. They tell us of a recent table of 17 people where everyone ordered the fish and chips!
Mel's duck leg confit is soft and comforting in the way that only confit can be. It's complimented nicely by the salad and dressing.
Jen's pan seared kingfish is fresh and delicate in flavour and well cooked. The only problem is that I am distracted by the...
The lamb was the dish I was also eager to order so I try some of Billy's and I think I've fallen in love (with the lamb, not Billy ;) ). It's so wonderfully cooked, the lamb falling apart easily and I go in for a third forkful before realising that this is not my dish and give it back reluctantly.
Lyonnaise Potatoes $7.50
The lyonnaise potatoes are firm, waxy potatoes with an enticing buttery aroma and soft cooked onions and parsley.
I usually never finish a dessert (isn't that what husbands are for?) but this I'd gladly demolish and then order a second. It's exquisitely balanced from the creamy parfait topped with crunchy honey to the gingerbread, poached quinces and Iranian Fairy floss all with varying degrees of sweetness which together combine to create a harmoniously decadent dessert which never feels too sweet and has you coming back for more.
The dish that will have chocaholics or comfort seekers rejoicing religious style is the chocolate pudding. Served with a thick, rich chocolate sauce, nut toffee and chocolate ice cream, it is not for the faint hearted and if in doubt, best share it between two. Thanks to Mel for hand modelling it for me.
And because she can't resist, Reem plays Nigella and dips her finger in before murmuring "Mmmm"
The Apple tarte tatin and vanilla bean ice cream has that distinctive caramelised flavour to it, where it is about to become too caramelised but is taken off before this happens.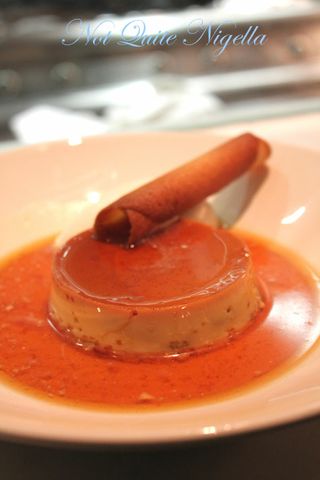 I have to admit that I am not a huge lover of Grand Marnier but for those of you that are and who love creme caramel this is for you with its definite taste of Grand Marnier.
The chocolate pyramid is rich with dark chocolate and biscuit and goes nicely with the tart, fruity raspberry sorbet and crunchy nuts.
After we finish we look around, finally wondering if anyone outside wondered what on earth was going on with our small flock of paparrazzi. And that's the wonderful thing about this - we didn't even notice or care for we were too busy enjoying ourselves to feel self conscious. A big thanks to Prue from The Mint Partners and Richard, Andrew and their team at Ripples for a wonderful evening full of delicious food.
So tell me Dear Reader, what do you think of the Chef's Table concept? Would you choose to dine there or do you prefer to sit at a regular table?
The other bloggers that dined with me were: A Table for Two (Billy), Fooderati (Mel), Grabyourfork (Helen),  I Am Obsessed with Food (Reem), Jenius (Jen) and Spicy IceCream (Lisa).
Ripples at Sydney Wharf
Opposite Star City Casino on Wharf 9
56 Pirrama Road, Pyrmont, NSW
Tel: +61 (02) 9571 1999