I know it seems like I completely let my New Zealand stories peter out completely but I do have one more to go. It's my last story on this gorgeous country which we both adored so much.
Mapua is a small seaside town outside of Nelson in the South Island. Of course our reason for visiting Mapua is a culinary one - one that involves eating fish. Salt and Pepper Squid to be exact. Queen Viv has fond memories of the Salt and Pepper Squid at a place called the Smokehouse.
When we arrive we see that there are two Smokehouse establishments - a cafe and a takeaway. I take a look at the Smokehouse Cafe's menu. There was no mention of the S&P squid so I take a look at the Smokehouse's takeaway menu. This looks a bit more promising with two kinds of fish that are native to NZ, the Gurnard (a type of Perch) and the Tarahiki (that is also called the Jackass Morwong!). There isn't any S&P squid although there are squid rings so we place an order for a scoop of chips, a piece of the Gurnard and a piece of the Tarahiki and half a dozen squid rings. We're told it will be about 10 minutes by the friendly woman behind the counter and we go and browse some nearby shops before coming back.
The huge package as modelled by Mr NQN
Gurnard $4.50, Tarahiki $4.50, Scoop of chips $3.60, "squid" rings 90c each
We're handed an enormous package of hot fish and chips and we take it to the wharf to eat on the picnic tables provided. The Tarahiki is delicious and incredibly moist with large flakes. The Gurnard has a good flavour to it and firm flesh and it has an added bonus of being a sustainable fish and the public's acceptance of this fish has eased off pressure from the more popular species of fish. Traditionally it was slipped in as a substitute fish but support by seafood legend Rick Stein has meant that it pops up all over restaurant menus.
](http://web.ukonline.co.uk/aquarium/pages/redgurnard.html)
Gurnard
It is also dubbed "the ugliest fish in the world" and it is a bottom dweller who uses its legs to stir up potential food on the surface of the seabed. AA Gill of The Sunday Times described it as "the Amy Winehouse of battered fish" as it provided "a sonorous bluesy mouthful". I am more taken with the Tarahiki so I swap the rest of my Gurnard with my husband's share of the Tarahiki. The squid rings are downright bizarre. They are not calamari at all but minced up fish and squid.  Certainly not the calamari rings we envisaged.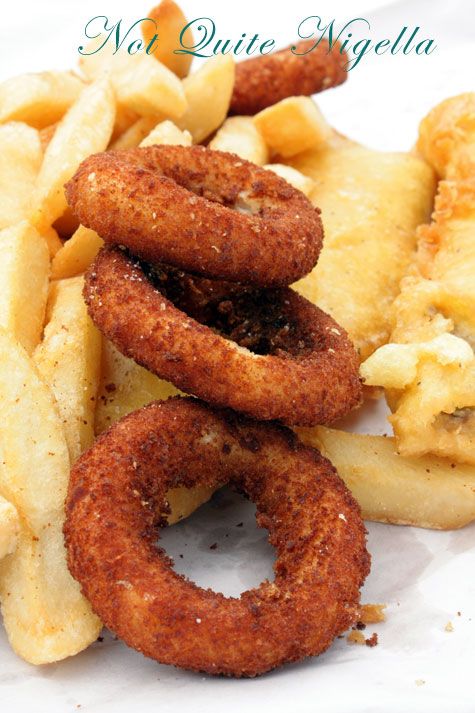 When calamari rings are not actually calamari rings...
The chips aren't particularly exciting. Indeed another couple who ordered after we did asked us what they were like and we offered them a taste of ours and we both concurred that they weren't anything particularly exciting. We're full from the fish and squid rings and yet there's still this yawning pile of chips to go which we just cannot put a dent into no matter how hard we try (we should have ordered a 1/2 scoop). The  couple walk past up holding up their packet of food "We didn't order any chips, we figured we'd take what you couldn't eat" they tell us and in a psychically inclined moment we look down and see that we've barely touched them so we pass the chips to them.
We cap off our fish and chips meal with some real fruit ice cream. A popular type of ice cream sold in Nelson, it's ice cream blended with real fruit. Fortified, we head to our accommodation.
Real Fruit blueberry ice cream and a scoop of Mango Ice Cream
I loved this ad.
I'll be the first to admit I'm not very familiar with the ins and outs of B&Bs but when I was researching Nelson accomodation, this B&B stood out to me, firstly because of the name. I knew I'd find kindred spirits and when I contacted them, Kay and Joe Waller were indeed food lovers. Originally from the United States, Kay is a former schoolteacher and has headed up European tours in France and Italy and is the author of "Cruising Cuisine", a cookbook with recipes for boat lovers. Their B&B is on an amazingly scenic stretch of Nelson. When we arrived they were both welcoming and friendly and we sat down to chat with them about Nelson and food and the new B&B they are building in Sea Watch Bay.
They tell me about the Hokitika Festival held in March each year where you can get such items as bull semen shots, huhu grubs, worms, cockroaches and jellies with bugs and chocolate covered worms. Thankfully we're served much less squeamish fare - delicious Chai tea and white chocolate macadamia cookies which Kay has freshly baked that afternoon. They're gorgeously soft and chewy and just the ticket to recover from the drive.
Later on after we settle in, we drive up to their new location in Sea Watch Bay. We say hello to their three Alpacas (one in each colour!) and Kay explains that they're shorn once a year and she then sends the wool off to be graded and it is then sent back to her so that she can knit with it. After drinking some New Zealand Wollaston estate Sauvignon Blanc wine and some cheese and crackers (including New Zealand's famous Kikorangi blue Cheese) we feel relaxed and revitalised.
They have 75 vines of Pinor Noir grapes as they are also keen wine lovers and are a great source of information on the Nelson area as they regularly eat out and revisit restaurants so that they can give accurate recommendations for food (they recommended and booked Hopgoods for us).
The room itself is lovely with heated floors, free wireless internet, all the amenities and toiletries you could ever think of including a blend of lotions specially created for them. In the morning we are served fantastic Norwegian pancakes with berries and glazed bananas.
Lounge room
Kay sent me some photos of their completed B&B. All of the rooms have a breathatking view of the appropriately titled Sea Watch Bay. Along with a dedicated Wine Room there is also a sauna and a Pizza Oven.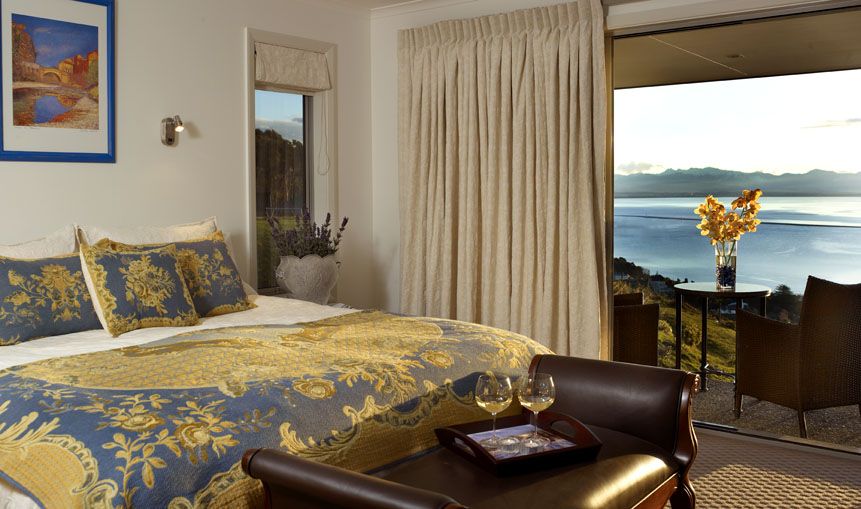 Provence Room
Ensuite
The Wine Room
A quick chat to Kay and Joe reveals that the Smokehouse has had a hard time of it in the past few years. It was sold a few years ago and the quality of the food has declined and more recently has been sold again with some better reports trickling in about the quality. It helps to have foodie contacts!
So tell me Dear Reader, do you prefer B&B's or hotels and why?
NQN and Mr NQN stayed as guests of A Culinary Experience.
The Smokehouse at Mapua
Sheds 2 & 3, Mapua Wharf, Nelson
Tel: +64 (0) 3-540-2280
A Culinary Experience at Sea Watch Estates
15 Sea Watch Way, Atawhai, Nelson, New Zealand
Tel: +(64) (0) 3-545-1886
0800-87-1886
http://www.a-culinary-experience.com/