This post is brought to you by Olympus. Never stop the journey.
Queenstown is one of the most beautiful places in the world, and is a favourite for visitors everywhere eager to drink in its beauty and natural landscapes. But you may also be glad to know that there's no shortage of fantastic and photogenic places to eat. Today we show you where to eat and shoot photos for travel using the new Olympus OM-D E-M10 Mark III, my go to camera for travel and eating out!
I've been using the Olympus OM-D E-M10 cameras for around 3 years now and use it exclusively when I travel and visit restaurants. It takes sharp photos and video, fits in my bag easily, has image stabilisation, wireless uploading and many more features that make it a favourite with bloggers. In terms of lenses, at home I use it with a 25mm prime lens as I love how sharp the image is but for travel, a zoom lens is really useful for the versatility. The Olympus OM-D E-M10 Mark III was just released this year with new features.
Fergbaker
But we're on a food and photography mission today: to show you the best place to eat in Queenstown and to show you how to make travel food photography easier. We start with breakfast. The Ferg empire that started with the now famous Fergburger has also expanded to Fergbaker and Mrs Ferg ice cream, all next to each other on Shotover Street in the centre of Queenstown. Our first stop is at Fergbaker where there's a mix of classic old skool items like finger buns and classic pies as well as enormous twisted pretzels, focaccia, cupcakes and donuts.
The best sellers are items like the Boston Creme Donuts and the lamb and kumara pie but my favourite was the pork belly and apple pie, a rich, saucy pie with soft pork belly and thick, chunky soft apples. I also loved the carrot cake muffin with the zingy lemon cream cheese frosting. The bakery also makes the rolls for Fergburger and these are baked several times a day. If you're feeling the cold, definitely try one of their thick hot chocolates, a decadent hot chocolate with the option of adding in a chilli ganache bomb (do it!). It's spicy but not outrageously so and will warm you up from the inside in the most delicious way. We take our spoils next door to Fergburger where Kara is holding an outdoor table. Tip number one is if you can dine outdoors in natural light, always choose this option.
Light makes an enormous difference in the quality of photos and nothing can quite replicate the beauty of natural light. Even within a particular table your seat makes a difference. The top pic has a wall behind Kara (wearing the green jacket) whereas in the pic just above of me, I don't have a wall behind me so there is more side light.
Fergburger
Queenstown is synonymous with one eatery and that place is Fergburger. Fergburger is open almost all hours (they close between 5am-8am) and it's one of those magical unicorn businesses that is so successful that there's always a queue.
Fergburger specialises in large burgers and no burgers is larger than the Big Al, a beast of a burger. It's a double serving of prime New Zealand beef (3/4 of a pound), plenty of streaky bacon, cheese, 2 fried eggs, slices of beetroot, lettuce, tomato, red onion, relish and "a big wad" (their words) of aioli. If you're wondering how best to tackle this to get a bit of everything in your mouth, my advice is to take several small bites around the burger to get a bit of everything because I don't think anyone could wrap their mouths around the whole thing. And hats off to you if you can finish it. You're a much more accomplished eater than I.
There are also fries to go with the burger but when faced with the choice of fries vs onion rings, we always choose onion rings. These are house made and large chunky onion slices with a crunchy crumb coating and garlicky aioli. And here's a shot of all of our spoils from Fergburger and Fergbaker.
**When we go out with friends to eat, we you don't want to disrupt everyone with our photo taking. One of my favourite features of the Olympus OM-D E-M10 Mark III is the touch screen focus. Instead of tabbing over to the focal point you simply tap the live screen on where you want the camera to place the focus. Most people are really surprised at how quickly we take photos because of this.
Another key feature is the tilting live view screen. Just tilt the screen and you can see what's happening underneath you. The screen tilts up or down and you can use the touch focus on the screen when it is extended.**
Vudu Cafe & Larder
If you're seeking afternoon tea, a hop, skip and a jump away is Vudu Cafe & Larder. Inside is warmer but outside allows for better, natural light so we gravitate towards it and huddle under blankets. I order and pay at the counter and take my number to our table.
There's a mix of healthy and regular food with chia pots, cashew cheese alongside big breakfasts and French toast pudding. Yup French toast pudding is a thing and it's like a French toast bread and butter pudding section served on a bed of custard and it's pretty damn magnificent.
Other things to try are the carrot cake, a slice cut out from an enormous and pretty carrot cake or a single hazelnut cake. Servings are on the large and photogenic side.
Another feature that I use a lot on the Olympus OM-D E-M10 Mark III is the wireless transfer. This is particularly useful when you want to Instagram on the go while travelling. All you do is download the Olympus OI.Share app and hit the wifi icon in the top left of the live view screen. Then go to your phone and open up your wifi and select the correct wifi signal and enter your password (the password is just for the first time) and choose the images you want to import. Most professional Instagrammers use a separate camera to shoot their images and this wifi capability saves you from having to wait to download images back at your hotel or home.
**We also give the art filters a try. The new Olympus OM-D E-M10 Mark III has 30 new and improved filters if you want to add a filter automatically to your photo. If you'll notice a lot of popular Instagrammers have a similar look and feel to their photos which creates a more harmonious and themed grid-take Kim Kardashian for example who uses the same filter across many of her pics.
If you are not sure about the Art filters and want to hedge your bets, shoot in RAW and Jpeg and you'll have a copy of the original plus the filtered image. Some filters are better suited to food like Pop Art or Pin Hole rather than black and white but there are also soft focus filters for faces and some monochromatic filters for arty shots.**
Rata
Nestled among a square of pubs is Rata, a little hidden away gem by New Zealand born and based chef Josh Emett who worked extensively with Gordon Ramsay. And a little tip: if you go for lunch even on weekends it's a steal with two courses for $28NZD or three courses for $38NZD.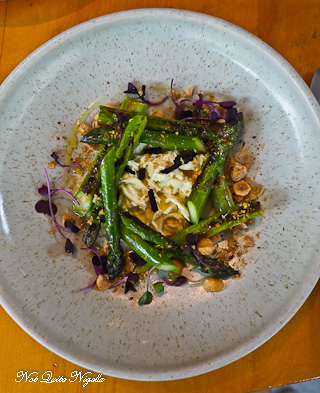 Starters include the new season crisp and perfectly grilled asparagus, served with Viavio torn stracciatella, a soft, milky cow's milk cheese and accents of finely chopped black garlic and roasted hazelnuts.
My favourite entree however is the Southland cheese roll, a crispy, buttery, long cheese croquette served with a wedge of honeycomb. Cheese rolls are a thing in New Zealand and they're usually made with evaporated milk, powdered French onion soup and grated cheese on a rolled up slice of bread which is toasted. There's also a lovely salad to go with it of butter leaves, hazelnut and pear.
The Harmony (grass fed, free range) pork belly is a neat slice of crunchy pork belly and soft meat with a charred white onion, basil puree, grilled asparagus spears and two white anchovies. It's a beautiful dish served in a judicious portion and the only element that isn't quite needed are the white anchovies as they tend to dominate with their strong, vinegary flavour.
The Marlborough salmon is cooked through but still luscious and it is served with pearl couscous, anchovy salsa and zucchini.
There's only room for one dessert- a vanilla panna cotta with macerated strawberries, meringue, roasted local pistachios and a pistachio sponge. Although I don't often order panna cotta this is more than a simple pudding and each element is well executed from the pistachio sponge to the sweet, lush berries.
Because we are in a bit of a rush, I don't have a lot of time to take photos and the Olympus OM-D E-M10 Mark III's inbuilt stabilisation really helps when you're pressured and feeling a bit unsteady or rushed.
Mrs Ferg
Queenstown has two Mrs Ferg's gelaterias. One located right next to the Ferg Burger on Shotover St and one along the beach on Beach Street. The latter has less flavours than the one on Shotover Street store but has a classic Italian gelato cart outside which can make for better photo opportunities.
I have found the ice creams tend to be on the sweeter side - Mrs Ferg's Russian fudge is very popular but too sweet for me. I love flavours like the pink grapefruit (a great alternative to their lemon gelato), strawberry cheesecake or lychee and Vietnamese mint. The award winning flavours are marked so you can see what is popular. We order the mint chocolate, raspberry and the strawberry cheesecake in a towering cone and sit and eat it by the enormous Willow tree while watching the view, snapping away.
The Olympus OM-D E-M10 Mark III has options for focus, if you want to take a photo using a shutter button (instead of pressing the live view screen) you have the option of single focus (use for for portraits or food) or multiple focus (useful for landscapes of scenery) which can help if you have a scene where there are a lot of things to focus on.
Also one last thing, anyone who purchases an OM-D or PEN camera can have a free 45 minute session with one of the Olympus team. To reserve a place visit their website www.olympus.com.au/coffeewitholympus
So tell me Dear Reader, do you take a lot of photos when you travel? Do you use your phone or a camera? And what do you usually take pics of? Views? People? Food? And importantly, fries or onion rings when given a choice?
Fergbaker
40 Shotover Street, Queenstown 9300, New Zealand
Fergburger
42 Shotover Street, Queenstown 9300, New Zealand
Vudu Cafe and Larder
16 Rees St, Queenstown 9300, New Zealand
Rata
Te Nuku 43 Ballarat St, Queenstown 9348, New Zealand
Mrs Ferg
40 Shotover Street, Queenstown 9300, New Zealand and on Beach Street opposite the enormous willow tree