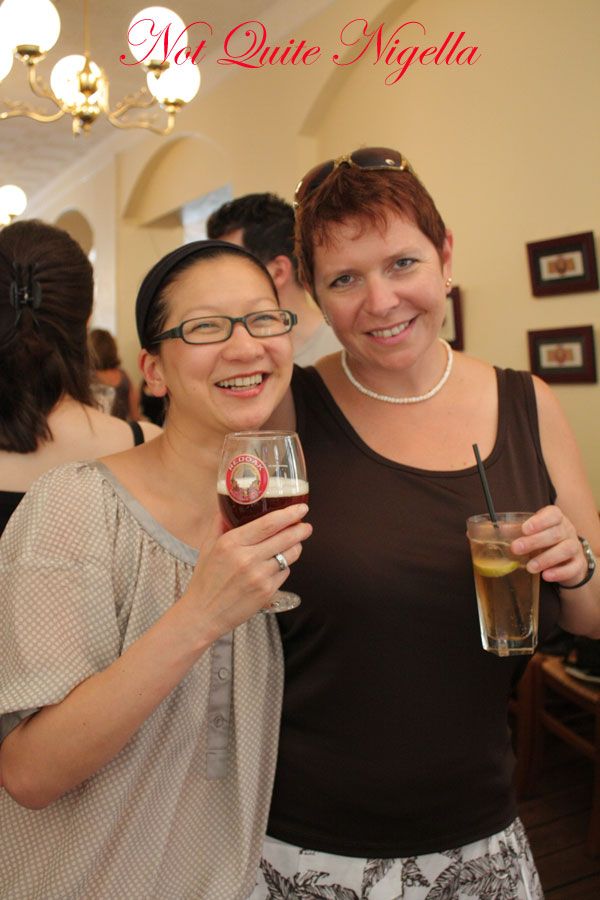 Adrienne holding a glass of Jack's Brew and M
I met Adrienne and Nick and their adorable boy Jack through M on Australia Day and going to baby Jack's post Christening party was a good chance to see the three of them again. They're long time and frequent patrons of the Red Oak Beer Cafe in the city, a boutique beer cafe and Microbrewery where at your request, you can get a beer brewed especially for you. So like any good Aussie male, Jack for his Christening received his very own beer "Jack's brew" (although baby Jack didn't actually drink it himself ;) ).
Framboise Froment beer $7.50
The space itself is warm and woody with a function area towards the back and the restaurant up the front. This afternoon it's finger food and some of their delicious beers. I try some of Jack's brew and it is something I'm sure he'd be proud of. The other thing that I try is the Raspberry beer, something that someone like me might like as it's sweet. I tend to like cherry beers, and I'd say I'm certainly no beer connoisseur at all but this raspberry beer is indeed good stuff indeed. There is also a Belgian chocolate stout beer and another expensive beer served in a brandy balloon at about $100 a glass (I don't order this, I'm not a bad guest!).
The birthday boy and his dad Nick
Battered ginger prawns with aioli
Seared tuna with pesto
_Kid's plate: spinach triangles, dumplings and spring rolls _
Mini vegetarian pizzas
Lentil pies with pesto
Deep fried Indonesian bean morsels
There's also cocktail nibblies today with some delicious gingery battered prawns with a rich aioli dip, seared tuna with pesto, deep fried Indonesian bean canapes, vegetarian pizzas which are surprisingly tasty and delicious lentil pies. Kids get a deep fried platter. The prawns are delicious and huge and perfect finger food. The tuna is nice and fresh, the deep fried Indonesian bean canapes baffle M somewhat but I don't mind their unsualness and the lentil pies are gorgeous flakey. Even the vegetarian pizzas despite being rather plain looking are good.
Johnny and Mum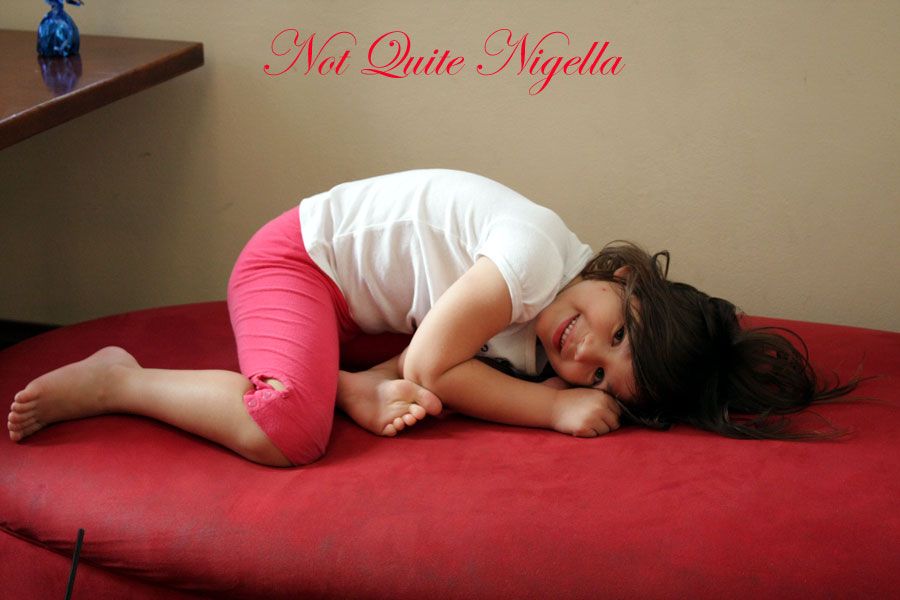 This supermodel in the making loved posing
Johnny
M and her boys
Speaking of kids, there were lots of well behaved cute ones here. There was a supermodel in the making who adored posing plus a dead ringer for a little version of Johnny Depp (who coincidentally is also called Johnny). Jack has some great friends.
But of course the piece de resistence is Jack's birthday cake which rounds off an enjoyable afternoon. A pirate cake no less which was a delicious vanilla buttercake with vanilla buttercream. And as you can see from Jack's expression, he loved it as much as the grown ups and kids did.
_Jack loves his cake _
Red Oak Beer Awards
Red Oak Beer
201 Clarence Street, Sydney, NSW
Tel: +61 (02) 9262-3303
Open: Monday to Saturday for lunch and dinner from 11am until late