La Cumbia has closed down
It has been a long time between catch ups for me and M and her boys and when she suggested a meet up before they left for the gorgeousness of a Tasmanian holiday I suggest La Cumbia, a South American restaurant in Kingsford. M is Austrian but her boys are half Peruvian and she takes great care to ensure that they are aware of their heritage on both sides.
We arrive at 6pm for an early dinner. Inside it looks markedly better than perhaps the outside. There are wrought iron chandeliers with glowing candles inside and large comfortable seats that look like they belong in the dining room of someone's home. M has Colombian friends who frequent La Cumbia and indeed apart from another table and we gringos, the rest of the patrons are South American. M also comes armed with a list of must eats. One item that they recommended the Bandeja Paisa which is said to be big enough for people to share. We start with the array of drinks as they have a lot of South American drinks here and we choose a Manzana and a Pony Malta . The menu is divided into Mexican, Colombian and Spanish cuisine but since this is a predominantly Colombian place, we go for the Colombian choices.
While we are waiting M and I have a look at the shelves of the small shop they have towards the back of the restaurant. There are all sorts of goodies there including an array of tinned beans, chilli sauces, chocolate to make Mexican hot chocolate, brown sugar cane which is mixed with water and lime juice to make a version of lemonade, guava pastes and tinned as well as fresh dulce de leche in the fridge.
Our entrees arrive first and the Arepa Choclo is a warmed up corn cake with melted cheese on top. It's lovely and sweet but savoury at the same time and melted cheese in mid lava formation is one of my weaknesses.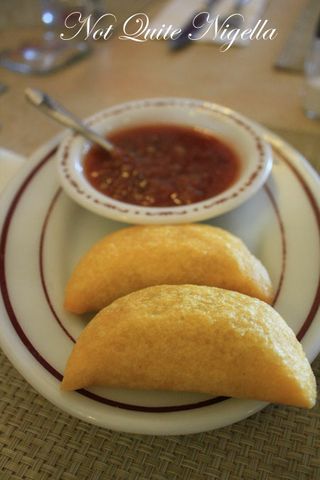 Now the empanada. I know so many people have an opinion on empanadas and what makes a good one. These ones are different from the other empanadas I have tried. The coating is yellow from cornmeal and it's deep fried. It's also a different texture to regular pastry deep fried and if anything it's a cross between the Yum Cha dumpling Ham Sui Gok and a regular pastry. And it's good, oh so good, especially with a drenching of the salsa.
_Manzana  and Pony Malta $3 each
_
The drinks are yet to arrive so M tasks the boys with asking for them. The Pony Malta is as the name suggests full of malt (but no Pony). It's thick, rich and sweet and a bit too malty for me although if you like a strong malt taste this soft drink is for you. Described as an apple flavoured drink "with something extra" the Manzana is incongruously a pink fizzy drink. It's sweeet and quite good and as the waiter described, flavoured with apple, faux of course which gives it that apple "and something" flavour.
Our huge plate of Bandeja Paisa arrives and it's lumberjack size. Made up with rice, beans, pork belly cooked to a crisp, some finely ground mince, the Columbian version of chorizo, fried plantain (a type of banana), a rice cake, avocado and a fried egg. To give you an idea this is what Wikipedia had to say:"The main characteristic of this dish is the oversized amount of food and the wide variety of ingredients, which don´t allow this dish to be served in a single regular plate, so it must be served in a Platter or a Tray". It's true here and the interesting parts to this are the chorizo which is a coarsely ground sausage, less spicy than chorizo and with lots of greens inside. The fried banana is interesting and floury and the avocado helps to add a creaminess to the meats. It's quite mild tasting though and I find it goes really well with the salsa from the empanadas. The pork belly is nice and fatty but a bit on the dry side.
Whenever I think of Tamales, I think of the phrase Hot Tamale and then I think of Salma Hayek. But aside from that admission, this tamale is huge and about the size of a fat burrito. It comes unwrapped from the banana leaves that it is steamed in and it is made up of corn polenta and large chunks of pork and chicken. It's quite good and very filling and the pork inside it is very generously proportioned.
There is no set dessert on the dessert menu but the dessert on offer is flan or creme caramel which we have no room for given the sizes of the servings.
So tell me Dear Reader, how was your holiday break? What did you get up to? Are you one of the lucky people still on holiday?
La Cumbia
14 Gardeners Road, Kingsford NSW
Tel: +61 (02) 9662 8231
Open 7 days from 10am