"It's all a bit Phantom of the Opera in here isn't it" we say to each other clocking the dramatic curtains, candles, gilt chairs, and chandeliers. Con te Partiro is reaching a crescendo when we walk in and it feels a bit like we're visiting a movie set (or a Paddington boutique). It's been a dramatic night already for Miss America who, unable to find our house, has walked from his house in Potts Point to Kingsford only to call us admitting he was lost. Queen Viv, notorious for losing her way, is running half an hour late and Mr NQN and I are just happy to be out of the rain. Queen Viv and I are having a combined birthday and all signs point to drama which is par for the course when we dine out together (and admittedly why dining out together is so much fun).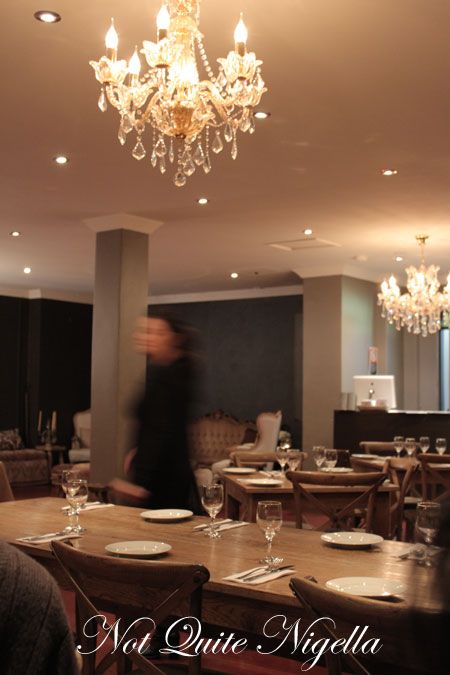 Agapé is said to be the Ancient Greek word for a) god's unconditional love for us or b) a pure selfless love of one person for another or c) a love feast shared as a sign of love friendship. Menu items are organic, sustainable, biodynamic and natural but at reasonable prices. They also make use of ancient grains such as spelt, amaranth as well as quinoa. Having a look at the menu, no dish reaches over $30 for a main and we suppose that the location, somewhat far flung in Botany and not in amongst any other eateries of note helps to contribute towards the reasonable price. The wine list is made up of organic and biodynamic wines.
Marinated olives with fennel, garlic and rosemary $5.50
As we're waiting for Queen Viv to materialise, we nibble on some lovely warm olives which are richly infused with garlic, rosemary and fennel. Minutes later Queen Viv strides in "I blame Whereis!" she says. "I've been around this block three times already!"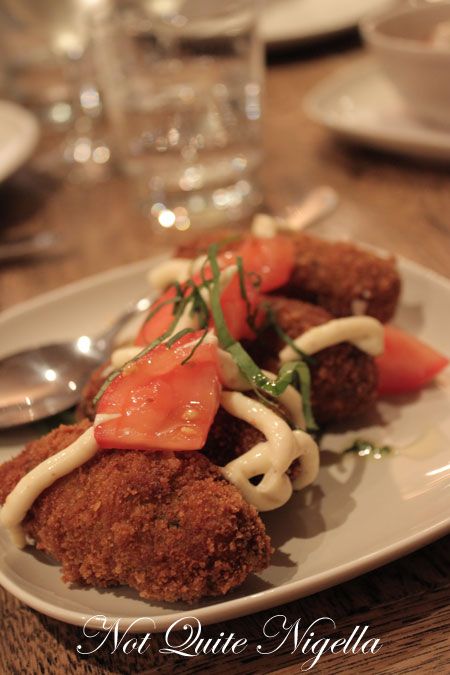 Croquettes $15
We order quickly and mercifully we don't have to wait very long before our entrees arrive. We take a bite into the croquettes which are fabulous crunchy on the outside with panko like breadcrumbs and soft on the inside with coarsely minced ocean trout and herbs. There's a squiggle of aioli and pieces of tomato on top.
Meatballs $14
Miss America's favourite is the meatballs which are firm and meaty and sustaining on this cold evening where only a hug from a meatball will do (I'm convinced meatballs could substitute for a burly, affectionate man on a cold, lonely night).
_Moroccan lamb, cherry tomato, mozzarella, parsley & lemon $25 _
Agapé are said to be known for their spelt pizzas so we were curious to see what they were like. Our table ends up being a bit of a balancing act owing to the fact that we are sharing everything and they hoist the pizza up on a metal prop. The pizza crust is super thin and in the centre a little soft but the topping is great with distinctly Moroccan spices and tender lamb shavings combined with cherry tomato, mozarella, parsley and a wedge of lemon we squeeze on top. We can imagine coming back for more pizzas.
Roast chicken, 'coleslaw', pancetta and roast potatoes $29
We were craving roast chicken due to the weather and drama of the night (comfort food and all that you do understand) so whilst we wouldn't have necessarily ordered roast chicken normally, it suited our needs well. The chicken confit is flavoursome and soft (said to be from Angus and Sonya Dowling's farm in Southern NSW)  and is accompanied by a crispy stick of pancetta and lovely roast potatoes. The thinly sliced coleslaw is redolent with fresh herbs and dressed with a light creamy dressing.
Slow roasted pork belly, crushed potato, spring onions, pear and sage $30
The Pasture Perfect Organic farm 100% pasture raised Berkshire pigs (an heirloom breed of pig) comes out in three large pieces. The pork crackling is lovely and divinely crunchy but the pork meat comes out slightly on the dry side, saved a little but the fatty berkshire pork. I like the deep fried sage leaves on top.
Spanner crab and prawn rice & quinoa spaghetti $30
This dish came out last as we had no table space to speak of. It's generous in seafood and the rice & quinoa spaghetti (which I've cooked with at home) is a great gluten free version. It's a touch overly lemony which can overwhelm the delicate seafood.
Hand cut chips with homemade tomato sauce $9
The hand cut chips are indeed hand cut but they need more frying as they're mostly soft. The tomato sauce is kept slightly chunky.
Sweet corn, olive oil, sea salt and butter $10
The adorable mini corn cobs are cute and sweet in flavour and we enjoy eating these with our hands (except for Queen Viv who uses a knife and fork).
Pear & almond cake, roasted pear ice cream, vanilla syrup $15
Miss America chose the pear and almond cake and I lean over and help myself. It looks like a split muffin but it is softer and finer textured than a muffin. The roasted pear ice cream is delicious and unusual, it would be hard to pinpoint flavours if you didn't know it and it goes beautifully with the warmed cake.
Chocolate spelt brownie, almond praline, chocolate sauce $16
My choice was the chocolate spelt brownie which was pretty much like a regular brownie, crispy on top and soft on the inside. There is a generous slick of chocolate sauce and a large scoop of thick cream on top which some light almond praline crumbs are scattered (some more would have been great as there wasn't any crunch from them).
Spelt blood plum & apple pie, vanilla ice cream $16
Mr NQN and I ended up doing a swap as I love the aroma of warm apple pie and ice cream and I eat every single bite of this. Along with roast chicken, this also spells comfort food to me.
Affogato, vanilla ice cream, espresso, biscotti & frangelico $18
I don't try any of Queen Viv's affogato but she tells us that it's made with very good coffee and ice cream.
Comforted and consoled with food we make our way out. Con te Partiro is playing again and reaching a crescendo as we leave.
So tell me Dear Reader, what food spells comfort to you?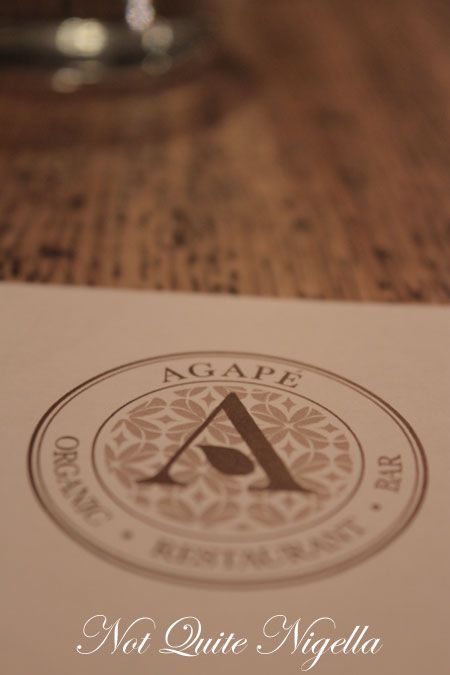 Agapé Organic Restaurant and Bar
1385-1387 Botany Road, Botany, NSW (corner of Botany and Bay Street)
Tel: +61 (02) 8668 5777