I don't know about you Dear Reader but we like to eat early when we dine out on holiday. For practical reasons you do understand as the light is better and we are often bone tired from sight seeing and have just enough energy to collapse into a chair and eat to our heart's content. So when I ring Molten in Mount Eden just outside of downtown Auckland, to ask whether we can change our booking to a slightly earlier time I am relieved when they tell me that it is not a problem at all.
Waikanae crab, spinach & ricotta linguine with Pernod cream and crunchy shallots $22.00
The linguine is rich and gorgeously cheesy with a touch of Pernod. We both can't find much crab though it but the crunchy shallots give the cream a lift and flavours injection as well as a textural crunch. It's a substantial serving size particularly for an entree and I really enjoy the creaminess of this dish.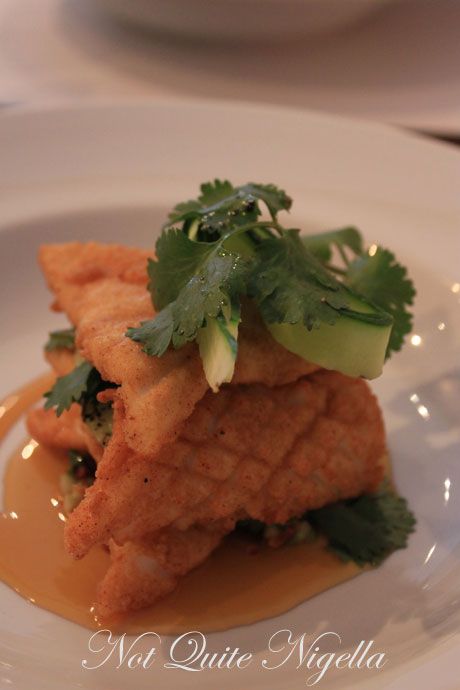 Sesame salt & pepper squid with cucumber, peanut relish and chilli honey $20.50
The salt and pepper squid here is sailboat shaped which pleases sail loving Mr NQN. There are four pieces in this dish. On top there is some fresh coriander and cucumber ribbons and underneath it sits on a bed of chilli honey and crushed peanuts. The honey (which isn't very spicy) is a touch too sweet for it and I prefer the pieces on top without the honey.
_Venison Pie with cherries and a touch of coffee $21
_
They had warned me that the serve of the venison pie was small as it's an entree. I wouldn't call it small though as the soft sinewy venison is rich with flavour and slightly sweet. It's accompanied with cherries which remind me of dessert figs and sits atop a coffee slick. It's quite sweet though and reminds me of the bacon jam that I made with coffee which gives it a richness.  The pastry is crisp and although it appears hard it shatters with a good light chop with the fork. Delicious!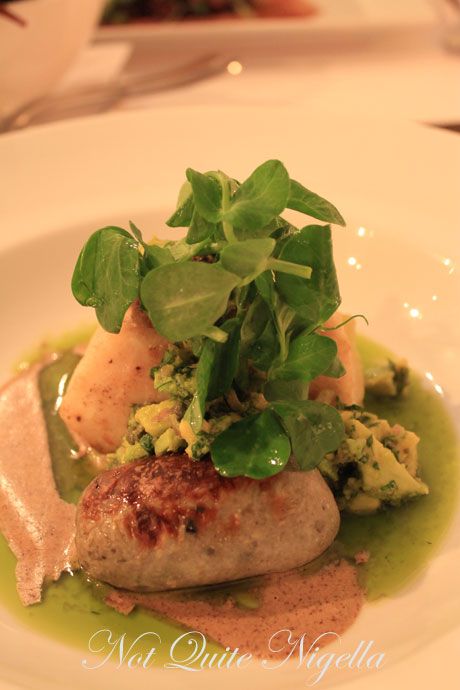 Crispy skin hapuka with paua sausage, avocado salsa verde and green lentil emulsion $34.50
The paua suasage on its own is quite strong tasting but combined with the hapuka it goes well together. The fish doesn't have much skin and what there is isn't particularly crispy but that's a small point. It tastes quite rich and wintry for a fish dish. Mr NQN prefers this dish whereas I like the Venison pie.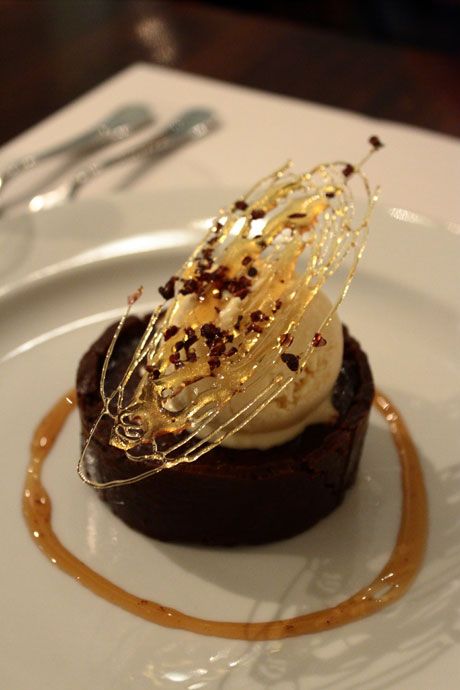 Valrhona chocolate torte with whisky ice cream, tobacco syrup & raw cocoa runouts (nibs) $16.50
Despite how full we are, we cannot resist this chocolate dessert-after all how often do you see tobacco syrup on a menu? It arrives as a rich dark Valrhona chocolate ganache tart in a dark chocolate tart shell and ringed with the tobacco syrup which tastes similar to golden syrup. There is a toffee sculpture on top spiked with cocoa nibs and the whisky ice cream is strong but not too strong. The torte is absolutely divine with the ice cream and we fight over the last few bites. Mr NQN ever the gallant gentleman offers me the last piece! I knew I married him for a reason ;)
So tell me Dear Reader, do you like to eat early or late when you are on holidays?
Molten
422 Mt Eden Rd, Mt Eden, Auckland, New Zealand
Tel: +64 (09) 6387236
Lunch Tuesday – Saturday from noon. Dinner Monday – Saturday from 5.30 till late