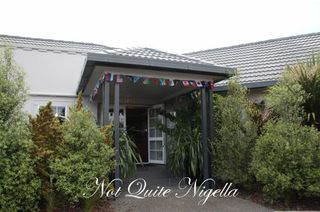 I feel like Goldilocks. No, there aren't three bears about to give me the fright of my  life but I am soaking in a mineral spa and then a few minutes later get up to try the jacuzzi. Finding the porridge -I mean the water too hot I get back in the mineral spa only to recline in a lounge by the pool feeling relaxed and prepped for my upcoming massage. Ahh this is juuust right. I am at Wai Ora spa whose latest awards including Best Luxury Spa Group and Best Luxury Mineral Springs Spa at the World Luxury Spa awards. They specialise in using geothermal mud from Hells Gate in Rotorua.
The 41°-43°C mineral spring bath that I have just hopped out of is filled with spring water mixed with a combination of minerals like sulfur taken from Hell's Gate and the effect is said to be excellent for skin allergies much like the mud baths are but without using the mud. Every 10 minutes or so, Nui the spa manager checks on me to see how I'm doing and to offer me water. You see you can really only sit in the mineral spa for 20-30 minutes at a time(20 minutes for Hell's Gate mud bath).
Prior to my treatment I have an infusion of Manuka tea leaves before my Miri-miri massage which is a massage done using traditional Maori techniques.  It's a relaxation massage that focuses on light massage on the upper tissue layers and focuses on muscle healing in a gentle way and is ideal for pregnant women and they can have this massage until 7-8 months pregnant.
My therapist Richelle uses their house brand Alite on me and it is a range that is not perfumed and without flower essences as they found that many people are allergic to fragrances (me included). For the hour long massage she does extensive work on my upper back which is knotted from travel and also includes a facial and head massage in the process.
Before I know it, my massage is over and I sit up and the tension and knots have faded away to nothing. I get up and float down the hall and get changed. Outside waiting for me is a platter of bread, crackers, cheeses, ham, turkey and divine salmon as well as fruit, caramelised onion jam, pickle salad, green salad as well as dukkah and two flavoured oils. The salmon is my favourite and I enjoy this along with the aged cheddar, crackers and salad.
I promptly book an express pedicure-the spa is open late and there are several therapists and nine therapy rooms and with just 30 suites at the hotel there is a high ratio of spa treatment rooms per guest. This was done deliberately by owner Bryan Hughes because he has travelled the world and realised that many resort or hotel spas are small and only have one or two therapists and as a result are hard to get into (very true). And after I get changed I'm off to dinner at the multi award wining Mokoia restaurant downstairs with him tonight.
The restaurant is named after Mokoia Island which is a wildlife sanctuary that dates back to 1350AD. Bryan's ancestry is half Maori and half Welsh and his tribe owns one quarter of this island as well as outright owning Hell's Gate or Tikitere which is a geothermal park and mud spa. It was so named by George Bernard Shaw who saw the steam rising and thought that it was the gateway to hell! With ownership also comes "guardianship" which means looking after the land.
The menu here at Mokoia restaurant is fine dining and on every table is a sign about how they are part of a Silver Fern farms initiative and they are the exclusive restaurant for local venison, beef and lamb.  There are Maori ingredients like kawakwawa (a native peppermint), horopito pepper and New Zealand piripiri (not South African) in the dukkah. The table wine is by Tohu wine which means "The Mark" in Maori and every year they make one to honour a chief from their rich history and make a wine based on the chief's characteristics and personality.
Open for three years now, Bryan strives to define Maori hospitality or true hosting. As Wai Ora is out of town, any guests are dropped in to and picked up from town as part of the service and if they want breakfast at 10pm they can have it then.  But back to the dinner! You can eat a la carte or they have introduced a tasting style way of eating where you can choose three of the entrees or mains and you get a sharing plate with two smaller portions of each of the dishes allowing you to try more. There is also a full vegetarian vegan menu available.
We start with breads, all baked on the premises. The rewana bread is a potato bread which I recall liking immensely the last time I had it. It comes as a mini loaf with whipped garlic butter, a home made mango and a kawa kawa melon relish. The loaf is warm and buttery and on top is a deep fried kawa kawa leaf. It's hard to say no to a second piece.
The focaccia is coated in herbs and comes with a piri piri dukkah as well as two oils: a tomato oil and a piko piko (edible curled fern) pesto oil  which has a flavour like a basil pesto. They get all of their native ingredients from Mokoia island which spans 760 acres. There they track nine kiwi birds-and did you know that it is the male kiwi birds that sit on the eggs for sometimes up to 100  days? Random interesting fact!
The three course tasting plate for entrees is $33.50. I wasn't sure what to order but once I saw the paua dumpling I was sold. It is in a clear beef stock consomme with baby fennel, saffron and round balls of vegetable pearls of zucchini and carrot and a fat paua (abalone) dumpling at the bottom.
_Left: Twice cooked manuka smoked and roasted duck. Right: s_eared tiger prawn and scallop
There were three pieces of twice cooked manuka smoked and roasted duck flavoured with coriander seeds served atop a red and white cabbage coleslaw. The duck pieces have a mango salsa and are served with a moemoe crisp which is like a potato chip. Moemoe means to sleep and Bryan says that traditionally they used to make up a brew like a cava to soothe children to sleep. The prawns were my favourite out of the three and the salad was fresh with a lovely lime and Thai chilli dressing and the prawn and scallop was perfectly cooked. I found the parmesan ring a bit hard to eat and I didn't really need it for flavour.
When I am in New Zealand I have two main food aims: to eat as much lamb and cheese as possible as they do both so well. And when I see rack of lamb on the menu everything else barely get a look in. From the Silver Fern Farm the rack of lamb is roasted and glazed with horopito pepper and honey mustard and sits on a bed of creamed parsnips and wilted greens. On top is a piece of lambs fry (liver) and a mint reduction garnish and a piri piri grissini stick. The lamb is tender and so very generously sized. It is given some sweetness from the creamed parsnips and the jus and it is satisfying and tender.
We decided on another trio plate for dessert. I know that pavlova is a hotly contested claim for both New Zealand and Australia but I put that aside because I adore the stuff and nothing can stand in my way of pavlova. This one is a mini pavlova with Tahitian vanilla and kawakawa layered with fruit compote and thick mascarpone served with a spoonful of avocado and kawa kawa ice cream which is just amazing.
The other two desserts didn't really stand a chance and there was a self saucing mini gateau with dark chocolate with a cocoa biscotti and a scoop of Kahlua ice cream which required some digging to get to the cake. There was also batons of meringue with a slice of chocolate pate and raspberry coulis. Not bad mind you but the pick is definitely the pavlova and avocado and kawa kawa ice cream.
I go back to my room-there are 30 rooms here, all suites and to the right of my room (#29) is Lake Rotorua. The room has a spacious king sized bed, balcony and a separate area for the lounge which can open up to the bedroom.
The bathroom has a range of their products including shampoo, conditioner, body lotion and vanity and sewing kit as well as a two person spa bath. There's a good supply of tea and coffee, biscuits as well as real milk in a jug (hooray!). There are robes and slippers on loan-these have been laundered although curiously when I unwrap them the slippers themselves are still damp. However, the thing that really sets this resort apart, well that is apart from the spa is the service. Nothing is ever a problem and all requests are dealt with charm and efficiency from all of the staff.
Okere Falls Shop
The next day I go off for a little adventuring of the food kind. I would love it if every town and city that I visited had a shop like the Okere Falls Shop. Full of locally made produce it would help me find goodies to buy as gifts to take home but also provide me with a good chance to try all sorts of local food in offer. After all the reason why I travel is really to try food from the city or country that I am visiting.
Okere Falls Shop is located about 15 minutes out of the centre of town on Lake Rotoiti and their focus is on artisan, free range, natural produce that is sustainable and there is a focus on German and Italian products too. Owner Sarah Uhl shows us around the six year old store which stocks the best of New Zealand including I Love Pie pies, Bridge Hill Central Otago dried fruit, Proper potato crisps with Marlborough sea salt,  Pic's peanut butter which is made with Australian peanuts and salt only (Australian peanuts have the higher oil content needed) ,Telegraph Hill products, St Andrews Lime, Aromatico wine barrel smoked mushrooms and Clevedon mozzarella, yogurt and ricotta among many others. I could go on for hours.
Out the back is a European beer garden and every year they hold a beer festival which runs for a week and on the Friday and Saturday a 30 person strong oompa band plays while they serve imported German beers from Uhl's husband's hometown in Germany as well as German sausages and food.
I'm here for breakfast or brunch though. Hot fish is definitely a New Zealand thing and it is simply a hot chocolate with a chocolate coated marshmallow fish inside-nothing to do with actual fish rest assured. This is rich and sweet and good.
An excellent smoothie this has the taste of pure, fresh banana, a little milk (less milk and no yogurt or ice cream on request), sweet honey and coconut in a perfectly balanced smoothie that could double easily as a meal.
I wanted to try some of the free range goodies so we start with a grilled bap roll filled with cheese, spinach, free range eggs and free range bacon. The melted cheese oozes out and I take a bite. I don't eat much breakfast but this would easily convert me into a breakfast eater. It has just the right amount of crunch, ooze and flavour.
Anything shaped or looking like a pie gets my interest and this is a pie shaped item filled with vegetables and cheese, heated up so that the cheese is melty. The filling is well seasoned and moreish and adding to that is a fantastic tamarillo and date chutney.  Sarah also gives us a sample of the St Andrew's lime and date chutney-the man behind St Andrews only specialises in limes and this lime and date chutney is strong and thick-and surprisingly reminds me of Chinese salted plums!
Kathy tells us that the Okere Falls store in town is dangerously close to her office and she had to put a stop to buying the brittle. She tells me that the story of the top notch macadamia brittle is an interesting one. The family that owns the farm suffered a major setback when fire devastated the farm and a wholesaler bankruptcy meant that a year's crop was not paid for meant that they had to regroup. They were making all sorts of macadamia items but on advice they ended up specialising in one item, their best item, the top notch macadamia brittle which they still make by hand at the rate of about 2,000 a week.
The rounds are packed with high grade macadamias set in toffee with a light bottom of milk chocolate and feature a distinct crunch to them which is a sign of freshness. And yes they are utterly moreish. I would have bought a dozen to take home with me except I suspect that I would have eaten them all before they got to their recipients...
I do a bit of shopping-only a little bit though! ;)
There's one thing that New Zealanders love and that is a pie. Kathy mentions that there's a local favourite pie shop that seems to just collect awards by the armful in pie contests and I'm instantly intrigued. There is no fancy packaging here, no unusual ingredients or sleek decor, it's an old fashioned pie shop with a multitude of pie fillings from seafood, mussels, cajun chicken, beef and bacon and butter chicken.
I take a selection to try back at the resort. There are four flavours, many of them award winners and a tip: they sell out and the store in town closes at 2pm so you want to get there before 12noon and the lunch rush hits. The pies are mostly around the $4.20 mark.
The creamy mushroom, bacon and cheese is their top seller according to the woman behind the counter and it doesn't matter that it hasn't won as many awards as the others as people still flock to buy this. But once the awards are announced they brace themselves for an onslaught of people driving from every direction, many from Auckland who fill up an esky (called a "chilly bin" here) with the pies to take home and enjoy later.
I take them back to the resort to try. The creamy mushroom, bacon and cheese is good and reminds me of creamy mushroom soup with large pieces of bacon and ground bacon. I don't really see much cheese but perhaps it is cream cheese. All of the pies have a shortcrust pastry base and a puff pastry lid.
The cajun chicken, bacon and spinach tastes like roast chicken with some spice in it with plenty of herbs in it along with finely sliced spinach and chunks of chicken breast.  The seafood one comes with a creamy sauce and has large pieces of scarlet roe on the scallops, smoked fish, prawns and mussels with a touch of lemon pepper and coriander. The last one, a breakfast pie is a bacon, egg, cheese, tomato and onion pie and it's not bad but out of the four it's my last pick as the other ones were packed with flavour and this one less so. Now if you'll excuse me, I had better brush my pastry crumbs off myself and go for a spa bath!
High Tea at Blue Baths
You know I'm an afternoon tea addict from way back. If there is an afternoon tea to be found in fabulous surroundings, you can bet that I will seek it out like a tea seeking missile. The Blue Baths is a magnificent building that is part of the government gardens adjacent to the Tudor style Rotorua Museum.
Built as baths in the 1930s the building experienced a period of disrepair before it was renovated and the adult pool filled in. It turned into a function space while the juvenile pool still operates as a pool and is geothermally heated to around 31C. There are also side pools which sit at around 38-42C.
As soon as I walked into this building I thought that this was the perfect venue for high tea. Downstairs, in front of the stage is where the dinner shows and weddings are held. However this afternoon we are going upstairs to the Tea Room where we will be partaking in afternoon tea!
The china is a mixture of Royal Albert and vintage china. The only caveat is that afternoon tea is something that you can only get if you book it in advance (a couple of days) and there is a minimum of 10 people. This may be a deal breaker for those that want to come in a small group  or on the spur of the moment and hopefully once it becomes popular, they may change this rule.
I look up and see portraits of the Queen Mother and King George VI looking over us and looking out the windows in front of us are the governmental gardens. We order Earl Grey tea (in teabags and not loose leaf) and the afternoon tea comes out soon later.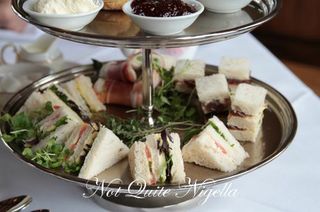 We start with the bottom layer which is a sandwich layer. There is a rolled asparagus sandwich which is wrapped in prosciutto. It is delicious and we both go for seconds on that. Then there is a tomato and cheese sandwich which doesn't sound very exciting but it nicely done. The last sandwich is a triple layered smoked beef and onion jam sandwich but there was a bit too much onion jam in this and this overpowered the smoked beef flavour.
The second layer is made up of small lemonade scones with whipped cream and strawberry jam. The scones are fresh and given a dusting of sugar which gives them some crunch.
The top layer has three types of sweet tarts-first up is a berry meringue tart which has a sweet, jammy berry filling and a sweet meringue top. There is also a  light chocolate mousse tart filling in a crispy tart shell as well as an orange and mascarpone cake with a crunchy disc much like a brandy snap on top which is my favourite out of the three.
At the end of November they will open up the grounds to become a Summertime bar with different musical acts. The only thing that they will have in common though is a charming one-they will all have to perform their own version of Ella Fitzgerald's Summertime!
So tell me Dear Reader, what's your favourite pie from and what flavour is it? And what is your favourite way to relax?
Wai Ora Lakeside Spa Resort
77 Robinson Ave Holdens Bay, Rotorua 3010, New Zealand
Tel: +64 (07)343 5100
Okere Falls Shop
757a SH 33
RD 4, Okere Falls
Rotorua 3074
Tel: +64 (07) 362 4944
There is also a location in the town centre, near the library
The Blue Baths
Government Gardens, Rotorua, New Zealand
Tel: +64 (07) 350 2119
Gold Star Bakery
1114 Haupapa St Rotorua
Tel: +64 (07) 349 1959
or
89 Old Taupo Road Rotorua 3015, New Zealand
(07) 349 1959