My Dearest Darling readers, I know I have a tendency to go on a lot (imagine being one of my poor friends!). Today's New Zealand post is a long-un so please settle in with a cup of tea and a biscuit :)
So where was I? I had just left Cambridge after having a great time pretending to be a princess. Ten minutes outside of Cambridge is the Monavale organic blueberry farm where a Dutch family produce 100 tonnes of organic blueberries a year both for both the local market and export market. "The reason why we do well is because we are known for our sweet blueberries" the direct and brusque owner Marcus says.
Originally the farm started with his parents who started farming organically in 1985 because they lived on the premises and didn't want the chemicals near them. It was through a lot of trial and error and soil management that they have managed to achieve a sweet berry and 40% of their crop is exported, much to Australia marketed under the Irresistiblue label. However, since it is all fumigated upon entry into Australia, they can't call it organic anymore.
During the months of November to February people can Pick Your Own berries and after doing so can stop for a drink or something to eat in their cafe opened two years ago. Kath, Marcus's wife tells us about the various blueberry products they have on offer from the jams, wines, sauce, ice cream, sorbet, liqueur as well as two types of juice including a pure blueberry juice which sells for $8 for 250mls and is said to have three punnets of blueberries in each bottle as well as the apple and blueberry juice which is $4.50 for 330mls.
Tasting plate $20
If you want to try some of the products there is a tasting plate for 1-2 people that gives you a small taste of the jam, chutney and spread along with toasted bread and a salad that you can dress with the blueberry dressing. There are also shot glass samples of the pure blueberry juice, apple and blueberry juice, ice cream and sorbet.
Blueberry pie $4.50
_ _The pick of the cafe for the eat in food is the buttery blueberry pie with the crumble topping which is moreish and has a solid biscuitty pastry base, sweet blueberry filling and crumble topping.
We take a little tour of the blueberry bushes - each bush has blueberries that ripen at different stages and they are picked when firm but dark blue. There are lots of blueberries per branch and Marcus tells us that when they have eight pickers picking in a row, they will not get the row finished in a day.
Viands Bakery
On the drive from Cambridge to Waitomo, should you wish to taste an award winning sweet pie you can stop in at Viands bakery, an unassuming bakery on Highway 23. Their pie won the award in this years Bakels pie competition for the sweet pie category. The idea originally came to them in a dream - it reminded the owner's Shane's wife of a port and plum chutney from her youth. She then made a port, plum and apple pie spiced richly with cinnamon, orange zest, vanilla paste and orange juice and created it for the competition where it won. For the weeks after the announcement they were selling 500 pies a day.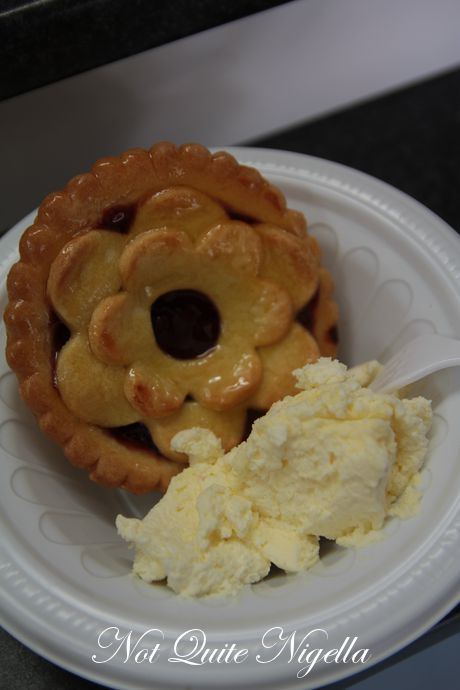 Port and plum pie $6
It's a pretty pie with a flower motif on top. They make everything themselves including the pastry and there are two sweet pastries in this pie. The pastry is divine, so soft and buttery and the filing reminds me of Christmas mulled wines and has a the fruit is soft and filled with the aromatic scent of Christmas. And I'm so glad that we stopped!
Waitomo General Store
I'm looking around for hobbits. I'm not mad (ok yes I am) but I'm not imagining things. After a drive, we have arrived in the town of Waitomo and they are in the midst of filming The Hobbit. We pull up to the Waitomo General Store that opened in January 2011 after being in a long period of disrepair. It was the original general store for the town and  has been taken over by English born couple Guy and Christobel Pilgrim who are cattle farmers. They wanted to open up a farm shop to sell their product which is what they tend to do in rural areas of England.
The charmingly outfitted cafe has the shop to the left and an eating area to the right. Vintage mismatched furniture and quirky touches abound. The shop itself stocks all of the household basics for locals but they also do an excellent range of New Zealand boutique brands which are worth checking out. There is the Glasseye wild meat sauce, their own three week aged Angus beef at excellent prices, New Zealand soft drinks, smoothies, chips and goodies.
Te Anga Beef Burger $10
_ _Sometimes you intend to eat lightly. And then something is presented to you and then suddenly all good intentions fly out the window. The burger was an example of this. I wanted to try something unique to the shop and all of the beef used and sold in the store is from their nearby farm. Now I'm usually quite against hard buns on burgers-after all I've hurt the roof my mouth on many hard buns.  Instead this is an excellent crispy ciabatta that really melts in the mouth. It's a simple burger with red onion, lettuce, tomato,cheese and mayonnaise as well as bbq sauce but the thick beef patty and the excellent bun really elevate it. And before you know it I've finished it. Ooops!
Apart from their steaks and burgers they also sell sausages to eat at home. Their sausages contain no water or cereal fillers (except for one) and are "99% meat" Guy says confidently. We try some of their beef sausages and they're fantastic-full of flavour and succulently juicy.
Kamahi  Cottage
**
I wonder if there any hobbits around? I say to myself. I'm on the lookout for them given that the region is said to be teeming with them. We've arrived in a very secluded area of Otorohanga, Waitomo, a five star farm stay cottage at Kamahi Cottage. It is the place where one the VIPs of the new Hobbit film stayed.
The grounds are stunning and they compete for the eye with the cottage itself. For me, the cottage only just pips it. And perhaps that is because it is lightly raining and I want to snuggle up under the covers after a long hot shower and wrap myself in one of their plush robes.
The lounge room is downstairs and has all of the creature comforts of a five star hotel- tv, iPod dock, liquor cabinet, magazines etc. But there are also other touches that go beyond that with a heart stopping selection of teas from Harley and Sons including a cinnamon, French Earl Grey and a a Paris blend among others. I was so excited I was clutching my hands in excitement as I love a good cup of tea! Kamahi Cottage's owners Liz and Evan have also won awards for their environmental initatives which include solar power, micro filtered farm forest stream drinking water instead of bottled water and all of the fruit is unsprayed and comes from the farm.
In the bathroom is an extensive selection of New Zealand brand Linden Leaves products who have the most divine smelling fragrances, particularly their fig and liquorice scent. There are cleansers, shampoo, conditioner, soap, hand cream as well as a range of their body oils. Other thoughtful touch is the freshly baked Swiss fruit tart as owner Liz is Swiss and she along with her husband Evan take care of guests. She is a natural host and you feel like nothing is ever too much trouble, even when I set up camp in the main house to use their internet as there isn't any in the cottage.
While I work in the main house Liz, who is a fantastic baker, brings pots of tea and home baked biscuits and sweets including a lovely fruit roll and fruit and custard tart. She tells me of how far food has come - when she was growing up her mother couldn't find things like garlic and as you can imagine, her friends used to enjoy coming to her house for food. All I am thinking is that they will probably have to call the authorities to extract me from Kamahi Cottage's warm embrace when I have to leave! ;)
Huhu Cafe
"So are you a hobbit?" the voice behind me says. I turn around, I didn't think I  looked particularly hobbit-like but I guess my diminutive stature could draw that conclusion. The gentleman speaking is Guy from the Waitomo General Store and he is talking to another diner at Huhu cafe in Waitomo, the place where many of the crew for Peter Jackson's latest instalment of the Lord Of the Rings series is being filmed. Turns out the gentleman that he is asking isn't quite a hobbit but a hobbit feeder, as in he caters for the entire cast.
A dried Huhu beetle
It's a game of spot the crew in the restaurant and this unassuming restaurant also played host to Katy Perry and her crew. And if you want to know what she ate (you bet we did!), it was the organic braised beef and the waitress tells us that she ate everything on her plate too. Her rider was leaked recently and according to it she does not like tap water which is apparently true. However one of the waitresses persuaded her to try the local Waitomo tap water and she apparently tried it, liked it, and then it was ordered for her whole entourage. And she was so pleased with her meal at Huhu that she tweeted "I'd rate it 6 Michelin stars!" (I know there are only three starts maximum but you get her point).
Complimentary rewana bread
Anyway back to the much less famous guests at the restaurant, that is us. Huhu cafe is named after try Huhu beetle which is found around the area. Set above the store it is a purpose built restaurant.  Business is humming along nicely this Wednesday night and we start with some warm, crusty rewana bread which is delicious.
Whitebait fritter with lemon mayonnaise $23
The whitebait fritter is a special that evening. I normally don't order these as you Dear Reader can't often order the specials as they change but they assure us that this is worth ordering. The whitebait is from the South Island and was actually caught by the chef and owner's brother in an area called Haas. South island whitebait is considered better than North Island whitebait and it is an expensive item. Each fritter is mixed with flour and egg and 80-100grams of whitebait  and it is then topped with a lemon mayonnaise which gives it a lovely lift.
Wild rabbit hot pot $19
Sometimes rabbit can be quite gamey and at other times it can taste like chicken. Here it is the latter and it tastes like the white meat of chicken cooked in a rich, flavorsome stew that sits under a thick herbed baked flour dumpling. Next to it is a loin of rabbit wrapped in pancetta with a cauliflower puree. It's delicious and warming.
Organic braised beef $26
Well we had to order the beef after we heard that Katy Perry finished every bite and this is a generously portioned piece of beef, soft and falling apart and topped with some sublime sliced mushrooms and two char grilled broccolini. The beef is actually from a cow supplied by Guy Pilgrim. Huhu's owners, Andy and Abi King bought a whole Angus Calloway cross breed from the Pilgrim's and now the beef choices on the menu are from this cattle.
Glazed salmon $27
The glazed salmon was divine, and suddenly I find myself murmuring to it "Aren't you yummy?" It didn't answer back but it was. There was a sweet soy glaze and ginger and a piece of salmon with a crispy skin at the bottom. There were also soba noodles, cucumber and bean sprouts in a side salad but this really needed the wasabi mayonnaise to complete it as it was a little plain without it.
Peanut butter parfait $12
An enormous tower of goodness the peanut butter parfait is an arresting sight. There is a bottom layer of chocolate brownie, a tower of peanut butter and cream (diet food obviously), a drizzle of chocolate syrup in a pool of rich butterscotch sauce. Divine! There was just the right balance of flavours which was important for a dessert as rich as this.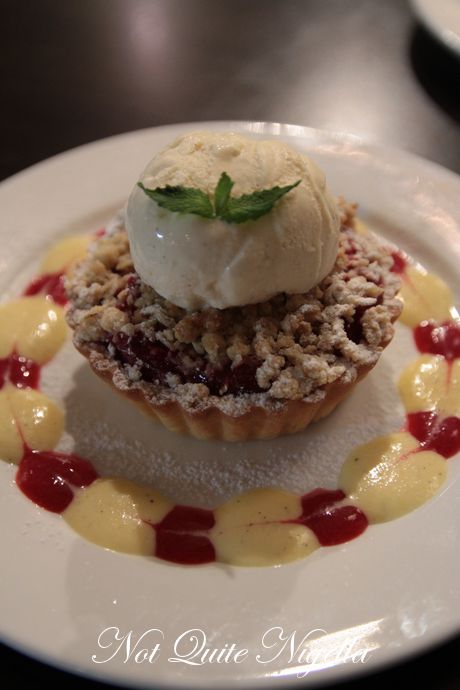 Rhubarb crumble pie $10
The rhubarb crumble pie is a deep single serve pie that could feed two and is filled with stewed rhubarb which is kept slightly tart and a buttery crumble top and ringed around with custard and coulis and topped with a scoop of ice cream. Perhaps the peanut butter has activated my sweet tooth but the parfait is my favorite. And you can believe that I slept well that night!
Huhu store
If you happen to visit Huhu Cafe during the day, the Huhu store situated below the cafe is a great place to get unique souvenirs. Almost everything in the store is from New Zealand and they have a focus on boutique, hand crafted products.
Earring holder
Me wanty!
A clever idea to make lamp shades using a wine glass, shade and a tealight!
The next morning Liz makes breakfast for us and as expected it's a fantastic affair. You can have breakfast in the cottage or in the main house and the offerings are all home made including a crabapple jelly, plum & cumquat jam and she also serves clover honey. There is nashi pear juice and  homemade muesli as well as the most absolutely delicious plaited Swiss bread. Liz was kind enough to share the recipe and if you are curious to recreate this amazing bread, here is the recipe.
Rhubarb filled crepes
And there's always a hot option and today we try the rhubarb crepes which are filled with sweet rhubarb and topped with a lovely, thick, sweet yogurt. I think we are ready to face anything on a meal like this - hobbits and all!
So tell me Dear Reader, are you into the Lord of the Rings films or books? And do you find yourself eating more than you intend to when the food is delicious even though you try not to?
NQN explored New Zealand as a guest of Tourism New Zealand
Monavale Blueberries
790 Wallace Road
RD3, Cambridge, 3495
New Zealand
Tel: +64 (07) 827 9456
Viands Bakery
80 Lyon Street Kihikihi 3800, New Zealand
Tel: +64 (07) 871 7488
Waitomo General Store
15 Caves Rd Waitomo Otorohanga
Tel: +64 (07) 878 8613
Kamahi Cottage
229 Barber Road, RD 5, Otorohanga, 3975
Tel: +64 (07) 873 0849
www.kamahi.co.nz
Huhu Cafe
10 Waitomo Caves Road, Waitomo, 3943
Tel: +64 (07) 878 6674