"Mr and Mrs Elliott" the smiling face greets me as we exit out of the car. We've just arrived at Huka Lodge, said to be the iconic New Zealand lodge and having passed a most impressive entranceway with the lushest, greenest lawns you could imagine and small ponds with fast moving mist hovering above it. It's movie set lovely and did I also mention cold? When the plane took off for Taupo, we had heard the pilot saying minus 1 degree which we thought to be just us having faulty hearing.
They take care of our bags and we are welcomed into the main lodge room where a crackling fire holds centre stage and cold we gravitate straight towards it. My tea and Mr NQN's coffee are brought to us along with a selection of the butteriest demerara sugar edged shortbread in vanilla and chocolate as well as some fish shaped chocolate-dark filled with praline and milk filled with truffle. Did I mention the fish? Huka Lodge was originally a fishing destination and has preserved that theme throughout the lodge even after the  jade green Waikoto river was closed off for recreational flyfishing. Now the guests are more of the genteel variety seeking luxury, the odd royal (Queen Elizabeth II and Prince Philip as well as the Belgian King and Queen and the prince and princess of the Netherlands). Huka Falls is the most visited natural attraction in New Zealand.
Library room
The Library room was apparently Queen Elizabeth's favourite room and we can only guess that the tartan might have reminded her of Balmoral. Guests can choose whichever room they'd like to have their dinner in from the study, trophy room as well as various table outside. there are also activities but these are mostly around the $2,000-$4,000 price point per person although the idea of fly fishing at another location and having the chefs here smoke or slice your fish sashimi style is appealing.
The room is enormous, with a king sized bed one on side and doors that open out onto the green outside where there sits two sunchairs ready to sunbathe in as well as a family of rather bold ducks (that have been known to venture into guest suites).
Resident ducks
I know you want to know what the bathroom is like right? There are his and hers sinks at opposite ends of the bathroom and a massive, deep bathtub that fills quickly. There is also a well stocked mini bar with complimentary Huka chocolate, vanilla  and chocolate shortbread and soft drinks including mineral water and juices (alcohol is charged on consumption).
There are also free activities like tennis, petanque, mountain biking and walks as well as the heated pool and spa.
Lunch is served!
Spiced roast lamb, cucumber, eggplant relish and shaved spanish onion $32
As I'm busy working we get some room service which arrives within 20 minutes. I have the spiced roast lamb which is lightly spiced and char grilled. It's paired with rocket and cucumber slices and sliced spanish onion and a creamy yogurty sauce. There isn't any eggplant relish which would have been great but we don't notice until the end.
Spaghetti with Coromandel pips, fresh garlic and parsley $26
The plump, coral coloured coromandel pipis are hidden under the spaghetti which is flavoured with garlic oil, clam juice and parsley and is simple, tasty and filling (although all of the seafood was under the spaghetti).
I do some work and then emerge in the afternoon to stroll around the grounds. They are huge needless to say and the playground to billionaires and royalty. There is of course Queen Elizabeth II who considers Huka Lodge her holiday destination once she has finished her official duties in New Zealand. Bill Gates, Dame Kiri te Kawana, Donald Sutherland, Tetsuya Wakuda as well as many other celebrities appear in their Gold book. When the Queen visits, they take over the whole lodge and the whole thing is booked a year in advance. She is the only person that can get them to close the lodge and cancel other people's bookings.
Owner's Cottage
Alan Pye Cottage
There are two private cottages, the Owner's cottage where Bill Gates stayed - although apparently he was a fairly regular guest and would eat in the main cottage and use the pool there. The Alan Pye cottage named after the original owner has 2 bedrooms and is decorated in a jade green to match the river. Both would cost a couple about $8000 per night - and considering they've just had a UK business tycoon visit and book out both for 2 weeks. Mr NQN and I do the caluclations and the 2 week stay would have cost over $200,000! :o Ahh if only...
OK that was me that overfilled the bath with bubbles...
We play some croquet (very Alice in Wonderland) and some tennis and then take a bath in the huge bath and get ready for dinner at the lodge. We start with canapes which are a savoury filled choux, a creamy soup in a shot glass and a bitterallen. The owner of Huka lodge is a Dutch businessman who lives in South Africa and the Head Chef there is Michelin Star Dutch chef called Michel Louws.
Rye roll with butter
We start with a large round rye roll which is crusty on the outside and soft on the inside with a delicate crumb.
Abacore Tuna with goat's cheese, spring onion, pea and capsicum
The albcaore tuna is a pale tuna lightly seared on the outside which sits on a goat's cheese and spring onion, sweet peas and capsicum and asparagus tips. there is a little fried hollow item that sits on top that shatters on impact to give it some crunch. It's a lovely start to our 5 course meal.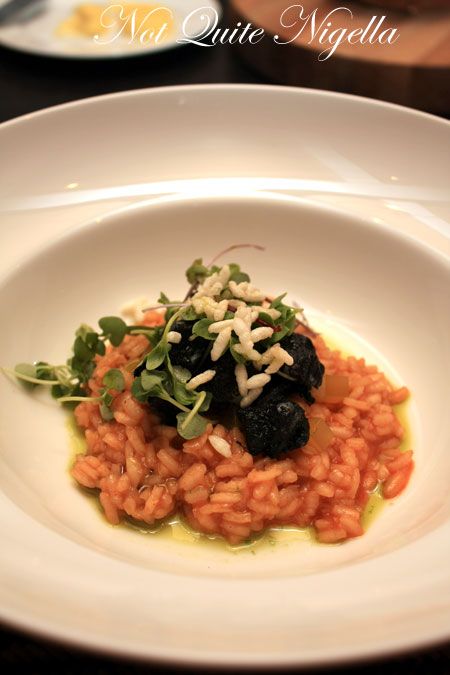 Risotto with blue eyed cod in squid ink and saffron jus
Despite reading that it's "Black cod" it's actually blue eyed cod that has been coloured balck with squid ink. It's topped with puffed rice and herbs and saffron jelly cubes. The risotto is a simple one coloured lightly orange by paprika and flavoured with garlic and finished off with a jade green olive oil. It's also fantastic and I try and bargain Mr NQN for his portion. He doesn't usually like risotto but he's holding onto his plate firmly.
John Dory with capsicum stew and squid
There is a choice for the main course and we choose the John dory and the Prime beef fillet. The John Dory is always a fish that I think is firm and reminds me of chicken. Here they serve it with quenelles of flavoursome capsicum stew and the softest fried squid and garlic. We both love this main.
Prime Beef fillet with mushroom cream and bouillon potato
The beef fillet is paired with what looks like chocolate ice cream but is in fact a rich and very smooth mushroom puree. The beef is perfectly done and the little cylinder of bouillon potato and stewed soft onion are a nice match.
Lemon and Passionfruit dessert
This dessert is a two parter. There is a fluffy lemon pudding with a disc of crunchy chocolate meringue on top but it's too bitter for me and the chocolate meringue cookie is too firm. I'm also not a big chocolate and citrus eater. The other dessert is a wobblier-than-wobbly passionfruit custard (think pannacotta but even wobblier) and a delicious coffee creme.
There's no room for cheese although we are invited to go back into the main lodge room and try one of their cheeses or petit fours. OK I lied there was room to try the mini macarons which were lovely as well as a small pistachio cake which was nutty and moist.
The next morning we awake after hitting snooze several times. It's a bit too peaceful and getting up for an early start seems almost cruel. We drag ourselves out and make our way into the lodge room. There are cheerful greetings of good morning and we take our place at the outside fireplace table which we had booked for breakfast only the day before.
There is a breakfast buffet with fresh fruit salad packed with blueberries and raspberries, berry yogurt, a fantastic toasted granola, pastries, breads, smoked salmon, meats and cheeses and there is also the menu where you can order a hot meal to be cooked. It's hard to narrow them down as the selections sound delicious with some unusual ingredients.
Ricotta pancakes with apple and bacon, buffalo milk yogurt & green ginger honey
Mr NQN is a man of few words and when he pushes back the plate and says "That was really good" that's like giving it 5 stars. He loved this dish with a bit of sweet and savoury. I like it too but I would have perhaps ordered the yogurt separately.
_Bintje hash browns truffle wilted greens, smoked salmon & a poached duck egg _
I love my dish the crispier than crisp hash brown discs with a nice soft potato inner and poached duck egg. I add some smoked salmon from the buffet to this.
The Queen's visit
We take a little peek into the "Gold Book" where various celebrities and dignitaries have signed before departing down the winding perfectly sculpted tree lined road to our next adventure.
So tell me Dear Reader do you spend a lot of time at the hotel and grounds or do you use your room just as a place to sleep?
Rod Stewart and Rachel Hunter
Bill Gates
Michael J. Fox
NQN and Mr NQN travelled to New Zealand as a guest of Tourism New Zealand.
Huka Lodge
Huka Falls Road, Taupo, New Zealand
Tel: +64 (07) 378 5791
www.hukalodge.co.nz