Hawke's Bay is the last leg of the New Zealand adventure and we leave Breckenridge Lodge early in the morning. We figure that the early hour means that breakfast is not an option but chef and owner Malcolm Redmond is so wonderfully accommodating and tells us that it is no problem at all. The rise isn't easy, the bed is very comfortable and even with five other guests, it is deliciously silent throughout the night. I make my main effort to sound coherent (a cup of tea before speaking to another soul) and make my way downstairs.
Strawberries and lime sorbet
Malcolm is already hard at work and he suggests that he just bring out a few things which we were more than happy with. The first course is something to wake up the senses, a small bowl of sweet strawberries diced and served with a tangy lime sorbet.
Muesli with yogurt
The muesli is a delicious home made one with nuts and fruit and is soaked in apple juice and is served with a fantastic, thick honey natural yogurt.
Pancakes with banana, pineapple and coconut curd
Coconut curd you may ask? Well I most certainly did. This is another thing that I'm going to have to try and make at home as it is thick and gorgeously moreish especially with the banana and soft, fluffy pancakes. I wanted to take what I couldn't finish in a box to eat during the day. Waving Malcolm goodbye, we must sadly depart.
Today we are exploring some more of the Maori culture with a traditional Maori welcome ceremony, a taste of food and a sampling of the Maori culture. We hear a chime in the distance as a young boy stands atop a hill. A Maori warrior holding a spear purposefully agilely makes his way down the hill greeting us as if he would a stranger. He sets down a leaf ceremoniously in front of our group "leader." The giving of the leaf is important. If the warrior feels insulted by the champion or the leader of the other group, it can end with bad blood. However once  a leaf is accepted that means that you now belong to that family.
The women depart frst up the hill and the men last. We are introduced to Maori culture by Ben and they sing us a welcome song before we are broken up into groups of three to see various areas of Maori culture. We start with Ara with whom we do the hongi where we press our noses and foreheads together while shaking hands. It is where the brains and minds are said to connect. She tells us about various plants which are often used for their healing properties.
This includes the karaka which she is holding, a medicinal and food plant. The roots of the plants are boiled down and they end up tasting like peanuts. Ara leans over and whispers to me "You come from a lovely place" while smiling broadly. I firstly take that literally-I thought she meant Australia as she had placed my accent but apparently I was being too literal and she meant my spirit which was so lovely to hear.
We next move onto Ben who is showing us an instrument called the Nuru which is played with the nostrils or mouth. His nuru is about 80 years old and was given to him by his father. It is an instrument often played at funerals.
Our next stop is with John and Tyler who demonstrate fighting. The main stick was never sharpened or thrown and was only used for close combat fighting and originated in the 14th century.
Keita shows us the flax that they use to weave baskets, bags and clothing. It comes from the flax tree and they simply use a paua shell to strip the outer coating off. To make the skirt which she calls the "Gucci or Versace" skirt they dry the leaves and they curl around although these skirts can take up to a year to make.
Ara shows us the importance of stones. It is believed that the gods placed their energy in stones. She invites us to wet our hands in the water and bless each stone with the firm touch of our palms. Qe can also take the smaller stones in the water but these always have to be returned back here. There is a ceremony for when the stones are returned to the site too and they have one this afternoon with people from overseas.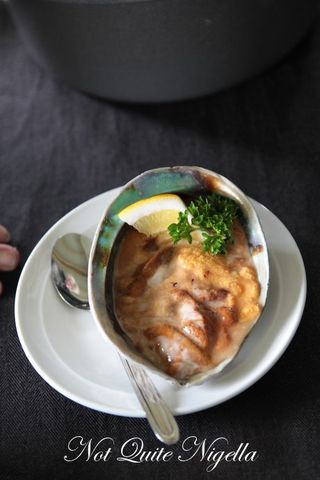 Kina
And of course no trip here would be complete without trying some of the food. they show us how easily the paua, like abalone is taken out of the shell . They will slice it and fry it for us.
Paua
The pretty paua shell
Meanwhile there is more food on the table for us to try like a soft seaweed salad which I really like, a pork pot with dumplings and potatoes, golden syrup and butter deep fried bread, paua fritters and deep fried mussels. They're all delicious and met with an approving nod from the diners.
And a contentious dessert? Pavlova!
Yep never bring up the subject of pavlova to a New Zealander ;) Because as the only Australian in the whole group, that day after pavlova was served from dessert, I heard pretty much every joke about Australians and Australian sport. And this was just from one of the bus drivers! Must remember to bring Australians with me next time ;)
We're farewelled with beautiful farewell song, sung sincerely and with heart.
Black Barn
Now that we're in Hawke's Bay wine country, what better to do than a meal at a winery? Black Barn is a winery where two thirds of the wine produced is sold at the cellar door. There are also 15 properties where guests can stay and then dine at Black Barn which is open for lunch from Wednesday to Sunday.
Their signature wine is the barrel fermented Chardonnay and the reserve Merlot. We take a seat under the covered canopy where vine leaves grow overhead. It's a Saturday afternoon with a slight chill in the air but the grounds are looking impeccable and are prone to causing the sort of chest heaving sighs that you tend to get when you stare at beautiful vistas.
Crispy Local Whitebait $23
The crispy local whitebait is lightly coated and deep fried and sits on a potato and thyme "Humminghill" organic egg frittata ringed around with gremolata dressing with a chargrilled lime. The whitebait is lovely and crispy and the gremolata is a natural partner for this but I did find that the potato frittata was a little floury especially in comparison to the light and crispy whitebait. All of the meals have a recommended wine matched to them.
Pressed Free Range Duck and Pork Terrine $19
This was Krissy's first time eating a terrine and her first reaction was that it tasted like a roast chicken stuffing and Christmas all in one bite. It certainly did have all of the flavours with the herbs, orange, ginger, pistachio and sage and the inside was pork and the outside was pressed free range duck confit. Although quite firm, the flavours were excellent and it was accompanied by thin toasts and a Braeburn apple and herb chutney.
New Season's Scallops $34
The scallops here are served with the roe on and are juicy and small with the roe giving it an added flavour. The handmade saffron bucatini is flavoured with a fennel pesto, snow peas and fresh pea tendrils. I particularly like the greenery in this salad as it adds a lot of flavour.
Twice Cooked Free Range Pork Belly $34
This was a dish that was recommended to us by Kim, the New Yorker who we had met a couple of nights before who was rapturous over this dish. It is two pieces of twice cooked free range pork belly finished with a sticky pear and apple syrup glaze. These sit in an Asian broth with white and black sesame bok choy, kumara and ginger mash and topped with chilli pineapple salsa. The pork belly has a soft stickiness to it, especially around the edges and it's ideal for those who like sweet with their savoury as the pineapple salsa really permeates the whole dish and it was a bit too sweet for me.
Scott's Farm Fresh Strawberry Mille-Feuille vanilla pastry cream $14.50
When strawberries are this sweet and good you could serve them up to me in a bowl with some whipped cream and I'd be perfectly happy but adding some pastry is always welcome. The presentation for this is very pretty and striking with two layer of fresh strawberries on crisp pastry topped with piped vanilla bean creme patissiere.
Homemade Chocolate Truffle $1.50
The two chocolate truffles are thick squares of fudgey chocolate ganache studded with tiny pieces of dried apricot and a touch of Cointreau although this wasn't particularly strong.
Millar Road
On the way to our accommodation, we take a winding road, get slightly lost, disturb a family, enter someone's private property, have a chat to and admire their Bee plants swaying in the wind like undersea coral and then finally get to our destination. Millar Road is a luxury house where we will have the run of. The view is priceless, it's all expansive vineyards where they make one type of wine, the organic supernatural wine processed without any additives.
And if you look further out, there is Hawke's Bay which is displayed in layers of turquoise and blue like a cloth. Perched on Tuki Tuki hills there are three types of accommodation at Millar Road-two for honeymooners and one that sleeps eight, the Hautomo House which we are booked into.
There are three bedrooms, all decorated stylishly recalling a Nordic luxe style-simple but with nice touches like built in Bose iPod docks and headphones, quality designer furnishings and appliances and a local breakfast that we can cook in the house ourselves. It's so spacious that eight could stay here without annoying each other.
The view from the bed
I settle myself in the master bedroom tossing up between the corner room which has a bathroom with possibly one of the best views. But alas I can't help myself and the master bedroom has an enormous study attached to it so I set up shop there. The bathrooms have Evolu products which is a New Zealand based botanical skincare system. I do a bit of work before dinner time rolls around.
Craggy Range
For dinner this evening, we are going to Craggy Range, a stunning winery that produces single vineyard wines that we drove past on the way to Millar Road. Many of the best restaurants in the Hawke's Bay area are attached to wineries and this one has a beautiful post card view of Te Mata ranges.
Started by a family in Brisbane, the winery is in a 100 year old trust which means that it can't be sold. The grandson of the original owner Daniel is here with us tonight and he tells us that the trust will come up for renewal during his time and that he will sign the trust deed for another 100 years.
Fennel crusted scallop served with 2011 Craggy range Sauvignon Blanc, Te Muna Road, Martinborough
We're in for a progressive dinner which starts outside with one of these delicious crispy coated scallops from the South Island with their Sauvignon blanc, followed by a peek at the barrel room where their flagship wine Sophia is barreled. We then move to the Sophia room for our entree and to the main restaurant for dinner.
The single vineyard means that all of the grapes are from one vineyard and all vineyards are owned by the family so no external grapes are brought in (except for one wine which is a fun challenge between them and Felton Road to produce different wines using the same grapes).
Beetroot cured Hawkes Bay kingfish wuth cuttlefish, chilli, mint and wild rice served with 2009 Craggy Range riesling, Fletcher Family Vineyard Martinborough
Our entree is pretty and the beetroot curing gives the pale, pearly kingfish a lovely magenta hued edge and I particularly like the mixture of flavours with the spicy chilli and mint and the textural contrast of the soft, silky kingfish and the crunchy fried wild rice and bean sprouts.
We move into the main dining room, past the warming fires and into the room which was designed to look like the inside of a wine barrel.
Spice "firstlight" venison shortloin, "terroir garden" Jersalem artichkoes, mushrooms and cassis prunes served with 2009 served with Craggy Range "Sophia", Gimblett gravels vineyard, Hawkes Bay
Firstlight venison is a collection of venison farmers so named because they start on the eastern part of New Zealand and are said to be the first place on earth that sees the light of the new day. Their grass fed wagyu and venison are pasture fed without additives, hormones, antibiotics or steroids. The venison loin is served beautifully rare in the centre with some pureed Jerusalem artichokes and their thinly sliced deep fried chips, cassis prunes which gives the venison a sweetness and shiitake and an added savouriness and slipperiness.
Lemon thyme semi freddo, gingerbread and rhubarb confit served with 2008 Craggy Range "Noble", Raupara Valley vineyard, Martinborough
The semi freddo is light and creamy with a fabulously crunchy gingerbread topping and it is paired with a rhubarb confit which cooks the rhubarb but still retains a crunch so it is like celery in texture. And the dessert wine, always my undoing sends me into a very happy place!
So tell me Dear Reader, when you travel with friends or family, do you prefer to rent a house or have separate hotel rooms?
NQN explored New Zealand as a guest of Tourism New Zealand
Breckenridge Lodge
1 Breckenridge Lane - RD3 Napier, Hawkes Bay, New Zealand
Tel: +64 6 844 9411
www.breckenridgelodge.co.nz
Waimarama Maori Tours at Hakakino – Food of the Chiefs'
Tel: +64 210570935
www.waimaramamaori.com
Black Barn Road
Havelock North
Tel: +64 06 8777985
www.blackbarn.com
Millar Road
83 Millar Road (off Tuki Tuki Road) | RD 2 Hastings 4172
www.millarroad.co.nz
Tel: +64 06 8777985
Craggy Range Winery
253 Waimarama Road, Havelock North
Tel: +64 873 7126
www.craggyrange.com