I'm nearing the end of my New Zealand adventure and whilst I do love eating out, I also love the chance to trade in my heels and dresses and stay in wearing nothing but leggings, socks and layered tops sipping on a cup of tea and looking out into the vineyards. So when Krissy and I make our way to the Hawke's Bay Farmers mMrkets one Sunday morning, an idea strikes the both of us. The artisan produce here is just tailor made for cooking and since we have a fantastic kitchen all to ourselves and a bottle of the Supernatural wine, then a night in relaxing was just what we needed.
We take a tour of the markets with Jane who runs Food Hawkes Bay which is an organisation that all of the stallholders have to belong to in order to join the markets. In its 11th year, the market also serves as an incubator for many business with many starting off here and then move onto wider, national or international distribution. There are about 47 stalls at the market and many stallholders use it as a place for product testing where they can hear back from their customers.
We stop at The Deli where owner Chris Dunn tells us that she makes products without any fillers, water with more than 100% meat as she tells us that she puts more meat that gradually shrinks down to make 100%. Instead of using modern techniques she uses old fashioned techniques and good quality spices to ensure that the product is not extended or watered down.
We try some smoked chorizo which is made using five peppers and oregano and the black pudding is lovely and mild. We buy a packet of the pancetta which we cook up that evening.
"Have some passion in your life!" the gentleman says to me handing me a sample of lovely passionfruit ice cream.
Village Press has single variety olive oils using Barnea, Frantoio and Manzanillo olives and they originated here 10 years ago. They now export their products, a distinct and lovely tasting olive oil which you can sample with bread. They also do avocado oil, infused oils and tapanades.
We try a sample of manuka beer which is delicious-it isn't made with manuka honey or hops, it is made from the manuka plant.
One of my favourite stands was Origin Earth where provenance and sustainability are important. Sustainability isn't just a buzzword for owner Jane. She looks after bio soil, waste and water management as well as animal welfare. And it's important for her to make sure that her products are completely traceable-each product has a pickup number, batch number and can traced back to the individual cow (where they have temperature tests and information taken) based on the number on the back of the product.
The milk is fabulous-full of pasture and flavour and Jane gives us a bottle of take home which I am drinking in a cup of tea. She tells us a well fed cow produces the best milk which is high in protein and lower in fat. Hers are Holsteins. The cheese is also excellent with the camembert producing a rich flavour and quite unlike other camemberts which are more about texture than flavour.
We make a stop at Aromatics where Noel shows us some of the interesting products that he makes including a barrel smoked mushroom-the uses white or brown mushrooms and brines them in a local Chardonnay and the drains them and smokes them over wine barrel chips. The flavour of the mushrooms is intensely smoked and moreish. He also makes a fantastic magical mushroom essence which is like umami in a bottle as well as chili pickled pears.
We see Malcolm from Breckenridge Lodge and he recommends that we get some cakes from Entice. There are four cakes that they make gluten free that they haven't been allowed to take off the menu. These are a coffee and chocolate opera cake, a friand made from coconut rather than almond meal, a triple chocolate brownie and a gluten free cheesecake.
We stop by Hohepa cheese who apart from having an organic award winning fromagerie also help out developmentally disabled people by teaching them new skills and giving them a place to live. Their Danbo cheese is a creamy cheese which is a Danish cheese that is a crowd-pleaser. Their cumin cheese is so popular we watch one lady take a piece and then stick her toothpick in to collect another six pieces!
Orcona have a range of chilli products including a delicious red pepper paste and sauces from a mild "Shark Bite" to a hot and spicy habanero sauce. They also won an awards for their Harissa from Cuisine magazine which is made naturally without any fillers.
For tongight's dinner we couldn't miss trying some of the Hawke's Bay organic lamb from Ti Kouka.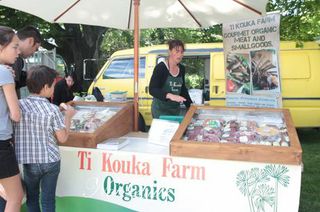 Another must drop by stand is St Andrews limes where they make an amazing range of lime products and only lime products. I particularly adored the lime and mustard seed creamy dressing which is their bestselling item as well as the Burst which is like a sugarless curd and tastes like a lime mayonnaise. In fact we go back and buy some crayfish to have with this at dinner.
And because the strawberries are so delicious we pick up a punnet of strawberries from Mountian View Gardens as a final dessert!
Bellatino's
**
**
In case you aren't here on Sundays for the Hawke's Bay Farmer's Markets, Bellatino's run by New Yorker Burt and his New Zealand born wife Emma, has a great range of local and imported produce. Burt had no idea where New Zealand was when growing up and he tells us that he once saw an apple with a New Zealand sticker on it and wondered where on earth or what on earth New Zealand was. Cut to some years later and he would be owning a delicatessan and gourmet food store in the fruit bowl of New Zealand in Hawke's Bay.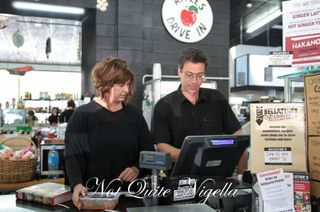 One of their best selling products is their black raspberry vinaigrette. And if you need a pick-me -up, their ginger latte is to die for and is seriously good stuff. There are unusual items like Salvare's dukkah butter which is not the dry dukkah mix but one with olive oil mixed in so that it is spreadable. They also stock brands like Aromatics, Damson collection and Village Press.
Pate
We try some of their local items like the Smitten and Eva apples which are sweet and crispy. We also try a tamarind chutney made by a woman called Jenny and it is the only product that she makes. It's redolent with fragrant spice. And their chicken liver pate is divine-smooth, not too strong and livery and with a lovely flavour to it. And we can't leave without picking up one of their Dick Frizell designed carry bags with a handy section for bottles. The well known New Zealand artist designed the pattern for them in exchange for them cooking his family a Christmas dinner-a bargain for the design!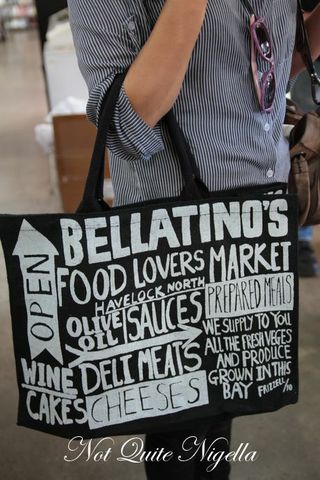 Adam and Eva's
**
** **
Adam and Eva's is a coffee store on Donnelly Street where owner Chris (not Adam, despite the name) combined his love of good coffee with his wife's (not Eva) talen for graphic design. Apart from coffee, which as expected is excellent indeed, they also stock a range of local and fair trade items.
Their signature is their gold medal award winning cafe blend but there are also single origin coffees available too. They roast so much coffee for their five locations that they roast daily for 8-9 hours a day.
Cafe blend coffee $3.80
Ya Bon
** **
Ya Bon is the new Hawkes Bay location of Moïse Cerson from The French Baker at Greytown in Wairarapa. We stopped in for a quick look and the selection isn't huge but there is the famous brown sugar brioche in all of its glistening glory.
The Strawberry Patch PYO strawberries
**
If an afternoon picking super fresh, rubied red strawberries delights, The Strawberry Patch has pick your own strawberries just two minutes drive from the town centre. Prices vary according to season but a 1 kilo box of already picked strawberries are $8 a kilo while they are $3-4 a kilo if you pick your own. You take a wooden basket with four 1 kilo trays in it, go out to the PYO area and snap off your own lusciously sweet strawberries.
Elephant Hill Winery
**
After the Farmer's markets we rush to Elephant Hill Winery. Sympathetically decorated to mirror the beautiful turquoise of the sea it is a relatively new winery on the scene. And I'm being interviewed here by a lovely journalist for her weekly food column. So while the photographer snaps away we chat and take in the view. Today we're also dining with Brittany, the Elephant Hill viticulturalist.
Elephant Hill is owned by a German couple Reydan and Roger Weiss who first visited the area to see a mechanic in Hastings who expertly restores vintage Jaguars. Smitten with the area, they decided to start up an environmentally aware winery and the first grapes were planted in 2003.
Seared Coromandel scallops, potato salad, pancetta, pineapple beurre blanc  $23
Having grazed on little bits that morning, we were looking forward to lunch. The luscious local scallops were sitting on a bed of creamy potato salad studded with tiny pieces of crispy pancetta and a most unusual but really quite good pineapple beurre blanc.
Angus beef carpaccio, broad bean pesto, roasted Kalamata & caper berries $19
We all adored the Angus beef carpaccio which was beautifully presented with a broad bean pesto, large, slightly wrinkled roasted kalamata olives and tiny caper berries.
Sesame & Szechuan crusted yellow fin tuna, pickled cucumber, white anchovy, Champagne dressing $21
_
_
Salt & pepper squid, mandarin & cucumber salad, chilli & lime dressing $20
_
_
Dijon roasted Angus fillet, truffled parmesan foam, potato carpaccio $39
There's plenty of grass fed beef in the area because there is so much green grass. The eye fillet, divine and perfectly cooked at medium rare has a truffled parmesan foam with a light touch of truffle with a thinly sliced potato slice carpaccio.
Baked whitefish, orange & radish salad, beluga lentils & verjuice nage $36
The whitefish is soft and baked right through and served with an orange and radish salad, beluga lentils and verjuice nage or soup which is a little on the tart side. I must admit that out of the two mains the beef was the pick for me.
Manuka smoked lamb rump, braised shoulder tortellini, pea cream & chipotle jam $37
_
_
Baked pineapple tarte tatin, Malibu ice-cream, pineapple chips $16
Why do I love desserts so much? When they taste like this they cause a normal person to melt. The pineapple tarte tatin was heart stoppingly good and every single last drop was polished off between the three of us. The pastry was crisp and buttery and the Malibu ice cream matched the sweet, caramelised pineapple perfectly. There was also some crunch from the caramel and pineapple chips and the sauce was a rich, thick concoction.
Passionfruit & vanilla Alaska, white chocolate anglaise $16
The vanilla bombe alaska has a layer of cake on the bottom and a sweet, smooth and light meringue outer lightly torched on the swirls. It sits in a passionfruit and white chocolate anglaise sauce. Just sublime!
Vahlrona chocolate, peanut butter mousse, salty caramel & almond praline $16
I don't know which was more popular, the Valrhona chocolate shell, the peanut butter mousse which was thick and fluffy, the salty caramel or the crunchy almond praline. And when combined together it makes a dessert that was happily devoured.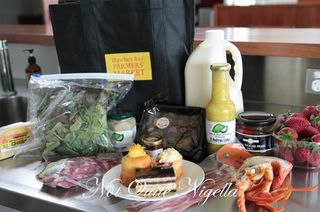 It's quick drive back to Millar Road, our accommodation for the evening. We unload the goodies from the car (kindly stored for us in Elephant Hill's fridge) and it's an afternoon spent working, having cups of tea and listening to Abba and Fleetwood Mac on the old fashioned record player with the new fashioned Bose sound system. I am about to run the bath, spot a photographer that is here to take some photos so I quickly abandon plans (why do these things always happen to me? :P ).
Bath time view
Ahhh lovely kitchen, how nice to cook in thee...
The kitchen here is stocked with an excellent range of appliances -we could probably make a pavlova if we were so inclined. Oh and I didn't mention the breakfast did I? The breakfast provisions for the next morning included a loaf of bread, some Hawthorne coffee, their own marmalade using fruit from the property, some Damson plum spread and a J Friend & Co honey, all made in New Zealand. The exception is the Harney & Sons teas.
Range of Harney & Sons teas
Goldilocks-ahem Ravenlocks decided maybe not to sit outside as it was a bit nippy, plus there were photogs milling about...
"My what a pretty view you have!" she exclaimed.
And yes we had this whole house that sleeps eight to ourselves! Perfect for dancing around in socks and PJs...
It doesn't hurt to have a glass of wine with dinner...
Salad made from leaves at the market and lime and mustard seed dressing from St Andrews Lime
Dinner was easily prepared using the produce from the farmer's markets and it was a relaxing night in...and stay tuned Dear Reader because our next destination was our final one! ;)
Dinner is served!
The lamb rump-tender and delicious!
And Hawkes Bay crayfish with St Andrews Lime burst
So tell me Dear Reader, when you go on holidays, do you ever self cater or do you tend to eat out?
NQN explored New Zealand as a guest of Tourism New Zealand
Hawkes Bay Farmers Market
On every Sunday
Hawkes Bay Showgrounds Kenilworth Road, Hastings, Hawke's Bay, New Zealand
Sundays: 8:30am-12:30pm
Bellatino's
Cnr of Treachers Lane & Napier Road, Havelock North, Hawke's Bay, New Zealand
Tel: +64 (06) 875 8103
Adam & Eva's
4 Donnelly Street, Havelock North, Hawke's Bay, New Zealand
Tel: +64 (06) 877 7198
Ya Bon
15 Joll Rd Havelock North, Hastings, Hawke's Bay, New Zealand
Tel: +64 (06)877 3033
The Strawberry Patch
96 Havelock Road, Havelock North, Hawke's Bay, New Zealand
Tel: +64 (06) 877-1350
Elephant Hill Winery
86 Clifton Road Hawkes Bay 4102, New Zealand
Tel: +64 (06) 873 0400
Millar Road
83 Millar Road Hastings 4172, New Zealand
Tel: +64 (06) 875 1977