Hunger is Non Negotiable sign at Elliott Stables
I'm a chicken with heights let me admit that right now. It's this forceful fear that prevents me from getting up on a ladder beyond the fourth step and so I stand white knuckled, looking 186 metres down. Allow me to explain. With a little bit of time to kill we went to the Sky Tower where we could view the splendour of Auckland from 186 metres up. There is a see through rim where your sight can plunge all the way down to the ground. Even though the signs say that the glass is very thick, I'm not taking any chances and I walk gingerly around that (as does everyone else! :P). An interesting tidbit is that the equivalent of 8,765,903 gumboots full of concrete were used to build the Sky Tower.
We met these folks at Sky Tower
It was a fairly clear day so we could see quite f into the distance while Mr NQN looked out for Louis Vuitton cup boats in the harbour below. I amused myself with buying bar of Pineapple Lump chocolate, something that I had seen my NZ friends get rather excited over. And we bumped into Captain Feathersword!
My lumps, my lumps, my lovely pineapple lumps!
We walk to downtown Auckland and do some shopping adn past Elliott Stables which are mostly closed this Sunday afternoon before making our way to the viaduct  harbourside area.
We're seated outside as we have requested and the light is quite bright shining in our eyes and on this Sunday afternoon the crowds seem relaxed. Service here reminds me of Sydney, some anxious serious floorstaff and the occasional relaxed waiter.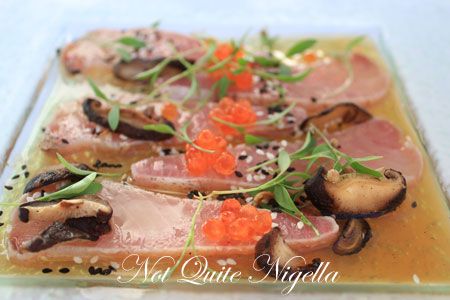 Marinated kingfish with ponzu, salmon caviar and shitake mushrooms $17.00
The very prettily presented kingfish dish which sounded so divine is a little overwhelmed with the black sesame and the sauce. It's a good sized serving though for the sashimi style kingfish and I like the generous amount of roe on top.
Soul's chowder with hapuku, mussels, shrimps and saffron $17.50
I felt like something creamy and this does the trick perfectly. The chowder is perfectly seasoned and Mr NQN has his eye on this once he tastes a spoonful. There was however not really any prawn or mussel although there were large chunks of fish.
'Over the Moon' goats' curd gnocchi  watercress puree and black olive tapenade $26.50
I mentioned I was on a cheesy kick so this was also instantly gratifying. Although it doesn't appear as a large serve this is perhaps because the pieces are all spread out on a large plate whereas we may get this in the centre of a soup bowl. It's heaven in little pillow shaped bite sized morsels, the gnocchi tender and light.
Pan fried John Dory on whipped cauliflower with blood orange grenobloise and crispy sourdough croutons $36.50
I do love John Dory and the sound of this sounded divine but I was taken aback by the predominance of an unexpected sauce ingredient which was pink grapefruit which I found was quite dominating and gave the dish a sourness that rendered it a tad too sour for me (and a shame as the rest was delicious and the fish well cooked). Perhaps they weren't able to get blood orange that day. I ask the waitress whether there is pink grapefruit and she checks with the kitchen and there is and they offer to make me another. Mr NQN is hungry though and eats it.
Creamed feta spinach with fried almonds $7.50
I was hoping for a more traditional creamed spinach. The side dish isn't quite as satisfying as I would have liked. Blending the spinach would have made it easier to eat but it was quite wet with the sauce at the bottom when I put it on the plate and there wasn't quite enough sauce on the spinach itself.
Even with the little issues with the dishes, there is a definite relaxed and jovial atmosphere to the restaurant particularly since there are America's Cup sailors and crew around.
So tell me Dear Reader, are you scared of heights?
NQN and Mr NQN travelled and explored New Zealand as guests of Tourism New Zealand.
Soul Bar & Bistro
Viaduct Harbour Ave
Auckland 1143, New Zealand
Tel: +64 (09) 356 7249
Soul