It's usually a bit of a battle to get Mr NQN to go along to a cooking class. He's innately resistant to the idea of cooking but the lure of a cooking class at Peter Gordon's restaurant Dine was hard for him to resist as he considers the meal cooked by him at Longrain among his favourites.  Peter Gordon is one of NZ's most successful chefs and  one of most famous chef that they've exported. He does a mixture of Asian fusion cuisine and owns The Providores in London as well as being the former owner of the Sugar Club.
His restaurant Dine by Peter Gordon sits in the SkyCity Grand Hotel where we're staying. It's an early start this Sunday morning at 8:30am and the class is to conclude at 2:30pm after a spot of lunch-that we cook ourselves!
Sous Chef Nancye Pirini
We're greeted by the offer of a cup of coffee or tea by Gregory, the maitre'd.  He hands us a striped apron and invites us into the kitchen where Nanyce and Giann introduce themselves. Nancye is the sous chef here and Giann works with her and they have a great rapport between them. She tells us that the kitchen itself is like a Fishtank so they are constantly being watched (which also spurs them to call each other names from Finding Nemo). Do they ever get people knocking on the window? All the time apparently including the host of Whose Line is It Anyway Wayne Brady who was staying at the hotel.
They show us the mise en place with the ingredients that we are to use today. Most of them are familiar albeit in a slightly different context than we're used to. The first item is the plantain for which Nancye shows us two varieties, a long one and a short one the size of a sugar banana. The larger one has a more potato like taste to it whereas the smaller one has more flavour to it.
She shows us the tamarind paste that she makes up by mixing it with boiling water and allowing it to break then and then purees and sieves it. This can last for a long time in the fridge if the very top is covered with cling wrap. There are also wood ear mushrooms which have been rehydrated as well as gai larn.
Wood ear mushrooms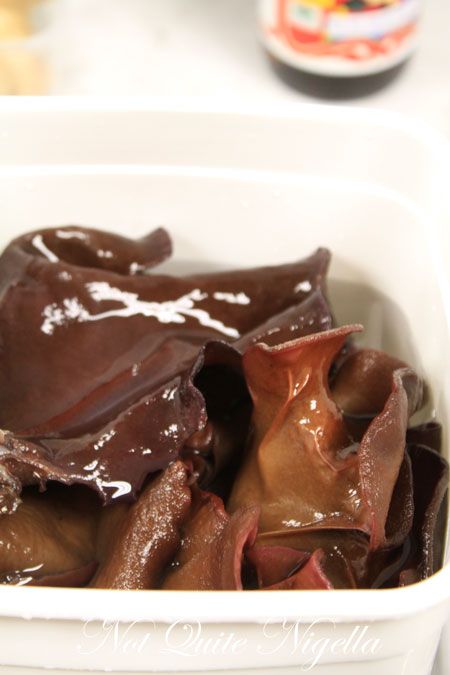 Rehydrated!
_
_
Today we're making two of Peter's signature dishes, a hapuka dish and a tapioca dessert. If you can't get hapuka, you can use blue eyed cod instead. They buy relatively small quantities to keep the fish fresh and for Hapuka they would buy 2-3 kilos worth a week.  Everything is made in house except for the jus which they are not allowed to make for safety reason as a jus boils for hours overnight and they aren't allowed to keep a flame unattended in a hotel.
Hapuka crust
I do a bit of rough chopping of leeks and get the coconut broth ready while the others make the hapuka crust made using tofu, hapuka trimmings, shichimi, salt, crab and ginger. We tie a  knot in a pandan leaf and then pound it with the base of a knife to help bring out the flavours and we peel the plaintain with a vegetable peeler as it doesn't peel like a regular banana.
Pounding  the pandan to get the flavour out
Whizzing the coconut broth
Nancye shows us the items that the pastry chef is making here including a lemon and olive oil cake, lemongrass and ginger truffles and all sorts of other goodies. The other group are shown to roll the hapuka with the crust in the panko crumbs but this isn't done until just before it is cooked so that it doesn't go soggy. As our coconut broth has been simmering away and is now ready, we strain it through a sieve and then whizz it with a stick blender.
After our little introduction we get a little break for morning tea (yes it's really not hard work is it?) and we are served some lovely cakes: an opera cake, raspberry lamington and a kiwifruit cake which is my favourite as the cake is beautifully buttery. We're shown a bottle of Peter's Waitiki Braids wine from his vineyard in the Waiktiki Valley and they make a Pinot Noir, Pinot Gris and a Reisling. It is situated in North Otago which is said to be an upcoming wine region.
Deep frying curry leaves
The finished curry leaves
We head aback in Giann shows us how to deep fry the curry leaves as a garnish. Using a strainer we remove them from the oil, place latex gloves on and then remove them easily from the stalk (the stalks themselves are incredibly fragrant too and can be crushed using a mortar and pestle). We cut up the wood ear fungus mushrooms by rolling them up like herbs and slicing them thinly (I do a terrible job, they'd fire me for that).
Removing the vanilla seeds from the bean
Macadamia crumble
It's dessert prep time so we take a look at the ingredients that we'll be using for the mango, avocado and yuzu sorbet. Nancye shows us the Yuzu juice which comes either salted or unsalted. They also show us the mango puree that they get from France. I make the macadamia crumble while the rest scrape a vanilla bean to make the mango sorbet. We boil the tapioca balls until they're ready, drain and rinse them and then place them in sweetened coconut cream and give them time to absorb the coconut cream.
And a helpful tip when cooking tapioca? Add a pinch of salt to help the tapioca cook all the way through! They speed this up by placing it on an ice bath. I dice up the mango finely and then Mark Wiley the Executive Chef of the Sky City Grand comes in to give us a tour of the "Backstage".
We take a look into the 17 kitchens at Sky City which employ 220 chefs (including 30 pastry chefs) and 70 stewards and they produce a range of things from meat pies to $40 mains to the food at Air New Zealand's Koru lounges with a total of 2,000 meals a day.
There are 3,500 staff members, 40 million plates and volumes are astounding. Ice carving is a speciality there with a chef taking to a large hunk of ice. And did you know that not any kind of ice can be used, it has to be frozen a certain way and at a certain PH level to avoid splintering!
Chocolate chef
A little snack for us
The larder produces 2,500 sandwiches a a day and he shows us the specially bred ducks ideal for Peking Duck. They go through 1.8 tonnes of shanks a week, a tonne of chuck steak and he shows us a piece of equipment used to cook these in bulk that is worth a quarter of a million dollars. Security is strict too with access to fridges and freezers and areas swipe card controlled and payroll is controlled by fingerprint. Interestingly they only have electricity here as it is too difficult to set gas pipes in the towers are they move slightly.  At almost everywhere that we stop, there is a tray of goodies for us to eat from macarons, to chocolate to the chocolate spoons above.
After our little tour we sit down in the restaurant to our entree that Nancye has prepared for us. It's a scallop dish based on a Peter Gordon recipe that he invented 15 years ago.The Alaskan scallop is  plump and seared and combined with the flavours of beetroot, ginger and chilli. Yes chilli, you see New Zealand doesn't really do a lot of spicy food and it's the first spiciness we've had pass our lips in the whole trip so we're ecstatic!
After that we strap our aprons on again and roll the already prepared hapuka into the panko breadcrumbs and fry them breadcrumb side down. They'll then be finished off in the oven.
We quickly stir fry the gai larn and mushrooms and then ladle some of the sauce onto the plate, place three discs of golden sweet potato onto the sauce and then top that with the stir fried vegetables and then set the fish on top of it and then top it with the fried curry leaves.
Signature Hapuka served with Johanneshof Marlborough Gewurztraminer 2008
The fish is delicious, not dry in the slightest and thick and cooked all the way through. The curry has a slight sweetness that is well balanced and the fish has a richness from the crab meat. The wood ear fungus gives it a light crunch and the sweet potato gives it a sweetness and the fried curry leaves give it a slightly earthy flavour.
Our dessert is of course last and all we have to do here is plate it up. They're served in stemless glasses and we first layer it with the diced mango, then the coconut tapioca. Then we sprinkle the macadamia crumble around it and then the yuzu, mango and avocado sorbet and we then finish it with a drizzle of a flavoured oil. Now at first I didn't think that this would work. Would the buttery crumble work with the coconut and the mango and slightly tart flavours of the sorbet. But it does of course!
We end off the day (all 6 hours which have passed by in a flash) with each of us getting a signed copy of Peter's cookbook. And Mr NQN is certainly happy that he came along this morning.
So tell me Dear Reader, is your other half very enthusiastic about cooking?
NQN and Mr NQN travelled to and explored New Zealand as guests of Tourism New Zealand
Dine By Peter Gordon Cooking Class
SKYCITY Grand Hotel
90 Federal Street, Auckland
Lunch Friday 11.30am – 2.30pm
Dinner Daily 5.30pm – 10.30pm
Tel: +64 9 363 7030