Getting up early is a hard task when travelling. Sure you're excited to see new things but travelling can be hard on the  body and after our long hike Mr NQN and I were tired and needed a little sleep in. So whilst we were supposed to leave the hotel at 8am and get to Matakana at 10am, we allowed ourselves a little sleep in and leave at 9am instead. We take the well signposted drive to Matakana and arrive to find the small town absolutely buzzing.
Organic garlic
Organic nashis and free range and organic eggs
Mmm figgies!
Cars are trying to park any which way they can. There are people walking past with fresh creates of eggs, bunches of vivid red roses and all sorts of edible goodies. We find a park and take a look. It's a small farmer's markets but a well patronised one. We start off in one section where there are eat and go containers of mussels sold with forks that are already shelled. They come in garlic, chilli and other flavours.
Eat and go mussels
_
Grape bread!_
Buffalo milk cheese and yogurt
We stop by a Buffalo milk stall where they sell yogurt, freshia which is a soft non melting cheese and a young and a slightly more mature brie. Buffalo milk is low in fat and slightly tangy so that it tastes like a low fat yogurt. They sell $2 cups with honey which we try for Mr NQN as he has missed breakfast.
Lots of free range eggs
The friendly knife sharpening man
North and South Island Whitebait fritters
There are also North and South Island whitebait fritters-the North Island ones are slightly less expensive at $6 whereas the south Island whitebait is $8 per fritter but we take a pass on these as it's still breakfast/brunch time.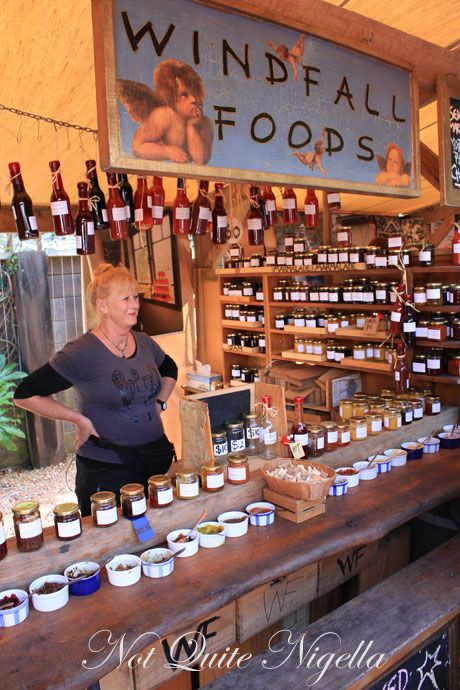 A delicious carrot and cardamom jam
We get some more breakfast goodies in the form of fresh organic figs for 50c each. There is a stand with carrot and cardamom jam as well as a delicious beetroot relish.
Organic crepe with cheese $4
He wanted some crepe...
Peckish as we had missed breakfast, we stop for an organic crepe with cheese (there are also chocolate and lemon crepes available). For $4 it's not bad although could use a bit of pesto or spice and is served on a leaf.
Entertainment during lunch
Ceylonese roll $6.50
We then stop at a stall where we buy a Ceylonese roll. She heats it up in an electric cooker and it is similar to a crepe on the outside with a finely ground mince inside with a light curry flavour.  The little story next to it shows that it's based on a based on a recipe "borrowed" from an ex boyfriend. Well at least something came out of it!
Mussels wrapped in bacon with horopito pepper $6
Our next stop is the popular mussels wrapped in bacon served with horopito pepper. Although the cup is only 1/3 full it's very good and good value as wrapping each mussel individually with a piece of bacon would be time consuming.  We also try an organic homemade lemonade which is a refreshing, still lemonade.
The recycling options-including one for "Can't be bothered"!
Organic Lemonade $2.50
We walk around for a bit more and try some samples of Sangiovese grapes, grape juice and a savoury grape sauce. There is also feijoa wine which is quite nice and sweet.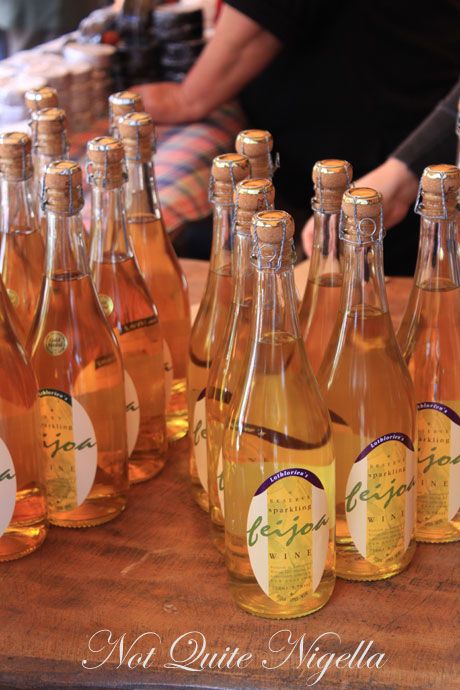 Feijoa wine
Sangiovese grapes
Raw smoothies
Raw smoothie $5
Our last purchases for the day are a drink from the raw stand made with boysenberry, coconut cream, banana and honey which is a curious mix and unlike a typical smoothie. We also can't resist the buttery smell of the pies a the "The lovely little food co." stand. I'm torn between trying a manuka smoked bacon and egg with tomato relish pie and an Angus beef steak and caramelised red onion pie so I choose the latter.
Angus beef steak and caramelised red onion pie
The pie is piping hot and quite good with chunky pieces of beef, a lot of sweet red onion and a nice flaky pastry (the sign proclaiming it their famous sour cream pastry). Having made a cream cheese pastry for quiches I definitely see how nice and buttery a pastry it  makes.
Oooh shopping!
Leaving the markets well fed and shaking off pastry crumbs we stroll around the shops. there is a gorgeous stationary shop called "Red Letter Day" where I buy some gifts and some goodies for myself.
As well as a set of this fashion stationary for Queen Viv which she just loved.
After all of that sightseeing..ahem hard work, well a gal needs some added refreshment and a cup of tea so we then take the wooden walkway up to the Brookview Tea House which winds alongside a duck filled river.
White Juliet tea $4
We take a seat and order a High tea for one with a pot of white tea Juliet which is a wonderfully fragrant tea with a sweet aroma of flowers and fruit. The high tea arrives and it looks very good.
Thermos of coffee $4
There are two double decker sandwiches with tuna on one side and cheese and pickles on the other-a great combination which has Mr NQN happy (he usually avoids cooked tuna), a curried egg sandwich with ham and tomato on the other side and a single sandwich with cucumber and cream cheese. Some of the sandwiches are a touch dry on the outside though but not terribly so. There is also a delicious, warm sausage roll made from free range pork and a spinach and cheese muffin with a slice of brie inside.
Afternoon tea for one $22.50
Moving onto the sweets, we try the pink lamington which is wonderfully soft and fresh. I usually find lamingtons on the side of dry but this isn't at all with the fluffy cream and berry jam. There is also a small pavlova filled with cream and passionfruit as well as lemon curd filled tart with a very crunchy buttery crust. There are two squares of milk chocolate fudge which is nice but very sweet, particularly at the end of the meal.
Can you believe we were scheduled to have dinner later that day too? We take the scenic drive back to Auckland city where we spot this little sign next to the road...
Don't google the sign says!
So tell me Dear Reader,  have you ever been to a farmer's market and if so which is your favourite?
NQN and Mr NQN travelled and explored New Zealand as a guest of Tourism New Zealand.
Matakana Market
30 Matakana Valley Road
Matakana 0985, New Zealand
Tel: +64 (09) 422 7577