"You're travelling First Class and you have access to the lounge" the man behind the ticket counter tells Mr NQN and I and in return we grin like chimps. No we're not talking a plane here but our train from Montreal to Quebec (bye Montreal!). It's no secret that whilst I do love eating all sorts of food from little caravans to Michelin star, the way I like to roll when I travel is luxury. It's all about comfort!
We board the train to Quebec and take our seats. It's a comfortable three hour ride between the two cities and we are plied with wine and a three course meal which is actually very nice indeed. There is said to be free wifi all throughout the train but it doesn't seem to work once we start moving.
Our limo driver picks us up from the train station and takes us to the Palace Royal Hotel just a few minutes away. The hotel is all gold touches and we hear the magic words "Your suite is on level....". I admit I didn't hear anything after that-I love a good suite. When we go upstairs and are not disappointed. The suite open up to a view of the city and is enormous with a very large bathroom, a closed off bedroom and loads of cable tv stations (yes I am obsessed with television). And although there is no mini bar there is an excellent and very reasonably priced convenience store at the lower ground level of the hotel so we stock up on goodies there.
We have arrived at precisely the right time for Quebec City as the Summer Festival is in full swing. In fact this evening Iron Maiden are playing at the Plains of Abraham and the Black Eyed Peas are playing another day. We meet Richard from the Quebec City tourism office in the lobby and head towards the Boudoir Lounge where we have a quick meal before seeing a performance of the Cirque du Soleil. Mr NQN being a beef tartare lover chooses that and I go for the an entree sized salad (we've had so much food to eat so I'm eating light tonight!).
But first we start with cocktails! I have the Complote which has absolut peach, guava and lychee and it is fruitily fabulous.
I think by now you've heard how massive and generous the serving sizes are in Canada and this is no exception (and prices here are amazingly reasonable for the calibre of restaurant). This "Salad Cambodgienne" means Salad Cambodian and comes with pork with "nine perfumes". The nine perfumes refer to the nine ingredients such as fried noodles, chillis, spring onion, iceberg lettuce and the sweet, aromatic Asian spices. It's delicious and utterly satisfying. I realise how much I have missed spicy food!
Mr NQN delights in mixing up his own beef tartare. It comes with a cone of hand cut fries and a salad.
We have just enough time to squeeze in dessert. Mr NQN orders the Pudding Chomeur which is a pudding I've been fascinated with for a while - so much so that when I got home I made one in homage to this. It arrives in a large bowl and we dig in. It is like a very sweet bread and butter pudding flavoured with maple syrup and I have to say rather moreishly addictive.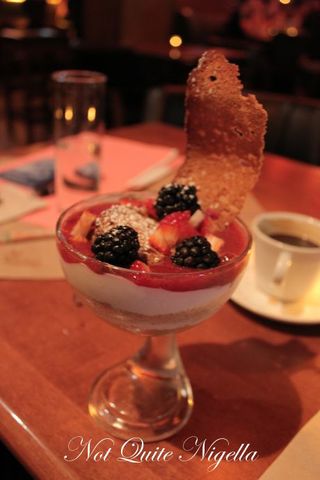 Can you see how much cheesecake base is in this? I love a crumbly buttery cheesecake base and the honey and goat's cheese cake is  creamy and delicious. The idea of some of those strong goat's cheeses in a cheesecake might alarm some but they have used just enough to know that there is goat's cheese but not enough to make you thinking that a goat's standing next to you or that you're chewing on its hair ;)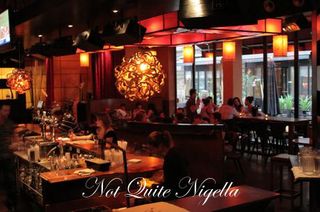 We make haste to make it to our next destination. The Cirque du Soleil has a particular meaning to the Summer Festival in Quebec as they were discovered during it many years ago. The original founders were stilt walking buskers during the Summer Festival of 1980. From July until September every year, Cirque du Soleil's troupe stage a free show under an overpass five nights a weeks, transforming  an ordinary place into an extraordinary one .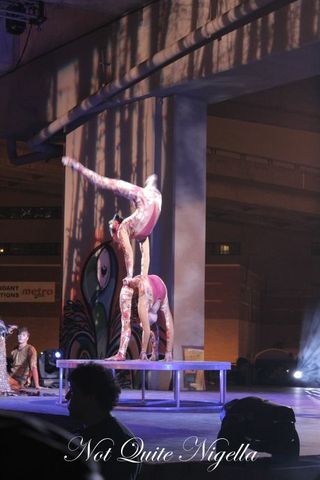 The show is spectacular and the best part is when they come out and interact with the crowd on the bird outfits on stilts. Even the light rain falling doesn't dampen the enthusiasm of guests. It's a great first night in Quebec City and we go to bed excited about the following day.
So tell me Dear Reader, have you ever watched a Cirque Du Soleil performance? And if so, which one was your favourite?
Hôtel Palace Royal
775 Aut Dufferin Montmorency
Quebec, QC G1R 6A5, Canada
Tel: +1 (418) 694-2000
Boudoir Lounge
441 Rue du Parvis
Québec, QC G1K 9L6, Canada
Tel: +1 (418) 524-2777