_Montmorency Falls, Quebec
_
I've always had a fantasy about living on an island. I wanted to live somewhere far away but still close  enough to visit the city should I choose to. I know this isn't really a possibility since I live in the heart of Sydney and love my proximity to things but it also means that when I go on holiday, the chance to visit a rather special island called Île d'Orléans was awfully tempting. Île d'Orléans is known as the "Garden of Quebec" and is where what is said to be the best produce comes from. It's a smallish island, about 37kms long by 7kms. And who knew that only 10 minutes drive out of Quebec City you would come across lush farmland, pick your own fruit and meet international award winning producers?
The weather is perfect today as it has been for our whole stay. Crossing the bridge past the Montmorency Falls waterfall that falls all year around we seem to enter another world. The greenery and pretty houses are no accident and there are many houses with white bodies and red roofs. Elyse our guide explains to us that the roofs were painted red in the past times to help find the houses through the snow storms and often animal's blood was used to colour them!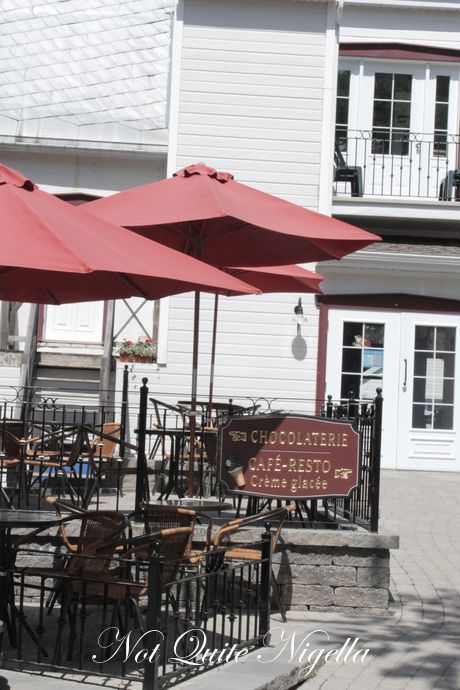 There is farmland around the centre of the island only and the island's main industry is agriculture. At city markets, if something comes from Île d'Orléans then that is something to note and "Île d'Orléans certified" is displayed prominently. Things made here are a little more expensive than imports from California but throughout Quebec and Montreal they like to support the local Île d'Orléans produce. It is a popular place for tourists due to its idyllic lifestyle, pleasant micro-climate (it is always a few degrees warmer here) and sees over 600,000 visitors arrive each year. There are three vineyards, maple farms, ostrich, quail and buffalo farms, fruit farms and some where you can pick your own berries.
The oldest country church in North America
We start at a chocolate shop "Chocolaterie de l'Île d'Orléans" where they make handmade chocolate truffles using Callebaut Belgian chocolate. They originally started off 23 years ago making Easter chocolates for the locals and a chocolates through mail order. Soon after the queues for Easter time reached down the street and they needed to move into another location.
Maple cream dark chocolate and Framboisette (Raspberry chocolate) $8.90 per 100grams
They use as many ingredients from the island as possible but they also do use other ingredients as locals like to try items from all over the world. The shop assistant gives us a Framboisette chocolate which has a whole raspberry in it along with some liqueur to preserve it. She tells us that the raspberry came from a nearby farm "just up the road". The chocolate is absolutely divine with the luscious, slightly tart whole raspberry. She then gives us one of their maple butter chocolate which is made from maple syrup from another one of the Île d'Orléans "sugar shacks" i.e. maple farms. The contrast between the 70% dark and the creamy sweet pure maple butter is divine. No preservatives are used in the chocolates here so they all have a short shelf life. They also made other products such as a half chocolate half fruit spread in flavours such as blueberry, pear, strawberry, raspberry and maple.
Chocolate and blueberry spread
Callebaut choc dipped soft serve $4.15
_
_
We go next door to their ice cream shop where they make all of their ice cream on the premises and during Summer there are twenty flavours available. The one item I had seen a lot of people walk around with was the soft serve. I don't like soft serve back home as it doesn't taste like much to me but here they dip it in your choice of milk or dark Callebaut and they dip it thickly so I go for that. Mr NQN enjoys their raspberry ice cream. The Callebaut chocolate dipped soft serve is  fantastic with a thick layer of real Belgian chocolate and the rimmed ice cream holder to catch any stray drips is rather genius too and helps out the OCD afflicted amongst us! ;)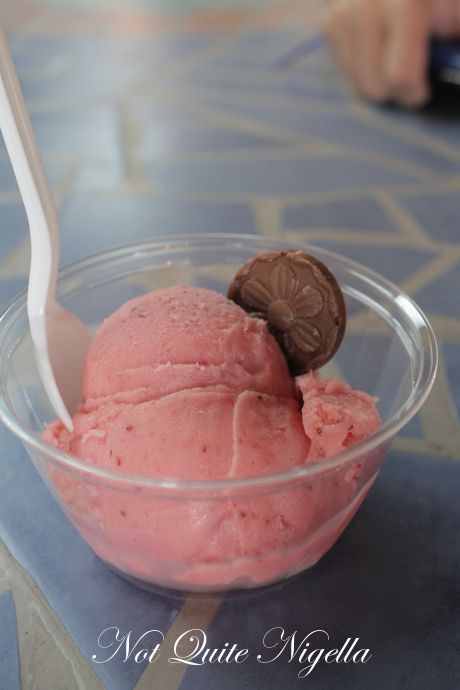 _Strawberry sherbert
_
The strawberry sherbert (a sorbet, not the fizzy sherbert as we know sherbert to be) is true to flavour and comes with a round patterned chocolate button-bonus!
Our next stop is a well known ciderie which called Ciderie Verger Bilodeau. Outside roams a peacock, goats and a dog. It is the island's only organic orchard and outside they have 4,000 apple trees and they use the apples to produce apple jelly, jams, juice, cider, mustards and chocolates among other things. In another room there is a tasting room where people can pay $3 to sample up to 40 products. There is also a small coffee shop out the back. We try some products and they are delicious, particular the rillettes and the maple apple jelly and onion and maple jam. These are so easy to eat just by the spoonful.
Tasting Room
The special small carafe on top of the bottle
There are five wines including an ice wine where ice is made from apples that have frozen on the wine. On top of a bottle is a small carafe which keeps the wine aerated. The duck rillettes, terrine and confits are $10.99 and we fall in love with the combination of the duck and blackberry confit and the le Diablotin wine.
Rillettes and confit
Strawberry roadside stand
We do a quick stop for some Île d'Orléans strawberries from a road side stand. There are strawberries and raspberries here sold by the litre and a 3.5 litre basket of strawberries goes for $7.50, a 1.5 litre for $5.50  and a 1 litre for $3.50. We're sold! And how cute are the baskets?
Our last stop of the day is at Cassis Monna & Filles who are  an international award winners for the Cassis de Creme. They are a family of liquoristes which are now spearheaded by two sisters who have taken over the family business. The restaurant La Monnaguette to the side of the cellar has got to have one of the best views from the whole of the Île d'Orléans and the menu features a hint of blackcurrant is every dish. The blackcurrants that are used are from an imported variety from France which are different from the wild blackcurrants that grow native on the island.
We try some of their products including one that they use in a sangria, one that can be used a digestive and is similar to the port but the creme de cassis, which won the Gold medal in the International competition (all liqueurs category) is absolutely divine. It can be used in a Kir Royale with Champagne and we snap up a bottle of it to go (although sadly the delicate bottle doesn't quite make the flight home-if you buy it, hand carry it!).
So tell me Dear Reader, have you ever had fantasies of living on an island?
NQN travelled and explored Canada as a guest of Tourism Canada.
Chocolaterie de I'Île d'Orléans
150, Chemin du Bont de Île Saint Petronille, Île d'Orléans, Quebec, Canada
Tel: +1 (418) 828 2250
Ciderie Verger Bilodeau
2200, Chemin Royale, Saint Pierre, Île d'Orléans, Quebec, Canada
Tel: +1 (418) 828 9316
Cassis Monna & Filles
721, Chemin Royal, Saint Pierre, Île d'Orléans, Quebec, Canada
Tel: +1 (418) 828 2525