Hello lovelies! Yes you've read right although no I haven't suddenly embraced politics and gone over to the "dark side" and become a politician ;) . Although I think there might be some merit to NQN-land where the shops are open late, bakeries and patisseries abound, street signs are represented with "fruit" and there is no tax on designer shoes, clothes or bags. I digress though....  Quebec's Parliament House contains a restaurant where ordinary people and tourists can come to enjoy a meal. The building is an enormous and beautiful  stone structure and we pass through several very polite and friendly security checkpoints including one where we show them a copy of our passports (as they require photo ID) in order to get to the restaurant.
We reach the restaurant which has two stunning Art Nouveau stained glass windows that are almost worth a special trip to see.  These were made by French native glass maker Henri Perdriau. The room was inaugurated in 1917 and is enormous as it plays host to visiting dignitaries and politicians. In the neoclassical Beaux Arts style of architecture, the room has heavy curtained windows and signature crockery with the signature Fleur de Lys pattern.
We take a look at the menu which is quite reasonably priced and as we aren't particularly hungry, we share an appetiser and order a main each. There are about six other tables of people in the enormous room so it does feel a little empty although we would imagine that it would be gorgeous for a wedding reception when full.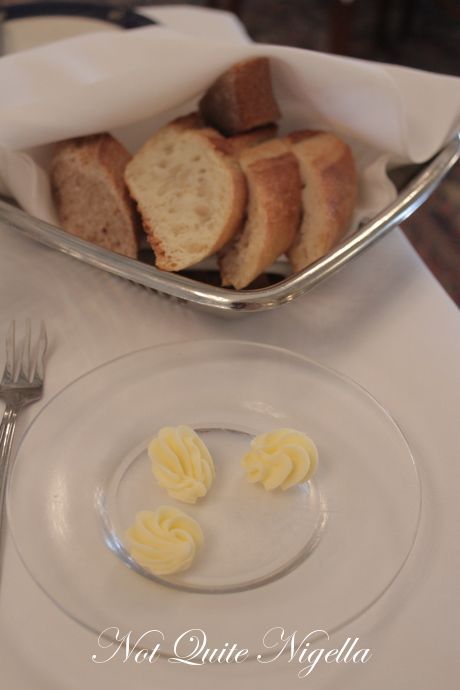 Bread and butter
Hooray! I miss my sourdough bread :)
_Wild Caribou Pate $9
_
The pate is served without toast so I use the bread. It has a mild gamey flavour and slightly rough texture and gelatinous mouthfeel. It pairs well with the thinly sliced apple and radish salad and juniper berry compote.
Split Pea Soup
All meals come with a soup and today's soup is a split pea soup which is thick and rich and warming (and much better than the one at Aux Anciens Canadiens we had the other day).
Fillet of Walleye Almondine $23
The fillet of walleye fish almondine comes out pan fried in butter and coated with flaked almonds on one side. It's a huge serve of fish and not bad although it isn't anything particularly outstanding. It's served with steamed cauliflower, a carrot puree and what seems to be instant mash (which I can't stand I'm afraid). Actually I lie, the lemon was pretty nifty as they had cut the lemon just so, so that you didn't get any lemon juice on your hands and it squeezed the lemon effectively!
Cleverly cut lemon
Roast Pork medallions with maple caramel $19
The pork medallions are a little tough to cut and come with apple and almond "nuggets" which are just small cubes of apples. It comes with the same steamed cauliflower and carrot puree as well as some nice parsley potatoes. The mapel caramel sauce goes well with the pork and isn't too overpoweringly sweet.
Maple Cream Timbale $7
The maple timbale looks nothing like I expected. I had expected an individual cake in the usual timbale shape but instead it's a pastry crust with overflowing maple cream. The cream itself is quite tasty although I'm not quite sure how to eat it so after a few spoonfuls of the maple cream I end up dipping the wild blueberries, raspberries and strawberry in it. I tried eating the cream with the pastry and it wasn't particularly tasty so I left that behind. All in all it wasn't terrible food, it was more at the level of function food and service is a little strained and stuffy (it's probably the least friendly we've received here in Quebec). The room is stunning though and I adored the stained glass windows and it was great to poke around Parliament House, even if I didn't see any politicians ;)
So tell me Dear Reader, have you had any brushes with politicians or do you have any political aspirations?
NQN and Mr NQN travelled to Canada as a guest of Tourism Canada. This meal was paid for independently.
Le Parlementaire
www.assnat.qc.ca
1045 Rue Des Parliamentaires, Quebec City, Quebec G1A 1A3, Canada
(418) 643-6640
Summer hours: open 8am-2pm Monday to Friday and weekend brunch