I tend to familiarise myself with a city by shopping in it. At least this is what I tell Mr NQN. I will of course use any excuse to buy things and my main aim while I am here in Quebec is to buy up vast quantities of maple syrup. After all, it's only when you're actually in Canada that you appreciate the amount of maple syrup there is on offer and the things that they have devised for it! After familiarising ourselves with the general area of Quebec City with our guide Elyse, Mr NQN and I were dropped off in the centre of Old Quebec city to do a little exploring and discovering on our own.
We start by browsing the numerous little boutique stores that pepper the area. Most of the shops and wares are quite touristy but then again so are most of the people wandering around (including us!). We spy maple body products in a store that stocks anything and everything to do with maple syrup. I'll be back for you after lunch I say! People are very friendly here in Quebec City and as far as the city area goes, many speak very good English and some even apologise for not speaking more English whereas I was ready to break out my very rusty French.
As we pass so many restaurants we start to get peckish so we give into curiosity and temptation and take my friend Gina's advice and go for lunch at Aux Anciens Canadiens (literally "The former Canadians"). It is one of the most famous restaurants here and is known for serving traditional Quebecoise and Canadian cuisine including a lot of game. It is also one of the most striking. Housed in Quebec's city's oldest house built between 1675 and 1676, it is a white building with red roof and red accents with small front windows reportedly because their original glass came over from France packed in barrels of molasses!
Gina advised going there for lunch and we check out their sign for a three course lunch with wine  or beer for $19.95. When we peruse the dinner menu we see that it was good advice with main dishes for dinner ranging from $32 to $72 which is very expensive for Quebec. We walk in and it's like a step back in time. A woman in traditional costume greets us and shows us to a table even though we don't have a booking.
There are two dining rooms and every table but one has fellow tourists seated. There are displays of vintage glasses and plates and the wooden tables are laid with thick blue napkins and placemats. The waiter is very friendly and speaks fluent English and we take a quick look at the menu. For the fixed lunch one can order the soup of the day or a pea soup and then choose a main. Many of the mains are $19.90 (which includes the wine, soup and dessert) but you can also upgrade to larger or more elaborate mains. We choose a couple of good examples of their cuisine and the wine and freshly squeezed orange juice comes out quickly. Laguiole cutlery sits on the table and classical music plays in the background.
A bread basket follows and it is filled with regular supermarket wholemeal sliced bread and cold garlic bread croutons which we figure are to be used for the soup. They come with whipped butter. I take a quick trip to the ladies room where there is (oddly) a television that isn't switched on and magazines in a rack.
The soups come out quickly. I prefer the split pea soup which isn't bad but I have to be honest, it didn't wow me.
I was even less wowed by this. In fact I asked to swap this back with Mr NQN as it just tasted like tinned soup to me.
_Pheasant legs and beans $19.90
_
However things turned around rapidly with the pheasant leg which came with a whole potato and absolutely delectable beans sweetened with the meat juices, maple and molasses. I spent much time chasing around these little beans (if you've used Laguiole cutlery, you can imagine how difficult it is to pick up tiny beans with their steak knife and fork). The pheasant is soft and slow cooked so that it falls off the bone and it goes well with the beans although the beans are my favourite part of the dish. It's a huge dish with the two meaty pheasant legs.
We selected the St Jean meat pie instead of the regular meat pie as this one contained caribou, stag deer and wapity which is elk. It comes out minced with diced potatoes and encased in a flakey pastry. It is accompanied by a steamed butternut squash and an unusual fruit compote which has tomato, peach and maple syrup. Mr NQN loves this and the slight gamey flavour and I admit it is very good but I am still obsessing over those beans and he kindly swaps back with me.
"Have you decided on dessert?" the waiter asks us as he is clearing our plates. Ha! Of course! He tells us that there is always maple pie and a sherbert (sorbet) on offer as well as a fruit pie which is strawberry for today so we choose both pies.
I know, it looks a little sad and despondent yes but the pastry crust on this was delicious and the strawberries and cream went well together although we couldn't possibly finish the generous amount of cream on the plate. Just ignore the presentation ;)
The maple pie is unusual and I can't believe I'm saying this but I try some and tell Mr NQN it's too sweet for me. It's similar to a pecan pie filling just without the pecans- you know that syrupy sugary caramelly toffee filling between the pecans.
They offer coffee or tea ($1.75 extra) but we demur and instead do some more sightseeing. Old Quebec city is set on two levels and each level can be accessed either by walking up or down the stairs (down is preferable, trust me) or taking the "furniculaire". We visit the Fairmont Le Château Frontenac hotel which overlooks the St Lawrence river. We buy some chocolates from the Cupidon chocolate store inside the hotel. I choose  a coconut chocolate and an Earl Grey jelly chocolate ($2.30 for both).  Costumed ladies glide by and everyone takes photos of them.
Back on the streets of Old Quebec, there is an artist's lane where artists sell their painting, sketches and drawings. We watch street artists perform-hey you never know as the Cirque du Soleil founders were stilt walkers that were discovered at the Quebec Summer Festival!
In the heat, we refresh ourselves on fresh lemonade and snow taffy which they make fresh for you. They grind up ice to simulate snow and then dispense some liquid maple taffy onto it. You pick it up and wrap it around a paddle pop stick and suck on the liquid taffy while shaping it on the cup of ice that they give you.
We also buy a Maple chunk ice cream which is perhaps too sweet for me ( yes really!). It has maple syrup in the ice cream and then crystallised maple sugar dotted throughout it.
We also try some maple macarons at Paillard which are delicious! And how user friendly are those macaron prices? I think I am about mapled out though!
Back to my mission at hand today. We were advised to buy our maple syrup here in Quebec City as the province of Quebec produces most of Canada's maple syrup. We buy six bottles of the golden fragrant syrup from the waterfront Marché du Vieux-Port de Québec markets which does a roaring trade in maple syrup. And I have to say that the maple syrup that we purchased here, even the very touristy looking bottles, were absolutely fabulous and much better than the maple syrup that we buy in Australia. I'm glad I have all my bottles to keep me warm ;)
Some of the produce at the markets is from the Ile D'orleans which is said to grow some of the best fruit in the province. Prices for their fruit are a little higher than the imported or fruit from other areas.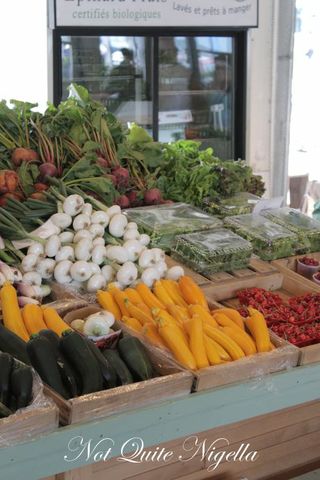 The Marche du Vieux Port markets are busy with people this weekend. Most of the centre section is taken up by ready to eat meals, cheeses, nuts and chocolates.
On the right is the game meat, duck, fresh seafood including a huge lobster tank and organic goodies. We buy a cup of tiny prawns with tomato sauce which helps fill our tummies in the heat (we can't imagine peeling all of these prawns!). The prawns themselves are different from the texture we are used to being softer and spongier and I must admit I prefer tartare sauce or aioli to tomato sauce with my prawns.
We can't reist joining the long queue for the sausages at So Cho which is where many are getting their lunch or afternoon snack. They have an amazing range of sausages including seasonal ones using berries including blueberry and raspberry sausages in vivid hues. We choose a pork, apple and cinnamon sausage which comes with choucroutes (like sauerkraut). It's strong in cinnamon which is unusual but actually work with the sweet pork and apple and we eat it eagerly.
Later on another day after an afternoon's rest we find ourselves searching for somewhere quick to have dinner. We wait until later to venture out and the crowds keep everything vibrant and exciting. One thing I really enjoyed was wandering around and being part of the crowd here in Quebec during the Summer festival. People are incredibly friendly and easygoing here and there's no attitude and everything feels very safe.
We stop by Casse Crepe Breton to try Breton style crepes which are slightly different from other crepes. Breton crepes which are made using buckwheat, are thinner and drier and almost roti or chapati bread like whereas other crepes are eggier and probably the kind we are most used to having.
Run by students there is a large crepe station in the centre of the room where you can watch them hypnotically make the crepe using a small wooden squeegee type of tool. People are instructed to wait by the door for a table and they do dutifully. It's hot in here though and our legs stick to the vinyl booths.
I prefer my roast beef crepe with onion, mushrooms and Swiss cheese. Although it doesn't look particularly filled, it's actually filled just enough, perhaps just needing some more around the edges.
I try some of Mr NQN's crepe and we agree to swap back. Eggs always make me think of breakfast so whilst this is nice, I'm in a dinner kind of mood.
Holy chestnut! Our eye almost pop out of our heads when we see this massive crepe filled with sweetened chestnut puree and two enormous baseball sized orbs of ice cream. We need to work fast, the heat in here and on the crepe means that the icecream melts quickly which provides us with more motivation to eat this baby quickly. Not that we needed it-this was definitely my favourite crepe!
When we pay we see the handwritten post its in almost every language letting people know that tips are not included in the bill and that 15% tip is the norm. Just in case you forget! ;)
So tell me Dear Reader, do you ever get confused as to how much to tip?
NQN travelled and explored Canada as a guest of Tourism Canada
Aux Ancients Canadiens
34 rue St-Louis
Quebec City, QC G1R 4P3, Canada
(418) 692-1627
Les Delices de L'erable
1044 St -Jean, Quebec City, Canada
Marché du Vieux-Port de Québec
160 Quai St-André
Quebec City, QC G1K 3Y2, Canada
(418) 692-2517
Casse Crepe Breton
1136 rue St-Jean
Quebec City, QC G1R 1S4, Canada
(418) 692-0438