My days in Edmonton were so jam packed with a wide variety of food and non food experiences that I thought the best way to show these to you was to give you a list of the 15 most fun experiences that I personally had there. And of course being that I take loads of photos and go into detail about things (just call me your talkative friend that will not shut up), it was not going to fit into one post so my list of 15 Fun Things to do in Edmonton, Canada will be broken up into four parts. Of course since we were there for only four days, there is a lot more that the city can offer but call this a little taste of Edmonton. So without further ado, here are some delightful things to do in the city of Edmonton, in no particular order!
Eat at Sabor Divino
A popular place for dinner the elegant Sabor Divino serves modern European style food and is located in the centre of Downtown Edmonton. The restaurant is chic but not stuffy as we soon learn that Edmonton people are not the formal, stuffy kind but more down to earth. For our dinner here, everything comes out on share plates as we get a taste of their menu. The restaurant is known for its seafood and this, amongst beef loving Albertans, is a point of difference.
Purple rain cocktail
Ok yes I ordered this because I love Prince and the name Purple Rain reeled me in. But it's a delicious cocktail and well worth a try!
Salt cod cakes
The salt cod cakes are light and crispy on the outside and soft and creamy on the inside and are served with a spicy mayonnaise which we all adore as chilli lovers.
Charcuterie plate
There is a plentiful selection of cured meats including salami, prosciutto, pepper salami, a pastrami like cured meat, camembert, brie, gouda as well as cherry tomatoes with baby bocconcini and olives. This plate disappears fast as the selection is fresh and delicious.
Italian sausages
The Italian sausages look and taste just like chorizo with a firm, spicy bite to them and a rich, delectable red wine and fresh tomato sauce.
Prawns Cataplane
One of my favourite dishes of the evening the large shelled prawns was superbly cooked with a perfect texture to them highlighted with olive oil, garlic and wine.My kingdom for an endless plate of these!
Sauteed calamari
The sauteed calamari comes as cylinders of curled calamari, quite tender although there is a slight chewiness to them. There are tiny specks of chorizo to give it spice and flavour and the calamari sits on a bed of pureed white bean, coriander (cilantro) and lemon.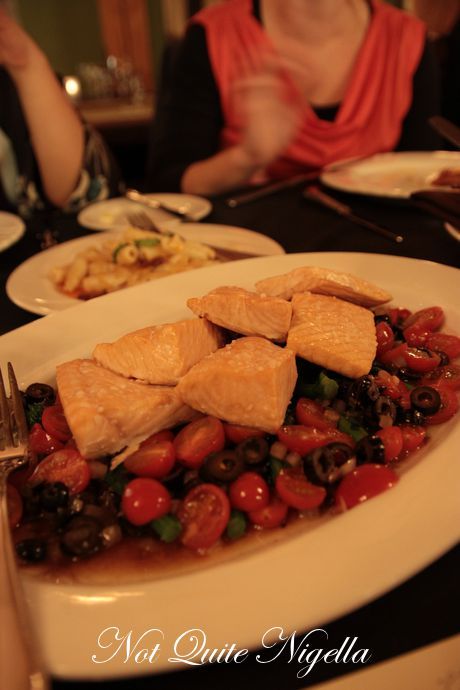 Fresh Salmon Meditterraneo
Now I really didn't mean to eat so much of this but the salmon fillets were so meltingly soft and perfectly cooked that it was hard to resist getting another piece. It was also perfectly seasoned and was everyone's favourite main dish. It came on a bed of halved cherry tomatoes, artichokes and black lives, garlic, broccolini, olive oil and balsamic which has a slightly bitter taste but to me this dish was all about excellent technique on the salmon fillet.
Mista salad
The mista mixed green leaf, tomato, cucumber and onion salad had a fantastic dressing which was well balanced with the emulsified mustard and olive oil that it became almost creamy in the mouth and oh so moreish. And because we had  been eating so much rich food this disappeared quickly.
Oven roasted beef tenderloin
Roasted until pink in the centre the tenderloin was tender but it could have used some more seasoning on it and I wasn't quite as taken with it perhaps because of the bold and spicy dishes that preceded it. It was good but not quite a standout as the salmon or prawns.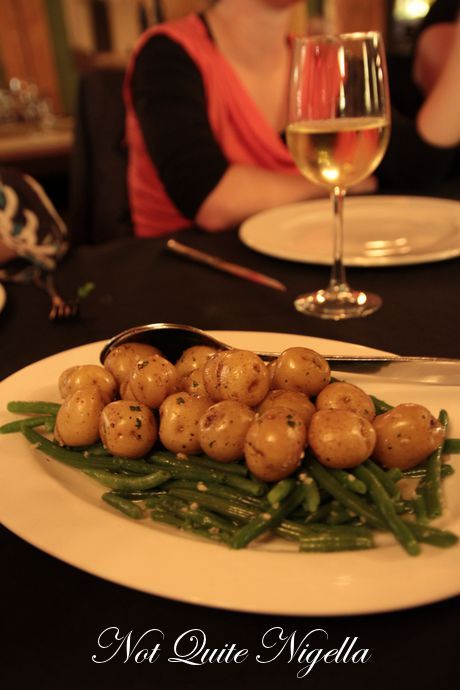 Oven roasted potatoes and greeen beans
The potatoes are well cooked and the green beans are fantastic with a garlickly flavour to them.
Dessert platter
They weren't done with us yet and the dessert platter features a chocolate mousse with chocolate flakes scattered throughout the mousse, two cheesecakes-both are the same light mousse which I adore and one has a passionfruit sauce and one a sour cherry sauce (the sour cherry is a favourite). There is also a crema catalana with the fragrant zest of mandarins to lift it and a rich, chocolatey tiramisu.
Visit West Edmonton Mall
You cannot visit Edmonton without paying a visit to West Edmonton mall (do you hear that Mr NQN? It was for research purposes! ;) ). The enormous mall has 800 shops, 100 dining venues, 9 attractions and a hotel and is the size of a small city at 5.3 million square feet. It is also Edmonton's number one attraction with over 30.8 million visitors annually. The night before Mariam and I had stayed up late looking up the list of shops-after all only having one and a half hours to shop is quite a challenge! We earmarked the stores that we don't get here in Sydney like Victorias Secret, H&M and Michael Kors and the current exchange rate with the Canadian and Australian dollar put the currencies on par. You see, we were just meant to shop!
Mini golf course
The whole mall is on two floors and it takes about 30 minutes at a brisk walk to walk from one end to the next. There is a pirate ship in the centre, a galaxy land where there are rides like the world's largest indoor triple loop roller coaster as well as more of the world's largest indoor attractions including an ice rink, indoor wave pool, permanent bungee tower, amusement park and lake. Not to mention the daily sea lion show or adventure golf. Clearly one and a half hours wasn't going to cut it.
Ice rink
We start at Victoria's Secret but alas the store itself only has a small percentage of what is online so I walk down and hit H&M where I spend the next 45mins shopping. Before I know it my time is up and I have a pair of shoes, a top, a dress and some socks. Moral the story: you need several hours or a day at least!
Daily seal show
Stay at the Fairmont, Edmonton
The Fairmont is a Canadian chain of hotels where each hotel has its own personality and look and Edmonton's Fairmont Macdonald is our home for the next four nights. Walking in, I am reminded of why I like the Fairmont chain. The decor is elegant and old world without seeming contrived plus they have a fantastic environmental initiative at each Fairmont. At the Fairmont Macdonald, guests can opt for a "green stay" which means that the sheets are changed every second night meaning there is less water wasted, there is no daily newspaper delivery and they also plant a tree for every guest that does this and they send out a certificate letting you know that a tree was planted. All of this is at no extra charge to the guest.
I go upstairs to my room and open the door. The room (#501 on the 5th floor of the 8 floor hotel) is sizeable being a corner room and offers a sublime view of the river. It looks recently refurbished and there is a fully stocked and very reasonably priced mini bar which I avail myself of.
Chocolates await on the table as well as a welcome note from management.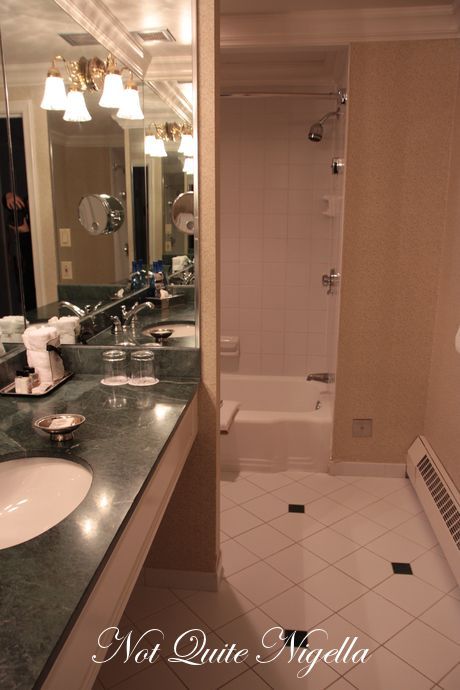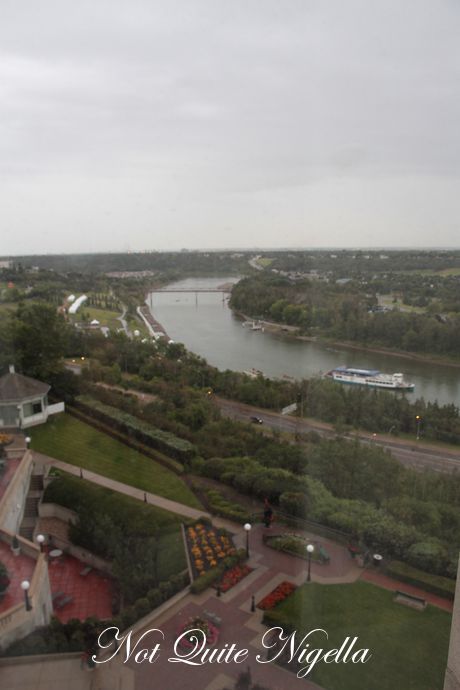 There is a pretty floral papered bathroom and a bath and a good set of toiletries which appear standard at Fairmonts. A couple of hitches-the cordless phone and the plugs in the bathroom don't work but despite this I'm delighted that this is my home for the next four nights.
And whilst I'm not much of a breakfast person when I'm travelling I do make it downstairs one morning for breakfast in the Confederation Lounge, a stunning lounge with high ceilings and a welcoming yet sophisticated atmosphere. Since it is warm (30 degrees celsius-yipee!) we sit outside on the patio where the warmth from the sun bathes us. There is a choice of breakfast buffet or ordering a la carte.
The buffet has a good selection of things like French toast, chocolate chip pancakes, eggs and all of the big breakfast trimmings including smoked salmon and crispy hotel bacon but I like super fresh eggs so I go for a la carte.
Melville Hays Omelette $21
I'm not sure who Melville Hays is and neither is the waitress (later research shows him to be a railway executive in Canada that died on the Titanic) but the omelette is a three egg omelette with Canadian back bacon, forest mushrooms and aged cheddar cheese. It's a fluffy, hearty omelette with an appealing centre of melted cheese and a good amount of bacon and mushrooms in it. For research purposes, I pinch some smoked salmon from Fernando's plate as well as some of his smoothie which is excellent and changes daily (he reports today's berry one as the best one).
Chef's garden omelette $21
I tried some of Tina's garden omelette which is an egg white omelette with green onion, tomato, red capsicum and usually goat's cheese but she has swapped the goat's for cheddar cheese. It's not bad but the pick of the two omelettes is the Melville Hays.
The view from the patio
Visit the Art Gallery of Alberta
_![15 Fun Things To Do in Edmonton, Canada (https://images.notquitenigella.com/images/15-fun-things-to-do-in-edmonton-canada-part-1/edmonton-farmers-markets-62.jpg)
_
I do love art galleries (but generally only when my feet aren't tired from shopping dahlings!) and I'm excited to learn that we will catch the last days of the Andy Warhol exhibition at the Art Gallery of Alberta. Of course you can't take any photos in the exhibition or the gift shop which is worth a visit in itself for quirky gifts including a rhino eraser or Andy Warhol and Jean Michel Basquiat chocolates among a multitude of other covetables. The building is inspired by the Northern Lights and other Alberta landscapes.
![15 Fun Things To Do in Edmonton, Canada (https://images.notquitenigella.com/images/15-fun-things-to-do-in-edmonton-canada-part-1/edmonton-farmers-markets-63.jpg)
The Warhol exhibition features a retrospective on his work from his earliest drawings to his very last image, the astronaut with the American flag that MTV use today as their logo. There are even a selections of his wigs as well as the iconic Elizabeth Taylor images and the Jackie Onassis paparazzi collages. Did you know that Warhol never signed his works? That is because his mother did and he liked his mother's handwriting. Exhibitions change regularly and check their website to see the current exhibit.
![15 Fun Things To Do in Edmonton, Canada (https://images.notquitenigella.com/images/15-fun-things-to-do-in-edmonton-canada-part-1/edmonton-farmers-markets-65.jpg)
Spa at Studio J
_
_
So you've just had a 15 hour flight to Canada and your skin is looking a bit worse for wear. One of the best ways to recover from the flight is to go to the spa at Studio J which is just around the corner from the Fairmont Macdonald. Started in 2001 by Jillian (hence the J in Studio J) they use OPI nail polishes and Skeyndor products from Barcelona.
I'm tucked under the blankets and towels in the therapy room and my therapist Carolina goes to work on my facial. After cleansing she gives me two exfoliation treatments and then a face massage (where I promptly doze off before waking with a start in a poor attempt to pretend that I wasn't sleeping at all ;) ).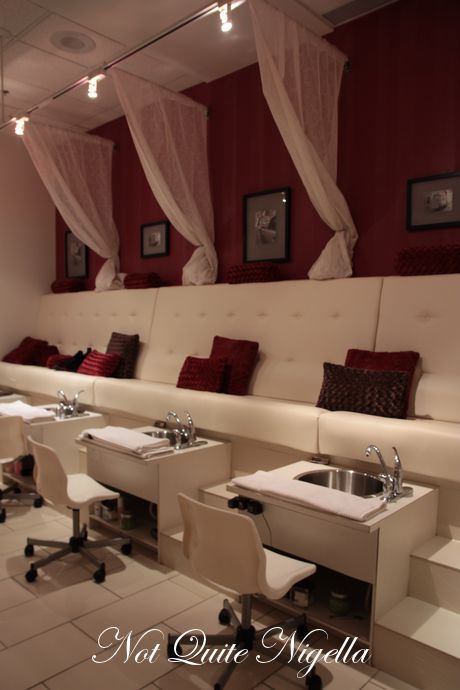 She ends off with a cooling, astringent mask and while that infuses she gives me a light shoulder, arm and hand massage which is just heaven and helps to unkink my body from the contorted form that it took during the flight.
After 60 minutes I reluctantly climb out from under the cover and get dressed. And I do like a spa that has space for showers and provides items like toothpaste and toothbrushes and lotions. In the lounge which is where you relax pre and post treatment there are chocolate, little lollies,fruit water and teas. It's enough to ready you for a 15 hour flight home! But we're not done yet, I've got lots more fun things to do in Edmonton to show you!
So tell me Dear Reader, when you travel, do you write detailed itineraries or do you prefer to wing it?
NQN travelled and explored Canada as a guest of Tourism Edmonton, Tourism Jasper and Travel Alberta
Sabor Divino
10220 103 Street Northwest Edmonton, AB T5J 4C9, Canada
Tel: +1 (780) 757-1114
West Edmonton Mall
1755 8882 - 170 Street Edmonton, AB T5T 4J2, Canada
Tel: +1 (780) 444-5200
Fairmont Hotel Macdonald
10065 100th Street, Edmonton, Alberta, Canada T5J0N6
Tel: +1 (780) 424-5181
Art Gallery of Alberta
2 Sir Winston Churchill Square Northwest Edmonton, AB T5J 2C1, Canada
Tel: +1 (780) 422-6223
Studio J
10014 Jasper Avenue Edmonton, AB T5J 1R2, Canada
Tel: +1 (780) 425-6555