Mr NQN and I wake up energised and ready to do some more exploring of Quebec City. There's a certain energy that I tend to get from crowds (perhaps this is why I hate being alone) and the energy from so many happy Summer Festival goers has had an effect on me. Just up the road from our hotel, on the Rue Saint Jean we enter J.A. Moison, the oldest grocery store in North America. It is a traditional grocery store whose building dates back too the early 1800's that sells all sorts of Quebecoise products. The range is astounding and they pride themselves on doing things the old fashioned way which means service is friendly and they take the time to really assist you. And if you are looking for accommodation, there is also a bed and breakfast upstairs (although I wonder if they would mind if you snuck downstairs to snack on the food? ;) ).
There is a room purely devoted to spices and I am momentarily stunned at the range of spices available.  There are also sausages, game meat and charcuterie and an enormous range of Quebec jams. I buy an award winning maple syrup (the last one I promise honey!). We also meet Julie who makes the lovely Mylliam jams and sauces that we bought back in Montreal! And I love their saying "Inanimate objects have their own soul." as I've always thought this to be true.
Julie from Mylliam
Chocolate Museum window display
Vintage molds
Opposite J.A. Moison there the Chocolate Museum called Choco Musee Erico. Forget art museums, chocolate museums are much more fun! There are displays showing vintage chocolate moulds and demonstrating how cocoa and cocoa butter is extracted from the cocoa pod. There is also a cute coin slot machine where for 25c you can buy a small cup of chocolate buttons in one of four varieties.
_2 scoops of ice cream $3.23
_
We watch through the viewing window where workers are making the chocolates that they sell next door in the shop. Chocolate in Quebec is fantastic quality but with this heat all we can think about is ice cream. Mr NQN orders two scoops, one of apple & jasmine gelato and the other of pain epices (gingerbread). The gingerbread in particular is wonderful tasting of pure gingerbread. The apple and jasmine is refreshing although mostly tasting of apple to me.
Chocolate dipped ice cream ball on a stick $1.95
I go for the chocolate ball on a stick which is a small scoop of whatever ice cream you like (I choose chocolate brownie). This is placed on a thick wooden stick and then dipped in couverture chocolate (milk or dark). I'm in heaven here. The fantastic quality chocolate is thick and just divine with the creamy ice cream. In fact writing about it now in the hotel room makes me want to go back and get another.
"Chocolate degustation" machine which will dispense 10 chocolate buttons for a mere 25c! A child's dream...
The cutest chocolate ever and only $14.83! If I knew he would survive the heat and the trip back I would have bought him!
And what kind of store is this I wonder? ;)
Later that evening, Mr NQN and I are sitting at SSS restaurant which stands for "Simple Snack Sympathique" and is a casual style of restaurant right near the river. We're inside and it's warm with a single fan cooling down the room so when they ask us if we would like some cocktails I order an apple martini and Mr NQN a lychee martini. Perhaps a mistake on an empty stomach (I am an alcoholic lightweight).
Lychee martini (front) and apple Martini (back)
I quickly realise that I should never order cocktails before food on an empty stomach :P
I am inadvertently tipsy and holding a camera should be the last thing I should be doing. I clutch a fork to steady myself. In my state things are swirling from the alcohol soused hit of a generously poured apple martini I have just drunk and a fork seems like a logical choice to weigh myself down. Oh dear...
The bread arrives mercifully quickly with some plastic butter pats that are cold. In my state I ask Mr NQN "They're cold, should I rub them between my hands or sit on them for bottom warmth?" It sounds like the best way to do it and he talks me out of it. It could've worked I tell ya!
_Salmon tartare $14
_
The fresh salmon tartare is layered with an avocado and tempura crumbs and it is a welcome respite from the heat and from my tipsy state.
_Potato skin with foie gras, milk fed suckling piglet, SSS sauce and smoked sour cream $16
_
The potato skins filled with foie gras jelly and milk fed suckling piglet cubes are interesting in a very rich sort of way with many layers of flavours. Mr NQN prefers these whereas I'm so hot and not in the mood for it and would have very much preferred these on a cold winter's night.
Lobster Nachos $24
Although this is different from the nachos we get at home (which I don't know even have a claim to authenticity) this is absolutely delicious. With one claw of lobster meat the nachos are served cold with a lovely, strong flavoured diced spicy tomato mix, spring onions, guacamole and smoked sour cream. The deep fried corn chips remain crispy even until the end and I savour every bite. I thankfully start to sober up and no longer need to clutch at a fork to anchor me down :) And can you believe those prices? swoon!
1/2 rack of ribs and 1/2 Cornish hen with coleslaw, fries and vegetables $30
This was an enormous platter which featured half a cornish hen, half a rack of ribs, some coleslaw, French fries and a mix of vegetables including wild asparagus, zucchini and red capsicum. In fact my reaction when it is set down is "Woaaah!" such is the size. The cornish hen is divinely soft and slightly spicy but the ribs are a little too hard to get off the bone and are quite fatty. The mustardy coleslaw is excellent.
Sundae of the day $5
This was slightly different from the one we were expecting as the kitchen made a last minute change without telling us. We thought we were getting a sundae with quinoa and blueberry but instead we get a thick chocolate and vanilla alternated with a nutty sponge and lemon. I'm not a huge chocolate and citrus lover so I would not have ordered this.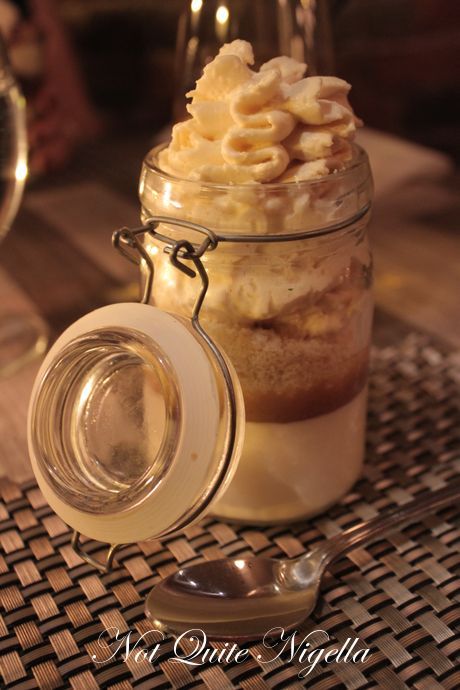 Cream cheese "jar", caramel, crumble $6
How cute is this serving suggestion and how much am I going to do something similar at home? ;) It's a layer of light and fluffy cream cheese cake (unbaked) and a thin layer of caramel and the butteriest, most delicious shortbread crumble. There is also more than an inch of whipped cream which I remove most of to get to the bottom and once this is removed the proportions are just right (although it wouldn't have look quite as jolly without the cloud of whipped cream). The caramel layer is thin enough but just the right amount of sweetness and the cheesecake needs it as it isn't very sweet by itself but it's also very generous with the crumble which is just the way I like it.
Quebec Neige Ice Cider $8
Mr NQN tries out the Quebec Niege Ice cider which I just take a sip of (I don't want to tempt fate now!). Ice Cider is a speciality of Quebec and is sweet and made from frozen apples (instead of ice wine which is made from grapes that have frozen on the vine). It is deliciously sweet and like a dessert cider._
_
We end off later on that evening we watch the Image Mill which is a light show projected onto silos. And thankfully sober!
So tell me Dear Reader, what is your favourite cocktail?
NQN and Mr NQN travelled and explored Canada as guests of Tourism Canada
J.A. Moison
695 rue Saint-Jean
Québec, QC G1R 1P7, Canada
Tel: +1(418) 529-9764
Choc Musee Erico
634 Rue Saint-Jean
Quebec City, QC G1R 1P8, Canada
Tel: +1(418) 524-2122
Restaurant SSS
71, Rue Saint-Paul
Quebec City, QC G1K 3V8, Canada
Tel: +1 (418) 692-1991