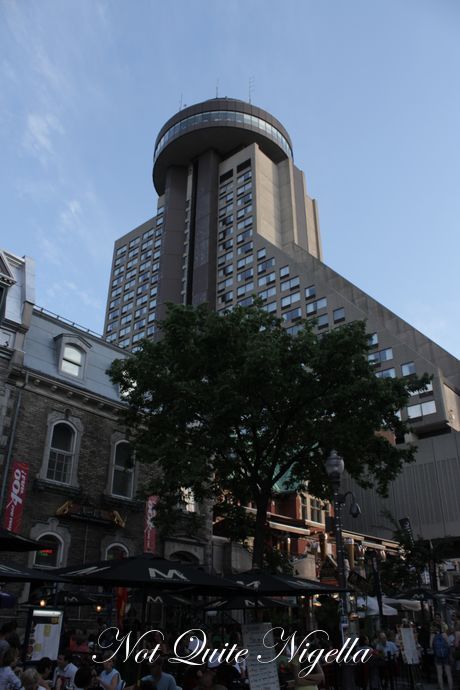 I should have learnt by now not to prejudge places. When I read up about L'Astral I had heard that it was a) a revolving restaurant and b) it was known for their buffet as well as an a la carte menu. I suppose there's nothing wrong with buffets but they're usually for the interminably hungry (of which we were not when we're travelling) and the food is never going to be of the same quality as a la carte. And revolving, hmm that could be a gimmick too.
The Summer Festival in Quebec City is in full swing and we weave through happy crowds and people wandering around the city. We arrive at the lobby of Loews Concorde Hotel and go up the elevators to the top floor.  We're shown to our table and we take in the breathtaking 360 degree view of Quebec City.
Plains of Abraham
We can see the Plains of Abraham just outside our window which is where we watch people take their places on the prized hill in front of the stage. On the a la carte menu there's an interesting mix of food from North American classics on one page (apparently these always appear on every Loews hotel menu) but we're more interested in the local Quebec cuisine.
Roasted Scallops
We start off with the roasted scallops on a bed of fennel with an orange balsamic reduction. They come with a roasted pepper filled with a beurre blanc. The scallops are delicious and perfectly prepared and go well with the orange and fennel. We also use the beurre blanc to dip the bread in! ;)
Assiette plate
_
_
Our next plate is a beauty full of seafood (which is always bound to get me excited). On the left there is a local wild trout tartare mixed with a well balanced cornichon julienne.
In the centre there is a juicy lobster carpaccio on some thin slices of golden beetroot and thin slices of lemon zest. This is divine and fresh and cooling.
The third component is a veal sweetbread and cheek done blanquette style which is rich and soft and flavoursome.
Gazpacho with giant shrimp $8.50
We really enjoy the sweet pepper and cucumber gazpacho with the centre of sour cream and chives. There is also an enormous jumbo shrimp in the centre which I devour with much relish. The only strange note is the curry tapioca which resembles pale green peas but it is made out of tapioca with the centre raw with a bite to it.
Planning your next trip? Ensure you have the right coverage with HeyMondo travel insurance that includes COVID-19 protection. Plus, if you use our link, you'll receive 5% off the price. Find the best deals on flights from all airlines in various currencies with SkyScanner and set up alerts to get notified when prices drop. For reliable transportation options, look no further than 12Go Asia, offering train, bus, ferry, and flight transfers worldwide. Book your transportation now and enjoy a stress-free journey.
When you purchase through these links I will get a small commission at no cost to you. Thank you for supporting me! :)
Black cod with Yukon Gold roasted garlic mashed potatoes $24
Onto our mains! I am a black cod fanatic, I simply adore the buttery melt in the mouth texture of black cod. I'm surprised at the size of the serve as it is very generous. It is a local black cod that they use and the potatoes are Yukon gold from the Yukon region of Canada. The fish is sublime and it has that gorgeously moist texture to it. It sits on a generous bed of olive and caper tapenade which I mostly leave behind as it can overwhelm the delicate fish if too much is used.
Crispy skin Cornish game hen from Orlean Farm $27
Having only visited the Île D'Orleans that afternoon we went straight to the Cornish game hen from there. It comes crispy skinned with a chicken and morel gravy and a delicious zucchini eggy fritatta type of item (called a muffin on the menu but it seems mostly of egg rather than flour). This is topped with caramelised red onions. It is very good and I find myself particularly enamoured of the zucchini frittata and onions.
Chef  J.C. Crouzet
The chef  J.C. Crouzet comes out to have a chat with us and he tells us that the menu is geared towards seasonal produce with as much from Quebec city as possible, in fact almost everything on the menu is from the Quebec region. Born in Montreal to parents that come from the French Riviera he has been here at the hotel for 11 years.
Cheese platter served with Offley Porto 2004
He comes out with our cheese platter, an incredibly generous portioned plate for each of us (yes sometimes I pinch myself that I am not dreaming!). On it there are five types of cheese with my two which were soft cheese. The Cap-rond, an ash rind artisinal goat's cheese from Saint Raymond de Pont neuf , a Barre a Boulard also from Saint Raymond de Pont neuf which is also gorgeous. There is also a lovely Blue ermite cheese which is hand made by monks in Quebec and  a Le Migneron from Charlevoix.
Interestingly, the cheese platter comes out with spiced pecans and roasted cashews and dark grapes although there are no crackers so we eat the cheese straight which is actually a really nice way to appreciate the cheese.
Fresh raspberry pistachio macaron and Iced Nougat with crumble
"Dessert won't be a moment" our waiter tells us and we say "There's dessert too?". Hmm I should have checked before I gorged myself on the cheese. The macaron shell is hard to cut through and the pistachio cream is more almond than pistachio. We both however like the iced nougat as it has little toffee pieces inside giving it crunchiness, creaminess and nuttiness. The bamboo stick is actually made out of chocolate!
We are also in possession of VIP passes to the concert later that evening so we roll out of there full of cheese, seafood and sweets and go to the Plains of Abraham to watch the bands play. Yes sometimes I do pinch myself!
So tell me Dear Reader, do you prefer to eat at buffets or a la carte?
NQN and Mr NQN travelled to and explored Canada as a guest of Tourism Canada
L'Astral
Loews Le Concorde Hotel
29th floor, 1225 Place Montcalm, Quebec City, Quebec Canada, G1R 4W6
Tel: +1 (418) 647 2222