It's funny how life changes. Two years ago I dined at Marcus Wareing's Petrus restaurant (back when he and Gordon Ramsay were business partners) and we had a fantastic meal where every single little course, including the amuses and in between courses sparkled. It was a meal we remembered well because there wasn't a single jarring note. We got on the plane back to Australia thinking that it was a lovely memory. Fast forward two years and I find myself the lucky beneficiary of an invitation to a Private Lunch with Marcus Wareing from the lovely people at Visit Britain. Marcus Wareing was of course visiting here as part of the Sydney International Food Festival.
Amuse Bouche: Fish and citrus soup
We take a seat in the private dining room of the Four in Hand Dining Room and we are given our first taste of the day, an amuse bouche. Looks are deceptive. Resembling a carrot or pumpkin soup this elegant little demitasse of fish soup with citrus is deliciously rewarding, given depth with the fish stock and an accent with the citrus flavour.
Sashimi Bonito and tuna with pickled cucumber and snow
I have to admit that the smear wasn't perhaps the most fetching feature on the plate but underneath the long shreds of pickled cucumber were some delectable sashimi pieces of bonito fish and tuna. I see bonito popping up more on menus nowadays and it's a lovely, mild flavoured fish. The snow is the tangy green granita in the centre and there are also slices of raw cauliflower and slices of radish. It's more a sashimi salad and I'm a bit perplexed by the green smear as it has a very mild taste.
I take some photos and then look up and see Marcus watching and smiling. "Are you the actual Not Quite Nigella?" Marcus asks me across the table. He tells us of how he used to ban food bloggers from taking photos until his staff convinced him otherwise. "I'm old fashioned" he says and shows us that he has a phone that is just a phone "and I may sometimes text" he says. His main objection to food blogging is people writing awful things and taking poor quality photographs.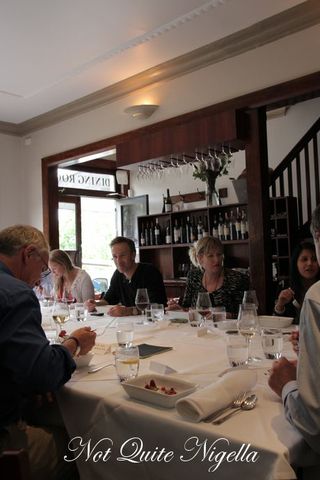 Daisy next to me is a vegetarian and Marcus says that he loves vegetarians. Pardon me? I almost have to ask. Many chefs are known (notoriously Gordon Ramsay who told people he'd like to throw them out of a plane) for disliking vegetarians but Marcus tells us that they have a special vegetarian degustation and want to give them the same quality of meal as an omnivore.
Crisp pig's ear with crab and roast corn salad nad ginger beer jelly
"Ginger beer jelly?" I say out loud. On the right is a crispy deep fried pig's ear which is fantastic (and I know you're going to ask, it doesn't taste "ear-y" ;) ). I do love corn and this roast corn and crab salad is generously portioned with sweet pieces of crab meat. As for the ginger beer jelly, I like it in small amounts but it's tangy and sweet and quite strong and it is surrounded by a mayonnaise type of sauce.
Spring Lamb: two ways with Spring Vegetables
In just what has to be the most feast like presentation, the slow cooked shoulder of lamb sits in the centre of the table to be shared between 3-4 people. It's served with a variety of Dutch carrots in fetching shades of yellow, purple and orange and battered white anchovies. It is also served with what has to be one of the best mashed potatoes I've had-they're silky smooth and creamy and covered in a blanket of herbs . Chef Colin Fassnidge is Irish and at the risk of culturally profiling someone, he definitely has a way with potatoes!
And what might be the other way? Well it is the lamb cutlet in a light broth and vegetables which include carrots, broad beans, fennel and white turnip tops as well as shreds of the slow cooked shoulder. The lamb is juicy and tender but out of the two, the slow roasted meat is my pick and I go back for more.
Strawberries: fresh, poached and soup with Besace Affine sorbet
A very pretty picture, this dish is made up of fresh and poached strawberries, tapioca balls, herbs with a most unusual sorbet-Besace Affine is a goat's cheese and yes this is a goat's cheese sorbet! The herbs and goat's cheese sorbet lend it a savoury flavour. I found I preferred this dish with just a touch of the sorbet.
I also got a chance to interview Marcus and have some burning questions answered by the two Michelin star chef. It was originally scheduled to be a face to face interview but as he was concerned about his SIFF dinners, all interviews were cancelled and as a result, it needed to be done by email once he returned to the U.K.
NQN: This your first time to Australia. What do you think of it and the food scene here and how does it differ from the UK? Where have you eaten?
Marcus Wareing: I find the food scene here very diverse; given the Asian influences which are not as prominent in the UK. It adds a great amount of freshness and interest to the food offerings available. The UK has greater influence from Europe so you see more of the Italian, French and Spanish cuisines present.
I have eaten at numerous places; given the jetlag they are not quite as easy to remember as they should be! We had 3 great dinners at Quay, Rockpool and Est. I also had a very interesting and creative lunch at the 4 in Hand. My favourite though was lunch at Sepia; an amazing tasting menu that was fresh, inventive and absolutely delicious matched with fantastic wines by a great sommelier there.
Marcus and his wife Jane on Sydney harbour
_NQN: What is the food like in London nowadays? _
Marcus Wareing: It's very diverse; there are so many great restaurants and so many more on their way. We are seeing more of the casual type restaurants which offer a great style of both British and European cuisine. Customers are a lot more knowledgeable and aware than they have ever been thus their expectations are higher which is keeping restaurateurs on their toes.
NQN: What is your food philosophy?
Marcus Wareing: All ingredients should be treated with the utmost respect as they are all wondrous in their own right; ie a carrot should not be treated any differently to a Turbot or a lobe of foie gras. To me my cuisine is about enhancing what is naturally apparent in an ingredient, not masking or diluting the flavor or texture. In a nutshell it's maximizing the natural elements of ingredients.
NQN: How is your relationship with Gordon Ramsay today? You were quoted as saying ""If I never speak to that guy again in my life it wouldn't bother me one bit. Wouldn't give a ----." and "Gordon's an important part of my life, although half of me thinks he's a sad b------ and the other half still adores him." Has that changed?
Marcus Wareing: I am where I am today due to a combination of extremely hard work and dedication. Gordon was my mentor in the early days and lead by example and taught me how to succeed. I will always have a huge adoration for him and the friendship we used to have.
NQN: Describe the feeling of getting your second Michelin star. When do you think you'll get your third?
Marcus Wareing: We took it in our stride; it was completely deserved and I felt we were already there thus it just seemed right not like 'winning' something as it was earnt. You'll have to ask Michelin the second question!
NQN: You served custard tart to the Queen on her 80th birthday. Tell me how that came about and your thoughts on how it turned out.
Marcus Wareing: It was from the Great British Menu series where I won the dessert section. It was a fantastic experience and now has become a dish my guests will not let me take off the menu!
NQN:  What are your thoughts on bloggers?
Marcus Wareing: As I stated above the general public are so much more knowledgeable and interested in food than they have ever been so I see blogging as an expression of this.
NQN: What are you thoughts on vegetarians?
Marcus Wareing: They are treated the same in our restaurant as meat eaters - vegetables are one of my favourite ingredients!
NQN: How has having children changed your perspective of work?
Marcus Wareing: It hasn't a lot really; they are hugely important to me and I love spending time with them. My father was a very hard worker and was not around a huge amount whilst I was growing up yet I have a great relationship with him and he taught me the value of hard work and of building a career.
NQN: Your food heroes or ordinary heroes or inspiration?
Marcus Wareing: My father; he was a fruit and potato merchant who taught me the value of great produce.
_NQN: Your last meal? _
Marcus Wareing: Foie gras, scallops, rib of beef, French cheese and our chocolate moelleux to finish. Plus a couple of bottles of great Burgundy.
NQN: How do you want to die?
Marcus Wareing: In my sleep!
So tell me Dear Reader, is there a question that you've always wanted to ask a chef?
NQN was invited to the lunch as a guest of Visit Britain
Four In Hand
105 Sutherland Street (Cnr Elizabeth Street), Paddington, NSW_
Tel: +61 (02) 9362 1999
_
Four In Hand Chef Colin Fassnidge on left and Marcus Wareing on right